We have some exciting new Bidsketch features to announce! These mark some of the biggest upgrades we've made in quite some time so we hope you're as enthusiastic as we are.
Here are the recent changes and additions you've been seeing (or can expect to see):
1. An improved Fees environment. You guys told us you wanted a more comprehensive fee framework, and we listened. We've added new Fee structures to the current available list, including:
Duration caps for monthly and yearly fees
Hourly fees
Custom fees (including quantity, unit price, and descriptive variables)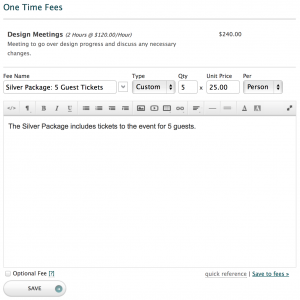 We also added a few other variables that will help make some of your Fees easier to understand, with less steps involved, like: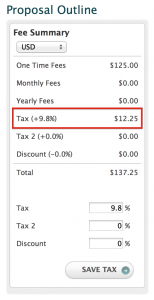 Note that the new Fees environment shows up automatically for built-in templates, but if you're taking advantage of the custom template feature you'll want to download the new example zip files to grab the new variables and add them to your code.
2. Collaboration. You now have the ability to collaborate on proposals with other users in your account. This helps give access to users that might not otherwise have access to those proposals or clients. The potential benefits of this feature include:
Team input on proposals – For those who might have specialized knowledge for specific sections or parts of the proposal.
Fact checking – You might not have time to do a bunch of research. This way you can have another user fact check and make any necessary edits on their own time.
Editing – Having multiple people edit an important proposal is never a bad idea.
And more!
You can make live changes to the proposal, and include private comments that only other collaborators can see. Comments are emailed to other users collaborating on that proposal. They can reply via email and have replies added as private comments within the Bidsketch app. You can add and remove collaborators at any point in the proposal process.
Adding collaborators is as easy as clicking the link and inviting other users.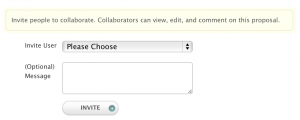 3. Quick Edit. You no longer have to go back into the proposal details screen to edit. You can edit your proposal directly from the preview page! The quick edit link follows you as you scroll through any section so that, if you do need to edit something or add comments, you can do so with just one click. Neat!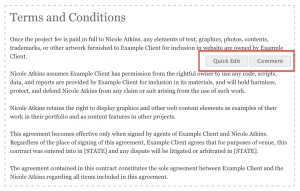 If you haven't had a chance to try out the new features, I recommend logging in to your Bidsketch account and checking them out. I think you'll find that these upgrades will make your proposal writing process just a little bit smoother.
If you have questions or would like help with anything, you can shoot us an email at: support@bidsketch.com.
If you're not yet a Bidsketch customer, you can sign up for a free trial right here: