A couple of days ago I pushed out a new release that had some great features in it.
First up: Inline client entry.
When you're creating a new proposal and need to add a new client, you can choose "Add Client" from the dropdown and will now get a nifty modal dialog that allows you to add a client without leaving the page.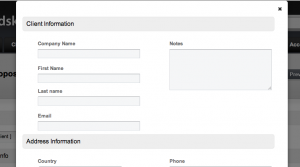 Next: PDF Page Breaks
You can now add PDF page breaks anywhere within your content. It doesn't matter whether it's an opening section, closing section, or fee description.

Other good stuff:
Some new custom variables were added to custom templates. This will allow you to use the client address information anywhere you like in your custom templates. Download a new sample template file from the Design Template page for instructions.
Certain formatting issues of proposals in HTML and PDF has been fixed. This mostly had to do with copy and pasting MS Word content into the editor. It will now auto-detect formatted content and force plain text which can later be formatted.