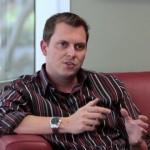 This is a guest post by Steve Stormoen of RightSignature, the easiest, fastest way to get documents signed online. Learn more about the integration between RightSignature and Bidsketch.
How does a growing ad agency gain a competitive edge using Bidsketch and RightSignature?
Aria is a full-service advertising and branding agency that helps businesses take the leap into the digital age. Spearheading web and mobile development, brand renovation, marketing campaigns, and event planning, the Aria team is the engine behind memorable projects in the Dallas/Fort Worth area–their hometown–and across the nation.
Their portfolio includes successes of every size: from a Telly award-winning 30-second TV spot for the Kimbell Art Museum to an immersive "World Challenge" social media game for the Travel & Adventure Show that took the trade show by storm.
Aria CEO Ryan Thompson explained that the agency has had particular success in the travel, tourism, and real estate industries. "These are deeply experiential brands," said Thompson, "where the consumer can really form a bond with that brand. Our job is to tell the stories and get them out there." To that end, Aria has refined a full bag of tricks, using social sharing, storytelling, viral video, and other modern strategies to achieve impressive results.
Aria uses the integration between RightSignature digital signature software and Bidsketch proposal software to generate proposals and obtain e-signatures. The integration links these two powerful online apps to automatically send any Bidsketch proposal for legally-binding electronic signature using RightSignature. To Thompson, the integration has "transformed" Aria's business.
Ryan Thompson details Aria's successes with Bidsketch and RightSignature:
We love the integration between Bidsketch and RightSignature. We've saved so much time using RightSignature and Bidsketch together. I am, as I speak, in an Admiral's Club in DFW airport, and I just typed up a proposal in Bidsketch and sent it with the RightSignature integration a few minutes ago. The whole process only took me 7 minutes, because we knew what we were doing and the tools were already set up to do it.

I can't believe how many documents I sign from anywhere that would otherwise have to wait until I got back to the office to print, fax, email, and scan. Just in the last 2 months, I can think of 3 times when I was literally about to turn off my mobile device on the airplane and I saw the proposal come through signed, and so I countersigned with my finger on my mobile device. Instantly, all those documents went automatically to my producer in Dallas to get things underway.

By the time I landed I already saw invoices out, and I already saw planning documents going through the agency. This is a normal scenario, too—this happens often. We've probably saved hundreds of hours in just the few months we've used the RightSignature + Bidsketch integration.

Bidsketch has been a total transformation of our business by itself, as our proposal solution that let us get away from non-standardized Word DOC formats. With our wide range of different services offered, inevitably we would end up with some very different looking proposals. At the end of the day, it was just very inefficient and inconsistent. We standardized on Bidsketch to use a proposal for anything we do, whether it's one page or 20 pages. We've created templates for each different service we do—branding, marketing, advertising, creative, and digital—while ensuring that some things, like our standard terms and conditions, are always included.

We're big believers in RightSignature, as well. Our attorney loves that we're using it, we love the standardization. I love the fact that nobody can sign on behalf of the agency except the two principals of the agency. We'll be long-term users, and we'll be looking forward to finding ways to integrate RightSignature with other products in the future.