Over the last few weeks we've been working on some exciting new features that'll help you land more clients, faster than ever.
Here's a peek at what we have for you:
Realtime collaboration (you'll love this)
Proposal activity feed so you know exactly when changes were made to a proposal
Private proposal comments to add internal notes and stay organized
Bonus: monthly and yearly totals
We're also working hard on the next release: Hourly fees, fee ranges, and additional collaboration features.
If it's been a while since you've tried Bidsketch, make sure you sign up for a trial.
Realtime collaboration
You can now see changes other people are making to the proposal, as they make them. This is super useful when you want to collaborate with another person on a proposal.

If someone else is looking at a proposal that you're working on, you'll see a note with their name: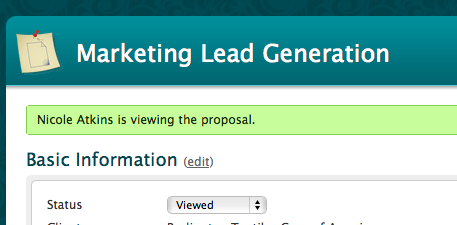 And when multiple people edit a fee or section, you'll see a note showing who's editing (while everything updates realtime):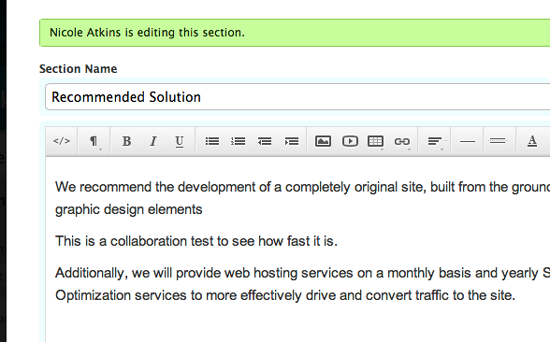 This works for both proposal fees and sections. You'll even see if anyone adds, removes, or changes the order of fees and sections in a proposal. It's a pretty neat feature that'll make it much easier for you to collaborate with others on a proposal.
Proposal Activity Feed
We've added an easy way for you to view all of the changes that have happened to your proposal.
To see all of the activity on a proposal, just click on the View proposal activity link found on the proposal summary page: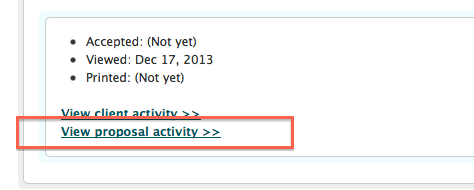 You'll then be able to see what changes took place on your proposal: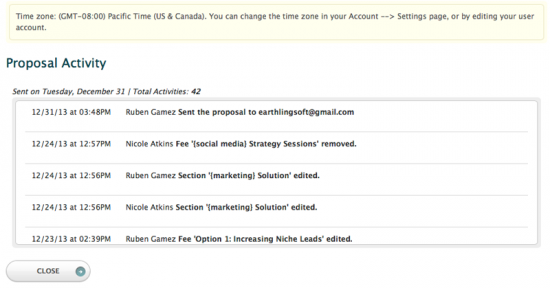 This new report shows you:
The exact date and time that a change took place
The name of the person that made the change
Whether a section or fee was added, removed, or edited
The name of the section or fee involved in the change
Private Comments
Sometimes you want to add a special note to a proposal but don't want the client to see it. You can now do that by adding a private comment.
Just click on the Private checkbox when adding a new comment: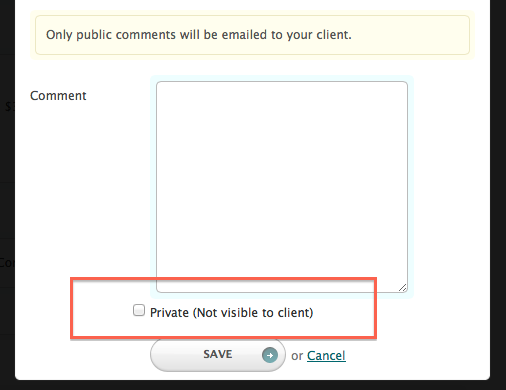 These comments never get emailed and they don't show up in the comments section for your clients. It's a great way to keep all your proposal notes in one place.
Bonus: Monthly and Yearly Totals
We've recently updated proposal fees by showing a separate total for monthly and yearly fees.
Here's what that looks like: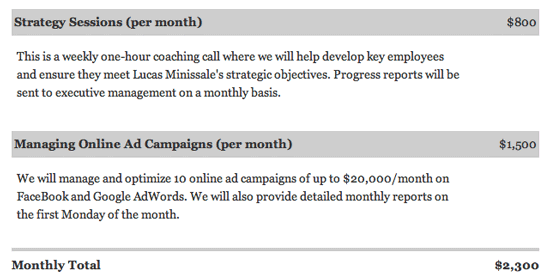 Just like all other totals, you can hide them by going into Proposal Settings.
That's it for now. We have more updates coming soon so stay tuned 🙂
If you're not a Bidsketch customer, you can sign up for a trial right here:
http://www.bidsketch.com/pricing/
Hope you enjoy the update!
Ruben