Work (lots of it) is taking place to give Bidsketch a brand new look. Not just that, but once the new design is live, you'll find a couple of pleasant surprises which I'll talk about in a few days.
The best way to describe it would be to say that it's a bit of a usability + design enhancement for Bidsketch.
So I just wanted to give a quick preview of what the design is going to look like. Here's a screenshot of the new "clients" page: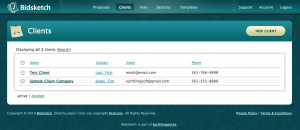 As for the design itself, it's from the very talented Ryan Scherf who originally designed it to go hand in hand with the sales site. For a look at some impressive design, check out his stuff.
As I mentioned earlier, I'll be posting more screenshots as I get closer to unveiling the new design. Stay tuned for more screenshots!