Have you ever found yourself midway through a project and realized that the client has a very, very different idea of what you're providing? Or have trouble justifying your pricing during the proposal process?
It all comes down to managing expectations – helping potential clients understand your services, understand the value of what you do and what they will receive in exchange for your fees.
It's important in establishing a long term and professional relationship, and it can lead to repeat business.
During the consultation and proposal stages, you can educate your potential clients and get down to the nitty gritty of what your services will provide. But managing expectations should start a lot earlier than that.
Using Your Services Page to Your Advantage
This age old copywriting advice can help you manage expectations in a major way! You're the technician and the expert in your business – you know what your services do for clients. Make sure your clients know as well. Don't just go over the technical points. Help them understand how those points translate into real world benefits.
One Lily Creative Agency highlights some of their clients' key pain points in their description – and then explains exactly how their managed marketing services fit the bill.

With this description and the others on their services pages, One Lily's clients have a clear idea of how their needs will be met and what the agency will do for them.
Use Targeted Landing Pages for Different Services
You can help clients understand more about what you do by producing targeted landing pages for different service group. There's only so much that website visitors will read on a given page. In fact, having too many choices can make people 10 times less likely to buy.
If you have several different categories of service, you can separate them out and manage expectations for each of those categories.
PxlFix has a variety of different services that they separate into subsections of their Services page.

Each of these subsections has a detailed description of services. This way repair clients aren't distracted by web development details and vice versa. Notice how their detailed pages use benefits to sell services and not just features.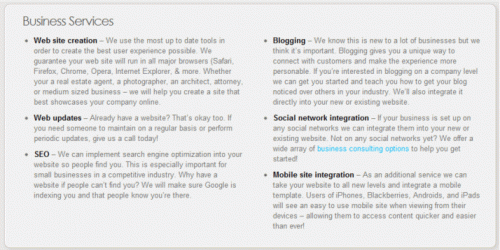 Integrated Customer Testimonials
There's no better way to manage expectations than to paint a picture of what clients will experience – and testimonials do just that. If your testimonials are on a separate page, they aren't helping you as much as they could be. Nothing helps create a vision more clearly than someone else's experience.
Outspoken Media integrates testimonials into their services page that help manage their client's expectations.

Take a look at your services pages and see if they fit the bill. Do they help your clients understand how you work, what you do and why it's important? Do they display how your previous clients have appreciated your services and what you've done in the past?
If not – it's time to make some changes. Your services pages are going to have a direct effect on how clients come to you, how they speak with you on the phone and what they expect from the process.