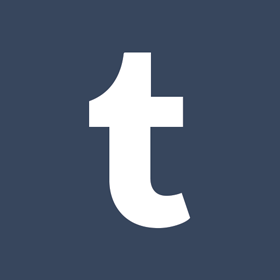 Tumblr is to the present what LiveJournal was to the late nineties: just another place for the Internet's teenagers to emote their "too deep for you" feelings, but with the addition of animated GIFs.
Well… Not quite. Whereas LiveJournal's primary user base was (and is) primarily made up of 17-25 year olds, Tumblr's largest age group is in their early to mid-thirties (averaging out at 34.6). So why is the "Tumblr is for Teens" myth so persistent?
Perhaps it's because Tumblr is so fun. (Remember fun?). It's a microblogging platform that has a heavy emphasis both on highly visual content and "thoughtful" social interaction. But I'll get more into that later.
What really caught my eye is Tumblr's mind-blowing traffic statistics: 29 million unique visitors daily in 2013! And 42% of that total were coming from the United States, with around 59% of users being females. It's currently the 35th most highly-traffic'd website online and those numbers are steadily growing.
Those are some pretty interesting demographics. With such a massive user base — potential audience members to your message — I think it's about time business owners take notice. Now, I don't have a Tumblr account myself (yet); however, I've been doing a lot a research in this particular area lately and here's what I've found.

Content is King…
You usually hear the phrase "content is king" in reference to traditional blogging; however, even as a microblogging platform, Tumbr's emphasis is on content creation.
Yes, you'll have followers, but, on Tumblr, your follower count is kept secret from your audience. Only you know exactly how many people are subscribed to your feed.
This is because, although Tumblr has a social media functionality (think WordPress blog meets Facebook/Twitter status updates), getting "likes" or "follows" isn't the main purpose or even the main attraction: content is. Shift your attention from full-on marketing to a more passive audience-based spiel and you'll start to gain traction. Audience first; selling after.
…But Make Sure It's the Right Type of Content!
In a 2013 interview with Tumblr's resident branding expert, Alexis Kaplan, we were graciously provided with info on users' favorite types of content. The Top 5 most shared (reblogged) and "liked" posts were:
Images and photos. Tumblr is a highly visual community and picture-based posts came in ahead of the pack for the most interactions. Kaplan noted that "behind-the-scenes" photographs of even the most mundane businesses were a huge hit (basically How It's Made in photo form). If you've got an intriguing photograph to go along with your message: use it.
GIFs and GIF sets. These babies have been around since 1987 so they're not exactly new — or even that complicated! — but they've made a huge splash on Tumblr. In addition to being a great way to make eye-catching, often humorous, shareable material; GIFs are a perfect way to recycle (or extend) your content. One clever video can be divided into dozens of GIFs!
Text. Short quotes are preferred, but mid-range to long text posts get attention too. Kaplan shared that many businesses have luck breaking up a long string of visual posts with a text post — the relative "shock" of suddenly viewing a block of text on a reader's dashboard causes them to take note. Save text posts (especially long ones) for when you have something really important to say.
Videos. Shorter videos are preferred over longer ones. And many different formats are accepted. If you've got a trailer, a short informational video, or something just a little silly, give it a shot.
Audio. Audio brings up the rear; however, Tumblr has hinted that interest in audio clips as been on the rise. Aspiring podcasters and musicians shouldn't rule it out.

 
Even if you don't run a "visual" business (film, television, fashion, photography, web design, etc.), you can still make use of Tumblr's marketing capabilities by getting a little creative with what you do have. Have a great tip for entrepreneurs on the rise? Try using it as an overlay over a photo of a sunrise. All right. Maybe that one's a bit cheesy — but you see where I'm going with this.
Sharing is Caring
Although Tumblr is considered a "social media" site in addition to a blogging platform, the traditional networking rules don't necessarily apply. They aren't lacking for audience engagement, but the way the audience engages with your content may take some getting used to.
For instance, there is no traditional commenting function for posts.
If someone reads and enjoys your content, they will have to share (reblog) the post on their own Tumblr in order to respond to it. On the plus side, this means that any comments you do get are often have more thought put into them as the commentor has to stand behind what they're saying as it is now a part of their own public "online identity." On the downside, this means that the Tumblr audience tends to be choosier about what they decide to share and comment on. So think carefully about the content you're creating and who you're targeting. Always remember to create with the intent of your material literally representing your readers.
Not to say that your content will no longer be yours. On the contrary. Tumblr's reblogging system not only gives attribution to the original creator, it also creates a dofollow backlink to your account every time someone else shares your content.
But, while all of this is great news for Tumblr users, things can get complicated should you decide to use Tumblr as your official blog or website hub — which is entirely conceivable now that Tumblr not only lets you use a custom domain name but also has the capability to connect to your Facebook, Twitter, and Instagram accounts. This begs the question: how do non-Tumblr users share your content?
They don't. At least not in Tumblr's "natural state." Fortunately, it's easy enough to modify your account to include share buttons and an RSS feed. With certain themes, you can even integrate your newsletter sign-up forms; allowing you to continue to build your list. (And, as we all know, "the money's in the list!").
Keep Up with the Trends and Learn to Love Tags
Tumblr's search function gives priority to tagged posts. Meaning, if you type "web design" into the general search bar, you may only come up with 25 posts — whereas if you use "web design" as a tagged search, you could end up with 250 results!
Tags are your friends.
Tumblr's tags are also prevalent in their "Explore" section — a page dedicated to revealing the site's currently trending topics. As a business owner, this page should be the first daily stop on your microblogging adventures. Out of everything in this article, this could be the most useful marketing tip.
If you see that a tag relevant to your brand is currently "trending" — use it. For example, if you run a consulting firm and "advice" is trending, whip out one of your best tips and slap the advice tag on it. Or, if "decor" is trending and you're trying to get visibility for your interior decorating portfolio, jump on it.
Searching through relevant tags are also a great way to increase your own content. Tumblr's reblogging feature makes it quick and easy to "create" fresh, relevant content for your readers. As a bonus, reblogging from content from users with similar interests tends to increase your following (similar to how Twitter users will often "follow back" those who have followed them first).
Tumblr is Growing Up
Teens may be the ones getting the most attention in the media, but Tumblr is becoming more business-friendly by the day. Both corporations and freelancers are starting to utilize this platform as a marketing tool — and succeeding.
If your business or product is — or can be transformed into — something visually compelling, you should consider giving Tumblr a try.
Image by Tumblr.