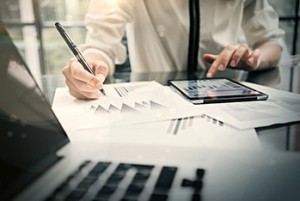 Marketing your service business can be an expensive endeavor. Although this investment usually pays off in the long run, coming up with the funds to support your online marketing can be a challenge – especially when you're just starting out.
While most marketing endeavors require at least a modest budget, there are a few effective ways you can promote your business without spending any money at all. Through the power of social media, you can spread the word about your service business, what you offer, and how you can help your clients – all for free.
Let's take a look at a few of the best ways to market your service business on social media that won't cost you a dime!
1. Participate in Twitter Chats
Twitter chats are a great way to bring together individuals interested in a certain topic, industry, or company. Since everyone is connected through a specific hashtag, you can easily use Twitter chats to attract new customers from your target audience.
In general, a moderator or industry leader will begin a Twitter chat by tweeting out one or more questions and including a specific hashtag. Participants can respond to those questions using the same hashtag, so all relevant tweets are connected. They can add their own ideas, provide alternative opinions, and interact back and forth with one another. Frequently, Twitter chats are conducted at the same time each week, with a new discussion topic each time.
Although every Twitter chat will have its own rules depending on who is running it, directly promoting products or services is usually frowned on. However, Twitter Chats foster dialogue between individuals interested in similar subjects, so you're highly likely to connect with some members of your target audience. After sparking an initial conversation, you can easily include links to your content, products, or services that you believe fit their needs or will solve their problems. Just be sure to keep the conversations as natural and organic as possible.
There are Twitter chats out there for just about every topic or industry. You just need to know where to look. Try connecting with some leaders in your space to see if they know of any regular chats, and keep your eye out for relevant hashtags. Of course, you can always create your own Twitter chat instead. When you're participating in a chat, remember that they move quickly. Keep focused and try to connect with as many people as possible – even if it's not immediately apparent that they're a target audience member.
2. Get Active in Facebook Groups
Facebook groups are another way to bring individuals interested in certain topics, ideas, or industries together through social media. However, unlike a Twitter chat, a Facebook group is permanent. People can come and go as they please, leaving messages, adding comments, or asking questions whenever they feel like it.
For the most part, a Facebook group acts like a forum. While there are moderators around to set rules and ensure everyone stays more or less on topic, members of the group are free to start conversations, ask questions, leave responses, and more. Like Twitter chats, the rules of the group will depend on who is running it. However, it usually isn't in good practice to directly promote your business.
To effectively market your content in a Facebook group, you need to be available whenever you're needed. Share content in a timely fashion that solves problems or answers questions for group members. If you find that certain questions are being asked repeatedly and no one is able to provide an answer, do the research and create new content to fill the gap.
Like Twitter chats, Facebook groups can be found by searching for keywords relevant to your industry, or simply paying attention to areas where your target audience members hang out. Once you're in a group, be sure to stay active. The more familiar the members of the group are with you and your brand, the more likely they are to click through to your site and ultimately make a purchase.
3. Foster Two-Way Conversations
Many small businesses simply use their social media platforms to send out links to their content, website, or products and services. Without the right context, these links usually go unnoticed. Since many potential customers and audience members prefer to engage with brands, these one-sided communications may turn them away.
It's important to understand how to effectively promote your services and content on social media pages. Starting a conversation is important for getting noticed. If you're not considering the larger context when you send out a link, you can't expect your community to respond. If they never even notice your post, of course, they won't click through to your website to buy.
This isn't to say that you shouldn't use links in your social media strategy. Although you don't want to seem pushy, links are an important part of getting target audience members to your website to buy or connect. However, when you use a link, you want to be sure it is within a conversation or incorporated into an interesting piece of text that will entice readers to respond or want to learn more.
The goal here is to create and maintain two-way conversations, which means you need to hold up your end. If someone responds to a post, be sure to reply promptly to keep the conversation going. Listen to what your audience members are asking for, and provide the content, information, products, or services that can help them out.
4. Connect With Influencers
Potential customers aren't the only people you'll want to connect with on social media. In addition to your target audience members, you'll can also use your social media platforms to connect with influencers in your space. These influencers might be journalists, bloggers, thought leaders, or even other brands that aren't direct competitors.
Although these prominent individuals may not be customers, they likely have a large following of members in your target audience who trust their opinions. If you're able to connect and form a friendship with even one such influencer, you can get your name in front of new individuals who may consider becoming customers. Even something as simple as a re-post or mention by an influencer can be enough to attract new customers and clients to your brand.
You can create these connections simply by starting conversations with influencers in your space. Responding to a post, sharing their content, or connecting through a Twitter chat or Facebook group can help you build a relationship the same way you would in your personal life. The more you can connect, the stronger that relationship will become. Of course, keep in mind that your connection with these influencers should be a two-way street. Don't forget to share their content with your followers, and make it clear how you can help them achieve their own goals.
Conclusion
Properly marketing your service business is crucial to its success. However, that doesn't mean you need to spend thousands of dollars to attract highly-qualified leads. If you're short on cash or just looking for a way to save some money on your budget, you can effectively promote your services through social media without any cost at all.
Let's recap the four ways you can promote your service business on social media for free:
Participate in Twitter chats to reach new target audience members.
Get active on Facebook groups to provide helpful and valuable insights.
Create two-way conversations, and share relevant content when your audience needs it most.
Focus on creating strong connections with journalists, bloggers, and thought leaders in your space.
Which of these free promotion tools do you think you'll try out first? Let us know in the comments section below!
Image Source: Pexels.