How much actionable data are you getting out of analytics right now? Are you measuring important activities?
You probably aren't doing much beyond Google Analytics because frankly, most analytics tools require a lot of time. It's not that they can't be useful, it's just that learning something useful requires you to record the right type of information and run the right type of reports.
That's where DigMyData comes in. DigMyData is a new service that gives you valuable insight into your business by using your existing data.
I was introduced to DigMyData by my good friend, Peldi of Balsamiq Mockups. He was impressed with what he was seeing and thought I should check it out. I soon got a beta account and later got to meet the founders, Adam and Mark, at LessConf 2011 in Atlanta. I was immediately impressed and excited by their down to earth approach to analytics.
What sort of stuff can you see with DigMyData? Well, you can see how sending out a marketing email relates to your support load. Or why April was a bad sales month even though you had twice the traffic. This just scratches the surface but you get the idea.

The way it works is that it connects to services you already use. It can connect to Gmail (my personal favorite), PayPal, Google Analytics, MailChimp, AWeber and more. Connecting to services you use gives you a neat chart that shows how different activities are affecting your business.
For example, peep the chart below; it's showing website traffic, support emails and account signups: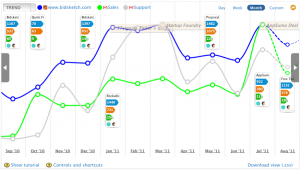 See how the blue line dips from April to June? This is a screenshot of traffic for Bidsketch. When I first looked at this chart, I immediately knew there was a problem. Not only that, but the green line which represents sales, told me that whatever it was, it wasn't affecting my conversion rate (since it stayed the same).
From the same chart, without clicking on a single thing, I could also tell that the announcement of a feature release in May didn't bring additional visits to the site. But once I clicked into one of the lower traffic months, I quickly saw the problem: The amount of people coming from partner sites or integrations was lower than usual. This was all I needed to come up with a plan.
The ability to get this kind of actionable data with very little work is seriously good stuff. It's also the reason I highly recommend you check out DigMyData and take it for a spin — I'm sure you'll love it too.
Everyone that signs up now will get an extended trial until December 31, so visit the DigMyData site and check it out:
P.S. If you have any questions feel free to get in touch with Adam or Mark, they're great guys and always available for a chat: support@digmydata.com
Related…
Read about how Peldi, of Balsamiq, joined DigMyData as an advisor and uses it to manage his multi-million "startup" from Italy:
http://blogs.balsamiq.com/peldi/2011/09/06/digmydata/
Check official launch blog post on the DigMyData site: http://www.digmydata.com/blogs/digmydata-public-release/