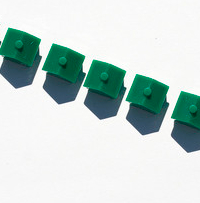 After telling you why you should fire your clients, you may be wondering how to get more out of the red carpet ones you've hung on to.
That's a smart question, I'm glad you asked it.
I suggest you take a leaf out of Amazon's business book and `steal' some of their most powerful methods to upsell and cross sell your clients.
Honestly, if they were going to enter the juicing industry, I think they would dominate it.
Why? They are the masters at squeezing more out of every single transaction made.
So let's get to work and break down three methods you can adopt in your own efforts, to get more out of your customers and clients.

1. Employ the Upsell
You're working with a client, and they've come with you for one outcome only. That may be to design their website, write their business plan, improve their sales page copy or do their taxes.
That does not mean you're limited to only doing this work. While I'd recommend focusing on the task at hand, there's real benefit to suggesting complementary services that may help them even more.
If you're designing someone's website, what's from stopping you from asking if they also need their social media profiles updated at the same time? Nothing, that's what.
This is even more important if your new, or existing client, doesn't know that you even offer that. You can bundle it into the existing contract as an add-on, or simply restate your `package' price to them.
If you pose this to them well, they'll see this is as a great investment, not an additional expense they hadn't budgeted for.
If they say no, you've not lost anything in the process, and you know that's just another avenue for you to revisit once your project is completed.
Quite often, once they've seen the quality of the work or service you've provided, and are hopefully delighted, they will naturally be more open to revisiting your suggestion.
2. Use the Cross-Sell
This is such a powerful method to try for yourself. You've seen it in action on Amazon, and other clever ecommerce sites. They've spent years tracking your purchasing decisions and turning that into delectable offers you can't refuse.
While you don't have that depth of data to hand, you can make some decent assumptions on what your clients may like, that you can deliver on.
For example let's say your client came to you to have their business plan written. It's probably fair to assume that they are applying for a loan or pitching investors now, or in the near future.
So be proactive and tell them about your investor pitch design services. It may be exactly what they're looking for, but didn't see on your website's list of services.
Or you've taken on a new personal training client who wants to get in shape for their wedding in six weeks. While you may be focusing on their exercise plan to get them into shape, did you tell them about your complete nutrition planning service.
The one that will get them the results they want, even faster?
What if you don't offer that service or product, do you need to limit yourself to what you know you can do? 
Of course not. This is where you work on your strategic alliances with trusted partners and friends.  If you offer editing services but don't rate yourself as a copywriter, who can you team up with to offer the `complete' package to your clients?
Talk to to them about cross-selling each other to clients. If they agree, then you get to increase your offerings to your clients and making it a seamless process to solve their problems in one hit.
Which leads me to the third tactic that Amazon uses so well.
3. The Gift of Giving
You want to thank someone or send them a birthday present, but you don't know what to buy them. What do you do? You buy them an Amazon gift card – either a physical one or a digital one.
Your friend gets a lovely surprise, and they get to spend their gift on exactly what they wanted. They also get warm fuzzy feelings every time they think of you.
How about applying this to your clients? 
There are two ways this works well in my opinion.
Send them a gift card after you've worked with them, as a thank you. This could be an Amazon gift card, but wouldn't it be better if it was a credit to be applied to future work with you? What better way to ensure they come back to you for repeat business, then giving them an enticing reason to do so. Top Tip: Make it time bound, so they have to take you up on this 5-20% credit or discount within a month. This creates a sense of urgency. You can also suggest what they can use it on, which acts as a way of promoting what products or services you offer, that they may not have even known about.
Tell them about your referral program after you've worked with them. Suggest that, if they have friends they'd be willing to recommend to you, you'd be more than happy to pay them a `finders fee' or referral commission. This is by no means pushy. If they've enjoyed working with you and you did a great job, they will probably be tooting your horn already. It sweetens the deal if they're going to get a little something in return for their efforts.
This doesn't have to be complex either. You can simply tell them that if they refer someone, and that person mentions your name, they will get, for example 10% of the contract amount (on completion). Happiness all around!
When it comes to maximizing your client relationships, it always pays to look at how you can emulate the best.
There is no doubt that Amazon have perfected their algorithm for profiting from almost every visitor to their website.
So next time you're speaking to your client think about the `if you like this then can I recommend you try' before you seal the deal.
Remember when they're reaching your checkout (on the phone or email or through your website) don't forget the `Are you sure you don't want to add this to your cart too' strategy.
There a lot of lessons to apply to your own client interactions that you can learn from Amazon. I look forward to hearing how you apply these three for a start.
Let me know what you think will work for your current set up in the comments.