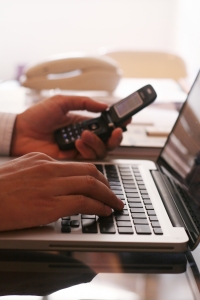 We all want maximum benefit for the least amount of effort. And since there are only 24 hours in a day, it's more important than ever to use our time wisely as business owners.
It may seem impossible to find an extra hour or two in your day, but what about 10 or 20 minutes?
Here are 5 quick actions, that all take less than 20 minutes to complete, that you can do today to ensure the biggest impact on your business and financial situation.
Action 1: Separate Your Biz and Personal Accounts (15-20 minutes)
Your business and personal finances should never mix — even if you're a sole-proprietor or an individual freelancer. Not only is it a headache to keep track of the goings-on each month, and make sure you don't forget to pay any bills, it's a nightmare to organize your taxes at the end of the year.
Additionally, if the IRS audits your business you don't want them sifting through your personal income and expenses in order to find your business transactions. Take a few minutes right now to open a new business checking account along with a new debit card.
Simple steps:
Open a business account. Stop by your local bank — or better yet, head over to your bank's website — and open a new checking account for your business. Make sure it comes with a new debit card for online payments and transfers.
Alert clients and customers. If needed, send out a quick alert notifying clients, contractors, and vendors of the updated account information.
Update the banking transactions. Change all of your incoming and outgoing business transactions to flow in and out of this new account.
Action 2: Review Your Bills and Negotiate the Price (10-15 minutes)
If you haven't reviewed all of your business expenses recently, now's the time to do a quick audit. What bills are you paying, and can you negotiate for a lower rate? Maybe you have too many contractors on a certain job and need to prune the team. Or perhaps you're overpaying for the email service you're using.
When I took a look at how much I was spending each month, I noticed I was overspending for my email marketing service, so I tried testing out a new one. My old service enticed me with a "we're sorry to see you go" discount so I would stay with them, and I ended up saving $29 a month.
Simple steps:
Contact customer service (via phone or email) and ask them what other kinds of pricing options they offer.
Negotiate and stand firm. Let them know you're thinking of finding another service, and see if they are willing to work with you. Generally, they would rather lose a bit of money, than lose you as a recurring customer.
Be prepared to find a new service. If they aren't willing to lower the price for you, make sure you're willing to find a new service that fits within your budget. Stand your ground.
Action 3: Assess Your Complete Client List (10-15 minutes)
How many clients do you currently have in rotation? You probably know which ones pay you on time and which ones are more of a hassle, but have you ever compared them side-by-side?
Every quarter I create a new list of all my clients and include details like; hourly/project rate, hours worked, if they pay me quickly, and how energy-intensive the work is (in other words, if I dread doing the work).
It never ceases to amaze me how problem clients bubble to the surface each time I create this list. Even when I go in thinking that a certain client needs to be cut, I come out of it with a whole different idea. Many times I'm surprised with the projects that pay the least are often the most fun, and can easily be completed in half the time of others. This makes them very much worth the time and energy, even if the pay is lower.
Put your clients on a quarterly (or monthly) rotation and evaluate if they continue making the cut. This is not only important for your finances, but it's vital for the growth of your business. If you want to keep growing and increasing your bottom line, then some projects and clients will need to be pruned.
Simple steps:
Use a large whiteboard or sketchpad. Find a large white surface and create multiple columns: client name, rate, hours, energy level, misc/notes. As an added bonus it's fun to do this with colored pens or markers.
List out each client/project. Input all the client's information into each column. Don't worry about order right now, you'll figure that out in the next step.
Arrange them according to ease and excitement. Which projects do you dread most? Which clients do you not enjoy working with? Arrange these towards the bottom, while listing the other more prominent clients at the top.
Make the tough decision. The last step is to cut any clients or projects you feel aren't worth the time, energy or money anymore. Remember, this is all about growth as a business owner and the success of your business in general.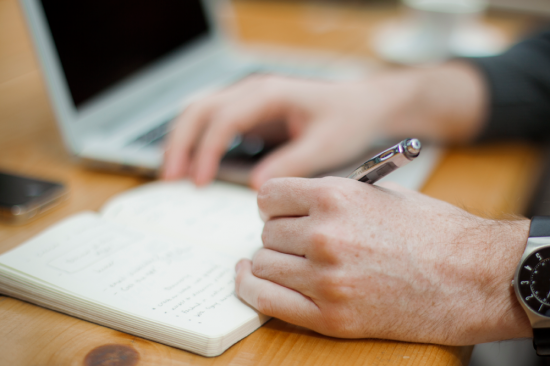 Action 4: Make a Business Budget (15-20 minutes)
You probably already know the importance of creating a personal budget each month, but do you have one for your business? Not only should your business budget focus on how much you're spending, but also how much revenue you're producing.
Unlike a personal budget, this will give you the chance to see where you're spending your time, which projects are more profitable, and which ones aren't worth the energy or money investment.
Additionally, creating a business budget will ensure your expenses are low and that you turn a profit. You don't want all your effort going to waste because you didn't keep track of the numbers.
Simple steps:
Gather your income documents. Log into Paypal (or whatever invoicing service you use) and estimate how much income you're bringing in each month.
List out your expenses. Calculate your total outgoing expenditures and list them on a notepad or spreadsheet.
Subtract income from expenses. Are you turning a profit? Do you need to spend less, or bring in more money? The answer to these questions will surface by creating a budget.
Action 5: Create a Daily Hit List (10-15 minutes daily)
Before starting on client work, checking your email, or even looking at the calendar for the day, make your own projects a priority. Block off 10-20 minutes each morning, by creating a "hit list" that's dedicated to working on one thing you've put on the backburner.
Imagine after just one week how much progress you will have made? And after a full month of setting aside just a few minutes each morning? A small amount of time consistently set aside each day will be more effective than large bursts done sporadically.
Simple steps:
Create a daily "hit list". Each morning, create a daily hit list of at least 1-3 projects that HAVE to be done by the end of the day. At the end of the day, you'll feel accomplished and proud to complete these, even if you get nothing else done. Additionally, always make sure that one of them is your own personal project.
Set aside time to tackle your project first. Before starting on any other projects or client work, make your own list of to-do's a priority. Tackle them first!
These are just a few of the quick actions you can take right now to assess your business' standing, and ensure it's ready for growth. If you don't know where you are, how will you know where you're going?
Business owners: Which action will you tackle today? Do you have another quick tip that will help your business grow?
Photo credit: wilton