If you want to close more freelance deals, you're going to have to sell.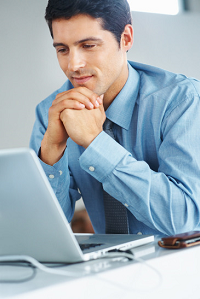 Obvious, right? Most hustling freelancers out there already follow the Glengarry rule of thumb: always be closing. While magnetic marketing tactics can help turn this process to your favor, it still pays to know how to chase after great gigs yourself, and that requires knowing how to write a persuasive project proposal.
If your current proposal writing gameplan involves a blank sheet in Microsoft Word and no idea on how to correctly pitch your services, well, you are in desperate need of this post. 😉
The truth is, all of us freelancers can benefit from a CANI (constant and never-ending improvement) attitude when it comes to whipping up successful proposals.
That's why if you're looking to fall into our camp, or if you're just out for some actionable tips to make your proposals better right away, you should take the time to read this post.
Let's dig in!
1.) Constantly Tweak Your Best Template
One of the best tactics for creating persuasive proposals is to stop trying to 'wing it' every time you need to create one.
In order to maintain superior results over time, it's better to work on a template that you can use to not only streamline the creation process, but that you can tweak to perfect the basic parts of your proposal.
This is especially true when you are targeting only ideal clients on a consistent basis—if you are generally building websites for churches, it's to your advantage to optimize a general template for all of these business, consisting of the 5 elements that every proposal needs:
Problem statement
Recommended solution
Benefits
Project fees
Call to action
Trying to create something from scratch every single time (without any idea of what's working) is like driving with your eyes closed!
Instead, assemble a solid proposal and make it a constant work in progress.
For a great resource on this, check out this free eBook on SEO proposals. It outlines all of the steps I've mentioned above and how you can put it all together to create a great proposal in no time.
2.) Take Time to Know Your Client
Have you ever sat there and wondered, "Who the heck falls for those Nigerian scam emails?"
I'm sure we all have at some point in time, but the (not so) shocking truth is that those Nigerian scammers are smarter than they seem—since they know it's unlikely that a highly educated, technically savvy and skeptical person will ever respond to them, they purposefully construct over-the-top emails to draw in their ideal target.
You should do the same… without the scamming of course!
Rather, you should take the time to understand who you are sending the proposal too before you write it; the 'spray and pray' methodology is not going to land you the clients that pay the big money.
One critical aspect of reflecting your knowledge of a potential clients is using the words that they use. Doing some research into the client's industry, specific concerns and even their competition can help you address them in their own language throughout your proposal.
You should assemble a basic 'dossier' on clients you are pursuing, as they will typically be the largely clients and thus warrant the extra effort. Spend time researching the company, the person you will be contacting, and what their ideal outcome is when working with someone like yourself, and you'll be ahead of 99% of the competition in the race for the big contract.
3.) Avoid 'Chinese Menu' Pricing
One of the biggest pricing mistakes that freelancers make is offering too many options to potential clients. As psychologist Sheena Iyengar revealed in her When choice is demotivating study, too many choices can leave a potential client with 'action paralysis'—since they don't know what to choose, they'll opt for nothing!
If you are scared of only offering one option (or only a few) on your initial proposal, remember this: you can always offer a client more options later on, but it's harder to take a choice off the table once it's already been seen.
The added benefit of keeping your initial proposal simple is that you can construct crystal clear language so there is no confusion on what you going to complete. How many times have you ended up doing work not in the initial proposal because your terms with the client were unclear?
If that answer is even one (or if you've ever run into payment problems), you should definitely consider trying to nail down one project proposal first rather than sending a client a 'menu' of confusing options.
4.) Send Them Quickly!
This almost seems like advice that is too simple to dole out, but a lot of freelancers make this beginner mistake (trust me, I've hired many).
When you've peaked a clients interest after first contact and have been asked to shoot them an email 'when you get the chance' to keep the conversation going… make sure 'when you get a chance' is right away!
The reasoning behind this is that clients are more likely to accept offers when interest is high—the pain you can solve is on their mind and they'll be more likely to pay to get it off their mind.
Check out this data that Bidsketch compiled on proposal timing and closed deals: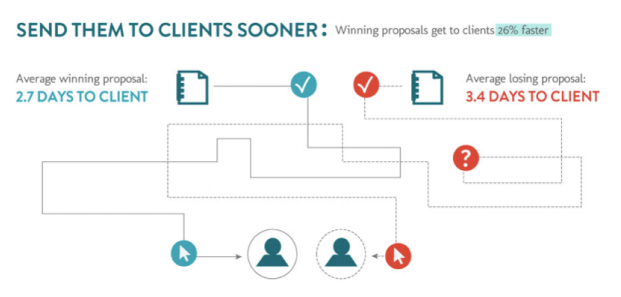 The early bird does get the worm when it comes to sending proposals. The quicker you can get something to a client once you've negotiated the basics, the more likely you'll be to close the deal.
5.) Focus on What's Important
This advice seems to work it's way into every good freelance post, but there's a reason—it doesn't matter if you're closing a deal for writing, marketing, or web design, the bottom line is clients will only be willing to pay premium prices if you can communicate your value.
Your proposal does need to outline 'the goods', but remember that it's critically important to focus on the outcome rather than spending too much time on the process.
That's because clients of all types can understand how your improved web design can help with their eCommerce sales, but in terms of how you do it, most won't care, and you'll be greeted with a glazed over expression as you rattle on about which heatmapping software you'll be using to test their current design.
Sell results, and craft your proposal around ideas they 'get' and concepts that care about; save your technical abilities for later if you want to continue to establish credibility.
Your Turn
This discussion isn't complete without your voice, so let it be heard…
What other advice can you offer on writing persuasive proposals?
If you need even more information on crafting better proposals, be sure to download our free guide on The 5 Elements of the Perfect Proposal.
Thank you for reading, and I'll see you down in the comments!