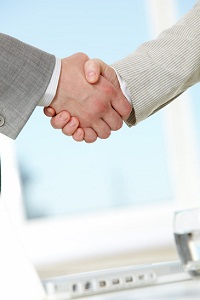 When trying to get a business off the ground, the biggest obstacle you'll face is a lack of experience.
You haven't had time to create a solid reputation, a large portfolio or a network of influential clients you've worked with in the past.
When you haven't established a good amount of experience in a certain area it can be hard to get more quality clients, or even find clients in the first. So how do you score paying clients when you have little to no experience?
Here are 5 fool-proof strategies that will help.
Can You Profit From Your Services?
First off, before you begin finding clients to pay you for your work, you first have to make sure there's a market for your serves — a paying market that is. Do people want to pay you for your services? Is there a demand for what you offer?
It's all too easy to find people who want your stuff for free, but much more difficult to find clients willing to part with their hard-earned cash. Additionally, some industries and niches are easier to break into, while others have a very small margin for profit. Your first step is to determine if your industry is one you can profit from.
This step takes some experimenting and testing out your unique selling proposition, through surveys, market research, and other forms of innovation. Once you've tested the market and proven there's a need for what you provide, it's time to put yourself out there.
1. Establish Yourself as the Go-To Expert
If you want to become the go-to expert in your field there's a simple and effective method for doing this. Anytime someone asks the question "what do you do?" repeat the same answer over and over.
If you want to be known as the Outsourcing Expert for Virtual CEO's then that's what you tell people. If you're asked the same question during an interview or networking meeting, make sure your answer is always the same. This repetition will translate into you becoming the expert in all things outsourcing (or whatever industry you're in).
Just like in the traditional working world, it's difficult to establish a trustworthy reputation and relationship with clients. It's the same way with running an online business, and even more so because there's a minimal amount of human-to-human contact.
However, you can combat this by putting yourself and your business out there publicly. Don't hide behind a logo or other branding. Be transparent with your services, and go the extra mile — like being willing to jump on a video chat instead of defaulting to a phone conversation (although a phone call is still better than an email).
2. Network to Give Not Get
This step may seem counter-intuitive but it's essentially like establishing enough karma that will pay off in the near future. Instead of focusing on what you can get from your network, spend time on what you can give.
If you come across someone who needs advice, offer a brief tidbit from your experience. If a fellow business owner needs help spreading the word about their new promotion, spend a few minutes sharing on social media. Find ways that you can help your network succeed, and in the end they will help you succeed when you ask them.
Of course you don't just want to give so you can get later on, you sincerely need to invest time into helping those within your network so you can build a solid foundation of give and take.
3. Mix Passive and Active Marketing Daily
There are two different types of marketing, passive and active. Both of which are required to land good paying clients whether you tons of experience or none. In order to be successful with both, it's important to understand them so you can leverage them accordingly.
Passive marketing. Daily activities that include passive marketing are like social media updates, blog posts, newsletters, interacting with your network, answering emails and the like. Anything that has to do with being within your industry but not actively selling.
Active marketing. On the flip side, active marketing includes promotion campaigns, seeking out clients, making client proposals, offering sample sessions, new product launches, newsletters that offer discounts, and anything related to closing the deal.
As a business owner you've got to find the right mix between active and passive marketing so you don't come off as a slimy sales person, or become a starving artist because you never promote your work.
When you're breaking into a new industry, you have to actively market yourself so clients know you're open for business. And then once they know you're ready to work, you need a plan of attack to get them to pay you.
4. Join Industry Facebook Groups and Forums
Many of the clients I've landed during my two years of being a financial writer have resulted from perusing the various groups and forums I'm a member of. Generally when another business owner has a contact, or some type of work they can't handle personally, they will reach out to their network via the forum asking if anyone wants the gig.
This is one of the best ways to land a new client because you get a personal introduction (and even recommendation) from your contact. On several occasions the clients have liked my work on that one project so much, they hired me for on-going work. This never would have been possible if I didn't participate in networking activities like private Facebook groups and industry forums.
If you're looking for a few groups to join, check out this list of must-join Facebook groups for writers.
5. Create a Services Page ASAP
This might seem like a no-brainer but all too often I see business owners neglect this very important step. How will your clients know they can hire you if you don't have a services page? Or maybe you do have one but it needs to be more prominently featured.
If you want to have clients email you about working together, versus of actively seeking them out, you've got to put up a Work With Me page right now! I haven't actively sought out client work for over a year, but I get leads and client work that lands directly in my inbox on a daily basis. All because of a Hire Me page that I've expertly developed on my site.
Even if you don't have much experience, you still need a services page that displays your strengths and skills. Don't focus on the fact that you've only been in business for 3 months. Instead talk about how you'll go the extra mile, why you always under-promise and over-deliver. Focus on the few areas where you stand out above the rest, and leverage those to land paying clients.
It's also a good idea to test the waters by doing work for a friend or relative for free (or cheap). Then you can ask them for a testimonial or recommendation, which you can display on your services page. This will give you and your business instant credibility.
Score Paying Clients, Even With Limited Experience
Finding your first client doesn't have to be a discouraging task that ends up overwhelming you. By using the steps outlined here, you'll be well on your way to building your reputation, solidifying your portfolio and landing bigger paychecks from quality clients.