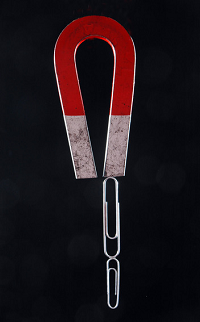 As an agency owner or freelancer, you're constantly on the hunt for new business while making sure your current clients' demands are not only being met, but being greatly exceeded.
In addition, the agency world is becoming more competitive, and the agency-client relationship continues to trend toward shorter term engagements, making it more important than ever to constantly build and sustain a pipeline of new clients.
In an effort to stay on top of these industry-wide shifts, it's more important than ever to not only provide real, measurable value for your clients, but to cut through the noise during the pitching process as well. Below we listed a few creative tactics to help you do just that:
Create a Personalized Experience
Neil Patel, co-founder of KISSMetrics and CrazyEgg, used to run an SEO consultancy where he'd prospect for new clients by first assessing target clients and then writing a highly-targeted blog post describing what they're doing wrong, and how they should fix it to improve their SEO.
It's the type of personalized sales message you want to lead with when closing a deal. (Which is why we've included it in our free SEO proposal kit.)
For example, he wrote a post on Like.com back in 2006 that was meant to get the attention of their CEO and marketing team. The post did very little in terms of social shares and organic traffic, but he received a call a few hours later from the founder of Like.com with a contract offer ready.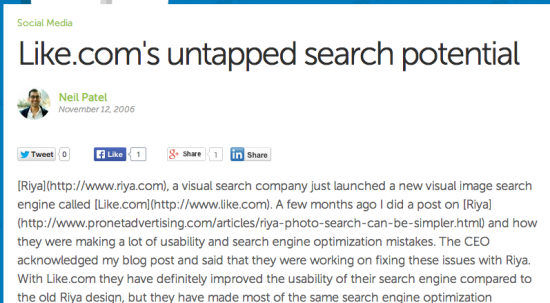 If you're really serious about getting in front of a particular person or account, you even target them through Facebook Custom Audiences, much like how Brian Switchkow found a loophole in Facebook's audience targetting which he leveraged to prank his roommate.
Send A Physical Letter to Prospective Clients
It's easy to get caught up in the digital mix and completely ignore sending something through snail mail, but the bottom line is that no one is expecting to receive random packages, thoughtful in the mail, so sending over a handwritten letter or a gift will help you cut through the noise.
MailLift, an on-demand handwritten direct mail service, allows you to outsource and send premium handwritten letters to anyone for 7 bucks a piece or less. Think about how much you could stand out from everyone else who simply relies on cold emails or invasive cold-calling techniques?
You can further stand out by not even pitching a prospective client through the handwritten letter at all. That's right; send them a letter about how you appreciate their company, and provide a specific example. They'll appreciate the warm regard, and when it's time to buy a product or service similar to what your business offers, guess who do you think they will think of first, that annoying spammer, or the person who went out of their way to say they appreciate their business for no apparent reason at all?
Closely Monitor Influencers' Interests
Social media is far more powerful than just a channel to self-promote yourself and your business; if you listen carefully enough, it's the greatest focus group of all time.
Social media allows individuals (and businesses) to naturally express their interests, pet peeves, desires and so forth, so if you're savvy enough, you can turn this seemingly insignificant nuance and turn it into a hyper-targeted way to research people and companies.
For instance, Gregory Ciotti from HelpScout wrote about how UserTesting's marketing strategist Harvey Ranola noticed him make a joke about his love of beef jerky but complained about the prices, so Harvey decided to send a box of beef jerky his way, despite UserTesting having nothing to do with beef jerky. It was a small price to pay for the affection of an influencer, and they were able to land some earned media as well.
So, how can you take action on this?
I'd suggest examining at least a handful of influencers, target clients or interesting individuals in your field and truly engage with them beyond digital interactions. Find out what their interests are beyond their work, and get creative. It doesn't have to necessarily mean buying them gifts, but go beyond what everyone else goes: get more creative, more granular and put more work behind it. It will pay off, eventually.
Strategically Do Pro Bono Work
This one is a bit controversial, as you don't want to just do free work for anyone, including large accounts. What we mean when we say do pro bono work, help a charity achieve a goal that they need to hit but simply do not have the resources to do so, whether it's building a website, helping execute a marketing plan or setting up a fundraising event.
Charities tend to have a large reach and a lot of support from multinational corporations, successful individuals and a lot of small to medium businesses.. Having a major non-profit refer you to their donor base would be well worth the additional work, not to mention the benefits you would provide an agency that is on a mission to do more good in the world.
Do The Work Before You're Hired
Where are pro-bono work is agreed upon beforehand, and the client although not paying, has certain expectations, you can take a backdoor approach and start working on behalf of the client before they even know who you are.
Take for example Tristan Walker, the then Stanford student who desperately wanted to work for Foursquare. His initial approach was much like many others: he'd email the CEO several times and send in a standard application. However, after receiving little traction, he decided to actually prove he can do the job without asking for permission and without waiting to be hired. He then went out and closed several advertising deals for Foursquare since he wanted to land a job in business development, and then he was hired the next day.
There are plenty of other examples highlighted in this Quora post by CamMi Pham, and all of them have a central theme of doing things a bit differently, and doing what you believe will work without permission.
How This Can Help You
Clients want solutions, and they want people who can get it done for them. There's no better way to exemplify this than by actually doing it, which I was these methods work so well.
Since we provided 5 examples, we'd like for you to try these out, or something along the lines of proving your hustle and standing out, and drop a comment below to let us know how it went. It won't always work, but it's a much more consistent way to win clients and build a sustainable, growing agency or freelance business.
What other unconventional tactics have you leveraged to attract clients?