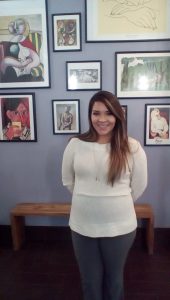 Here's a couple of themes that you read about often as a business owner:
Customer service, and branding.
These are often presented as two separate disciplines, but in fact, they complement each other by allowing business owners like you the ability to build an unstoppable foundation for your company.
And since the foundation is the most important component of any structure, it makes sense that you'd learn how to structure yours by following the examples of companies who have learned how to get things right.
Here's the best part:
You don't have to operate as a major conglomerate or even, operate like a company listed in Fortune magazine.
Combining excellent customer service and branding strategies that generate customer retention in the future are things that even solo creatives can implement, now!
Take a look the simple examples provided by boutique hotel resort, La Copa Inn, located in South Padre Island, Texas.
Never take your clients/customers for granted
In the course managing day-to-day operations, especially if you're a solo-entrepreneur, it's all too easy to lose sight of core values.
It's far too easy to believe that your business exists to send out invoices. But if your customers or clients aren't happy, then you can forget about generating money, right?
Smart businesses realize that's it's all about the people who buy into the company's products or services. Sure, there are times when the customer/client isn't always right, but at the end of the day, your business exists to serve others.
La Copa Inn keeps this mission at the forefront, and I personally experienced this when I visited their property for a few days during the last week of September, 2016.
The management's mission (led at the time by assistant manager Sarah Cruz Hermosillo) starts by providing their guests with an environment that feels like a tricked-out home away from home.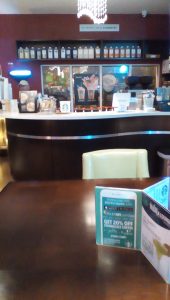 Imagine if your newly-built house had a coffee bar area (serving fresh Starbucks beverages), a cocktail bar inside of your gameroom, and a snack bar inside of your entertainment room.
Now, imagine if the walls inside of your house were decorated with fine Picasso prints, and contemporary chandelier lighting? Oh yeah, imagine if you had a cook eager to serve you a fresh omelette or waffles every morning?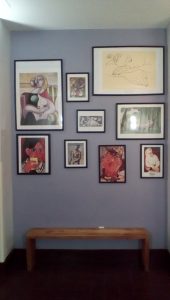 You'd probably have all of your friends finding reasons to visit, and you'd be hard-pressed to hang out anywhere else! La Copa creates this atmosphere by design. They want to create an environment for guests that feels like a home away from home…only better.
They understand that even the small touches like interior design and making sure that the guests' basic needs are met (as if they were at home) makes guests eager to keep investing in vacations at the property.
And this ensures positive cashflow for the property for years on end.
Empowered employees are a sign of strong management
Sometimes, a sign of great management and business structure isn't only apparent when everything's going right, but it also becomes apparent when things go wrong.
During my first day and evening at the resort…well, it became very apparent that things weren't going as planned. In fact, I flirted with the idea of changing course and going home. But in the interim, I decided to handle the situation by changing rooms.
I decided to take a chance and see if there was anyone at the front desk…at 2:30 in the morning!
Sure enough, I found that the front desk was manned 24 hours a day, seven days a week. This made me (and other guests, I'm sure) feel that our needs were a priority every moment that we entrusted the property's management with our care.
But here's what impressed me the most, and it's something that made me change my mind about leaving:
The front desk attendant not only made me feel heard, but he made arrangements for me to change rooms, immediately.
And when I say immediately, I mean that the desk clerk was ready to allow me to change rooms and prepare a key for my new room at 2:30 in the morning! There were no questions asked. There wasn't a hint of condescension. There was no patronizing, no blame-shifting, no second-guessing.
In fact, I told the clerk that I'd be glad to switch rooms later on in the morning when I had more sleep. The clerk told me that he understood, wished me a pleasant rest, and although he was gone when I woke up, he executed seamless preparations, leaving notes for the attendant on the next shift.
I'm glad that I stayed and allowed the staff to work things out!
Simon Sinek was quoted in the Houston Chronicle's Small Business section as saying:
Empowered employees have the power to make decisions without a supervisor. They are entitled to go off script, bend the rules, do what they see fit if they believe it is the right thing to do for the customer.

More than any other kind of employee, the empowered employee is able to create a feeling of true customer service that ultimately yields much greater customer loyalty

Companies that give employees the freedom to make decisions on the spur of the moment often find that service to internal and external customers is improved.
And Randi Busse, author of the book Turning Rants Into Raves talks about the following four business drivers that result from employee (or contractor) empowerment:
Revenue: Will a decision I'm making for the customer cost the company extra money? Most of the time, the correct answer is no. That said, sometimes it's okay for it to cost extra. The employee needs to know how far they can go.

Retention: Will a decision I'm making for the customer cause them to want to continue to do business with us? Obviously, the correct answer is yes.

Reputation: Will a decision I'm making for the customer enhance the reputation of the company? The answer is yes.

Referrals: Will a decision I'm making for the customer make them want to refer the company? I hope so! Of course the answer should be yes.
But this might seem scary if you're a freelancer who is just scaling to the place of hiring outsourced help, or if you're a agency owner/manager who's concerned about allowing your subordinates to make important decisions.
You know you should let go of the reins a little, but what if your contractors or employees make the wrong decisions? New Hope Network argues that by not empowering your employees, you're stunting their growth while hurting your operation:
As managers, it's easy to see our role as resident problem solver. (But)what it does not mean is that it's your job to solve all of your employees' problems.

Once a staff person starts seeing you as the person they can dump their problem on and walk away knowing it will be handled, guess what will happen the moment that person runs into another roadblock?

Employees (or contractors) learn with astonishing rapidity that they only need to make a mention of some annoyance, and, voila – it's your problem now.

For busy managers on the receiving end of these issues, it can be entirely too easy to rely on your power and authority to continually put out the fires.

…If you've found yourself the recipient of more than a few of these 'fly by' complaints, or are hearing employees sounding powerless when they bring you their problems, it can be far more beneficial to both of you to help them help themselves.
Big-Picture Focus
Again, it's easy to lose sight of what's important when you're bogged down with daily tasks. But what I witnessed during my stay at the La Copa Inn property and during my interactions with other business owners/service providers in South Padre Island was insight into the big picture.
See, unlike mega-resort towns, South Padre Island is a very small town on the southern-most tip of the Texas Gulf Coast. While the town enjoys heady cashflow during the mid-spring and summer months of the year, there's a feast-and-famine cycle that has to be contended with during the fall and the winter months of the year.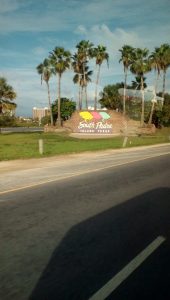 Instead of taking the feast months for granted, the locals in the service industry work extra hard doing the slower times. They understand that every regional visitor, every store, restaurant and transportation customer, and every property guest is gold.
More to the point, they understand that if they can entice every person to return to the region, then the return visitor will continue to spend money in the region, year after year.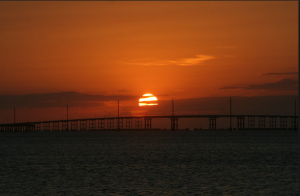 Not only this, but they'll bring their friends and family with them, allowing for more revenue to be brought into the region. And all of this boosts the local economy, allowing local residents to obtain employment and maintain their jobs for as long as possible.
Business2Business reports:
Customers know companies that provide great customer service and expect it from all of their suppliers. And, they use social media like Facebook, Twitter, and Linkedin or crowd sourcing applications like Yelp and Tripadvisor to tell their friends, family, and strangers when they have excellent customer service or bad customer service.
And while your company might not generate positive reviews on sites like Trip Advisor, you can believe that your prospects are checking you out sites like LinkedIn, Twitter, and Facebook.
Your previous clients and customers are leaving online reviews for others to consider, too. Don't you want the foundation for your brand to check out favorably?
*Property photos taken by the author. Sunset photo sourced from Google.