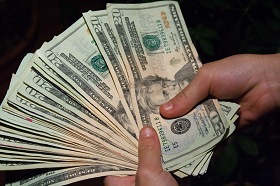 For any business looking to grow, some form of monetary reinvestment is crucial. It doesn't have to be thousands and thousands of dollars, but a significant amount that is targeted effectively can boost your bottom line and elevate your profile and reach.
However, reinvesting into your business isn't just about a cash injection; investment is also about time, effort, expertise and a well thought out plan. In this post I'll look at five ways you can expand by investing some of your income back into your business.

1. Outsource Basic Tasks
"Do what you do best, and outsource the rest." – Peter Drucker
Outsourcing your basic everyday tasks is the easiest way of reinvesting income into your business and you don't have to be a huge corporate company to consider it as an option. As I've discussed before, delegating routine administrative tasks can free up a huge chunk of time that you could spend on developing and growing your business.
Taking your business to the next level means adopting a business owner's mind set and realizing that your evenings and weekends don't have to be spent updating your Facebook page or balancing the books.
Although the success of your business and the value it provides inherently lies with you, there are many basic (and often time consuming) jobs that can be assigned to a Virtual Assistant. Experienced and reliable administrative assistants can be found on freelance job sites such as Elance and oDesk and depending on their geographical location will cost you anywhere between $3-$20 per hour or more.
And, as demonstrated previously, if your rate is $75 per hour and you spend five hours a month on bookkeeping, why not hire a good bookkeeper for $25 per hour and spend that five hours on client work which will earn you a net $250 more a month.
Ultimately, not only could spending a relatively small percentage of your income outsourcing free up time to spend on building your business, it could also serve to increase your profits.
2. Outsource Skilled Tasks
Although you're already proven to be good at what you do there are certain tasks such as web design and development that can benefit from expert input. As a small business you might not be quite ready to take on a full time IT specialist, but if your website needs a relaunch or if you've got a great idea for a mobile app to accompany your product or service then outsourcing one-off projects can be an easy, cost-effective option.
The tricky part is finding someone reputable who works to the standard you expect. The most obvious solution is to turn to your professional network and ask for recommendations. Most online entrepreneurs use outsourcing in some capacity so the chances are that someone will be able to endorse a freelancer's talents to you. In the absence of a decent referral you could try researching professional business networks such as LinkedIn or industry-specific sites like Dribbble which specializes in showcasing the portfolios of designers.
Another solution is to advertise on the aforementioned freelance broker sites. While this option can seem riskier, there are many highly-skilled professionals who have profiles there and sites like Elance have in-depth scoring and feedback systems in place. Just as you would in the offline world, you can interview people, request references and even suggest a work trial.
3. Hire a Project Manager
Hiring a project manager is one of the most challenging things you can do as a business owner and it will take careful consideration and planning. By its very nature project management is the science of getting things done and in deciding to hire a project manager you can expect a targeted, efficient approach to whatever tasks or projects you decide to delegate.
Project managers are experienced in forward-planning and have the ability to view your business as a whole entity whose component parts must be managed efficiently. They have the communication skills necessary to inform and motivate your team if required as well as the enthusiasm to push projects through to the end.
If you've reached a stage where you are comfortably outsourcing your basic and/or skilled tasks then hiring a person to oversee the day-to-day running of your business operations can release you full time to concentrate on driving your business to the next level.
Whether you want to hire a project manager to assist you directly with expanding your business or simply to take over the everyday routine so you can focus on developing, marketing and networking, they will be able to assist you in defining the scope and nature of your goals. Of course, it takes a great deal of confidence and trust to let go of your business and reveal its inner workings to a stranger and in that respect hiring a project manager will not be for everyone.
4. Redesign Your Website
In the competitive world of business it is vitally important that you project the most professional image you can at any given opportunity. When someone first visits your website they should instantly get a positive impression of your business and the product or services you offer.
This is especially pertinent if you are operating within the design industry be it web-based design or otherwise. Think of it this way: an interview panel wouldn't hire an unkempt, slovenly-dressed candidate as a front of house manager at a luxury hotel. Similarly, a prospective client won't hire you to overhaul their own site when yours looks like it was built in 2005 by an amateur.
A recent poll found that more than one-third of Americans now own tablets and 61% of cell phone owners have smartphones. This makes it much more likely that your target audience will access your website via their mobile devices. If they arrive at a slow, mobile-incompatible site they will be highly likely to give up and try somewhere else.
It's no good having a great business that is let down by a poor website. Keeping your site fresh, modern and easy to use will keep visitors there for longer which in turn should increase your conversion rates.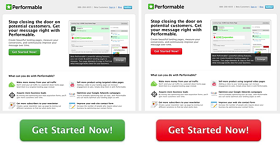 A recent experiment by Hubspot proved that even the simple action of changing a button's color from green to red can increase conversion rates by 21%.
In another experiment ImageScape demonstrated how reducing the number of fields in their forms from eleven to four resulted in a 160% increase in forms being submitted and a 120% increase in their conversion rate.
It's clear to see the benefits in outsourcing your website overhaul to a professional who is well-versed in the latest design research and methods. While you may be familiar with some techniques they will be experienced in market trends and will know how to optimize the look and content of your site in order to encourage customers to visit, browse and buy.
5. Create a Blog
If you haven't already got a blog I absolutely recommend that you start one. They can be an invaluable tool for online businesses that can help drive traffic to your website and build a loyal customer base.
A blog allows you to reaffirm your brand and your company's work ethic to readers, customers and potential clients. It allows you to build a relationship with your target audience and helps create a credible and authoritative persona.
The internet has irrevocably altered the way in which people shop, communicate and learn about goods and services that interest them. By the end of 2013 it is expected that 128 million people in the US will be monthly blog readers so it makes sense to tap into this method of conversing.
Blogs are a great way to get your message out there and promote your product or service as well as a way of getting feedback and interacting with your customers and potential clients. It can give your business a 'voice' and add a human element in addition to helping you get more leads, boosting your SEO rankings and increasing your conversion rates.
And best of all? There are lots of experienced bloggers out there who can create high-quality content at competitive prices meaning you won't have to spend hours creating new and engaging posts. Aside from some minimal overseeing, in theory a blog can almost be wholly outsourced.
Concluding Thoughts
Reinvestment in your business is the most important thing you can do with your profits as it will help your company to grow. Being a business owner involves taking calculated risks in order to prosper and at the heart of every entrepreneur is the driving desire to be as successful as possible.
Keeping your existing customers and clients happy is great but unless you expand your customer base and aim to reach a wider target audience you'll never attain the momentum to make it to the next level. That's where reinvestment becomes so important.
Now it's over to you — what forms of reinvestment would you recommend in order to promote business growth? Let us know in the comments section below!
Photo Credit: flickr.com