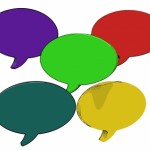 As you run your personal errands, or while you hang out in your spare time, you're going to be unknowingly surrounded by successful entrepreneurs.
You won't know who they are, because they aren't born with a successful entrepreneur tattoo on their foreheads.
But, if you had x-ray vision, then you'd be able to penetrate their brain, and you'd see all sorts of quote bubbles that contained all sorts of interesting thoughts.
Then, you'd probably wish that you had special photographic memory powers, so that you could secretly steal their thoughts, and model their trajectory towards success.
Well, I've got some good and bad news for you:
The bad news is, if you're reading this post, then the chances are very good that you don't possess the super-powers that I've mentioned. The good news is, you won't need to call upon special super-powers.
All you'll need to do (in this case) is read this article where I share 10 thoughts that constantly recycle through the minds of those who build a profitable, enduring business.
Mind you, many success stories started out with a one person team!
I Take Personal Satisfaction In My Work
Here's a dirty secret that some out there might be ashamed of:
They're not really into their work!
Here's the thing: Like I wrote in an earlier article, many people have jumped on the entrepreneurship bandwagon, because they like the idea of controlling their income, and many other aspects of their life.
People often jump into industries that offer vast opportunities for revenue generation. And, this is fine! Money literally isn't a four-letter word!
The problem is, there's lots of people slinging around four-lettered words of all sorts, because they despise the industry they've selected to work in. As you can guess, money doesn't solve your problems if you hate what you do.
It's better to find the happy intersection of monetizing your passions, and living a financially dignified lifestyle.
I Have Systems In Place To Properly Conduct Business
I recently viewed a live webinar training session conducted by Robert Kiyosaki. The part of the seminar that made me say "Ah!" was the part when Robert features a pyramid filled with various systems that all entrepreneurs should have in place.
The border of the triangle addresses:
Team- No entrepreneur can do everything alone.
Mission- What's the purpose of your company, product, or service?
Leadership- How is leadership executed in your organization?
The inside of the triangle addresses key points like:
Cash flow- Do you understand how to make this concept work?
Communications- What platforms are you using?
Systems- How does your business operate daily?
Legal- Who's handling your legal issues?
Product- What is it, and will you improve upon it?
Are you the type of new entrepreneur who's getting by with solely focusing on marketing and revenue generation? These are key, but if you want to grow and endure, then you're going to need to a build a foundation based upon the things mentioned above.
I'm Willing To Hit The Pavement, And Sell
And, then again, the ability to market your service is crucial to your immediate and your long-term survival. Yet, it's astounding how many freelancers and entrepreneurs loathe marketing their services.
Invoices don't generate themselves! If you don't understand anything else, then understand that any hesitation to hustle (and often) will lead to you closing shop, forever.
I Understand My Target Market
No matter how great you feel that your product or service is, you've got to appeal to your specific target market if you want to be the brand that services your customers for as long as possible.
Understanding your target market guides the way that you market your products and services. It also guides the way that you scale your products or services, if at all.
I Brand Myself To Create USP
Do you want  to know an easy way for you to determine who your target market is?
Brand yourself!
Once you've identified the right unique selling proposition, then you stick to your script, and market. Before you know it, you'll attract a fan base of eager buyers (or clients) who are in love with your brand.
Take my buddy Bobbi Palmer. She's an over-40 dating doyenne and the owner of Date Like A Grownup.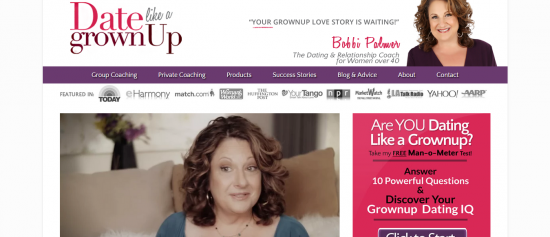 (photo from DateLikeAGrownup.com)
Bobbi competes with a ton of dating coaches out there who market their services to a general audience. And, while Bobbi could sell her services to a general audience, she shrewdly branded herself as a coach for women over 40, because she was over 40 when she mastered dating and met her husband of almost 8 years.
She became her own success story, and now, she's able to deftly market herself to an audience who also wants to achieve the same goal.
I Appreciate My Customers
Customer appreciation is a phrase that's often attached to shopping discounts at various retail stores. But, when's the last time that you've thought about how you can genuinely show appreciation for those who put money into your pockets?
You don't have to be a large-scale company to offer some sort of thank you to your customers (or clients), either. I personally volunteer extra services as a small token to partners and allies who have my back.
Remember, without them, there is no you!
I've Built A Top-Notch, Trusthworthy Team
There are industries where working with a team is a must. But, what about industries that allow for solo-preneurship (Like freelance writing, or graphic arts?)
Even the solo-preneurs need help, and it's in your best interest to take stock of those who have connections to people you might need in the future. Make a list of those in your professional network who have skills, tools, or resources that will help you to scale your business, both laterally and vertically.
Just last week, I connected with another freelance writer who offered me information that will allow me to scale my service offerings, and my revenue. After thanking the person, I asked them what motivated them to offer me this golden nugget of info.
"Because, you asked!" they replied.
And, just yesterday, another person on my team talked to me about an upcoming project that their virtual assistant employer needs help with. I also have access to a couple of team members who guide me and steer me in the right direction as I continue grow professionally.
See how that works?
I Understand My Competitive Advantage Over My Competitors
I have a confession: I really don't like the word competition, because it often brings up negative connotations. But, the reality is that the world of commerce thrives off of competition.
You know, like Pepsi and Coca-Cola.
I'm not the first person who ever sold writing services, and I bet that you're not the first person to sell the product or service that you offer. This is why it's our responsibility to create a competitive edge over others in our chosen industries.
This doesn't mean that we need to engage in mean, under-handed tactics. I'm a believer that quality and skill always wins over tactics. But, we'd better come up with a half-decent reason why someone should select us over a competitor!
I Understand The Need For Personal Investment
Why do certain products or services become obsolete? It's because the entrepreneurs behind them don't keep up with the times!
It's ridiculously tempting to cry and moan about how busy you are, but unless you're willing to carve out time to improve your professional skills, then you're going to eventually have lots of free time on your hands…because no one will want what you have to offer!
And, while money can be an issue when it comes to taking professional self-improvement courses, there's tons of free content and courses out there, too. Here's a list of free professional resources, courtesy of Entrepreneur Magazine
And, don't stop with improving your professional skills. Take a look at the entrepreneurs who are dominating the world in thought leadership, innovation, and philanthropy.
These are leaders who spend vast amounts of time and energy on working through their personal issues, and their thought processes, too. They're constantly reading books, articles, attending seminars, and streaming inspirational videos.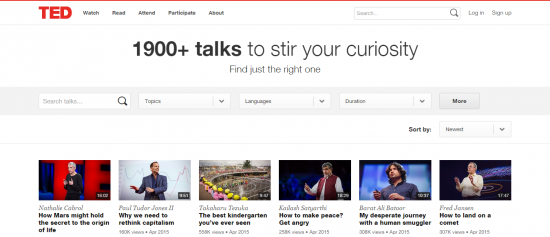 Like many others, I'm a huge fan of Ted Talks, and I'm definitely a fan of free!
I'm Likeable
Don't you just love doing business with those who are condescending, rude, dismissive, mean, surly, or display other types of personality disorders?
Of course not, and like the saying goes, people do business with those that they like, and trust. When's the last time that you took honest stock of your behavior while you're interacting with others?
And, this goes for emails, texting, and social media posts, too!
I Understand The Need To Regroup And Recharge
Society tends to reward those who charge ahead, plow through, and grind things out. But, who can reasonably sustain that pace for extended periods of time?
Sure, there are times for bullish behavior, but be careful not to confuse aggressive, frantic, unfocused, busy behaviors with productivity, or efficiency.
Smart entrepreneurs realize that in order to grind out quality service efficiently, they've got to put the brakes on every now and then.
They need to take extended periods away from it all to regroup. And, they often steal moments at the beginning or the end of their day for meditation, and reflection.
Your turn: Which one of the thoughts listed in this post do you need to work on, and which ones are currently guiding your business operations? Leave a comment below.
*Photo courtesy of Freedigitalphotos.net