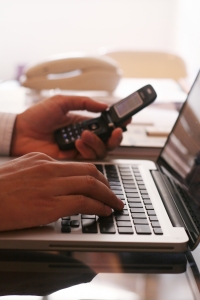 If you want to fill your pipeline with cold email, you're going to want to ask yourself one thing right off the bat.
Is cold email spam? And the answer to that question, which many people have found themselves asking recently, is a 100 percent NO.
Simply put, cold email is just an email that's sent to someone that you don't know. If you're in any kind of business really, you're probably already quite familiar with it and you've probably already sent them quite a lot.
It's not really a cold call either, which is much more in-your-face and disruptive.
It also is more personalized and fits the person who is receiving the email.
Given this, there are a lot of differences between your average cold email and a general spam email. When you get a cold email, it uses your actual name to actually address you, has a subject line that makes sense for its purpose, looks like any old email that you'd get from a colleague and shows the address of the person who sent it in the signature. You won't find that in just a spam email.
So, if you take all this into consideration, it's pretty easy to check off the little boxes to make sure that you're actually sending your potential customers a cold email and not a spam email. Let's see what it takes.
First, when you look at your inbox and view the "from" and "to" boxes, does it actually show you real relevant information for real people?
Is the subject line actually something that you would open, and does it actually refer to the email's contents hidden within?
Does it read like an email from a real person sitting at a real computer?
Is there a company, address, phone number or even fax number listed in the signature of the person who sent the email?
Does the person sending the email give you a way to avoid them — say, like, telling you that if they're not the best person to contact, forward the email on to the right individual?
All of these things set a cold email apart from a spam email.
So Now How Do I Write My Cold Emails?
You're going to want to start off with a great subject line. It's the same as when a journalist writes a news article — they want that article to be so great that you automatically want to pick it up and read it. The title must be catchy and intriguing, or you won't read it. The same goes for a subject line for an email.
You want to keep your subject lines on point and direct, so that you'll stick out from the crowd. Keep it short and concise, with as little as a few words and less than 50 characters. You don't have to give it all away just yet.
Don't use spam-like language wishing your cold email. Don't say anything about offers or discounts or savings or anything else like that which sounds salesy.
You'll end up in the delete pile super fast. Make it personable, and you can even consider adding your recipient's name within the subject line, to get them interested.
Once you've nailed your subject line, you want to make sure that your body is equally nice, and there a few different methods for doing this, which you can try all of or just one of, to see what works for you.
It all starts by getting inside your recipient's shoes. What do they want to hear from you, whom they've never heard from ever? How can you benefit them today and actually give them something that they want to hear?
Grab Your Readers
Again, just like a good author or journalist, you want to grab your readers and pull them in to your story. So, for these reasons, forget your average introduction. You don't want to bore people and you don't want them to delete your message within seconds, because all they see is some stupid introduction with your name (which means nothing to them) and your company name (which very likely means nothing to them). You can always introduce yourself later, so save it.
Your first paragraph is going to be absolutely crucial. You want to thoroughly grab your reader and make sure that they want to actually keep reading through to the end of your email.
That first paragraph has to be so good that it totally speaks to your readers and grabs their interest straightaway. The first sentence is just as important as well, as most email servers now show that first sentence in a preview, so they'll be able to read (and make judgements on) your first couple of words without even opening the message.
Once you've grabbed them, it's time to get to the point. Make it concise, good and well-written, and make it just as attention-grabbing as your first paragraph and sentence.
You always want to make sure you tell your reader why you're writing to them in the most clear and concise way possible. Don't make it some lengthy, fluffy piece. Forget the stupid words.
You're not a fiction writer. You're a marketer or a salesperson or any kind of business professional, and you've got something important to say, so stop dumbing it up fancy words or added niceties. Get to the point!
If you do this, you'll naturally be able to keep things short. If it's so long that your busy recipient has to save it for later (or save it for never), then you'll see a very low response rate.
Make it Personal
Be absolutely unique and one of a kind. Use your prospect's name and show that you've done your research and that you know who your reader is.
The number one mistake you can make is to accidentally send your email to the wrong person. It means that you've not done your research, you don't know your stuff and, in essence, you probably don't care that much.
No matter how good your email is, this singular mistake has the chance to ruin you. Plus, don't even rely on anyone forwarding an email to who you need to speak to.
Always send emails to an actual personal email address, too, not just a generic one, such as the email address for a company's sales or marketing department. This may seem hard at first, to find these perusal email addresses, but if you try, you can often find them with a little bit of internet digging.
It may just be as simple as finding the email address for a separate person who works at the same company, and then using that email format and filling in the information of the person that you're trying to reach. It can't hurt and even if it doesn't send, it only bounces back.
Beyond finding the right email address, though, you want to conduct a fair amount of research about your recipient's job, brand and even their personal life. This can help you to write an email that actually shows that you care and that actually grabs their interest. It can make your email far from generic, and will increase your likelihood of receiving a response.
Once you have all of this great information, make your email about the person receiving it. Don't spend a lot of time talking about yourself and boasting about your job, career or accomplishments.
Your recipient doesn't want to hear it. You need to focus always on the consumer or the person on the other side of the computer, rather than on yourself. Talk about their needs and desires, and not your own, and focus on how you can help them, not the other way around.
The only time you should be adding in fluffy little language that strays away from your point is when you're highlighting a shared interest between you and the recipient. Mention these said interests casually, as a side-thought. Use this and balance it with your sales techniques to find a winning combination.
How to End
Many experts recommend that you finish your email off with an inquiry. Asking just a simple question can be a great way to get a response, just make sure that it's something that can be easily answered. This draws the other person into a conversation with you, and helps you start to build that relationship that's need in order to close the deal.
Don't know what to ask for? It can be easy! You could simply ask for a phone call, or a Skype chat.
Whatever it is, you again want to make it super easy for your receiver to get back to you, so that they can just say "yes" without any hesitation or time wasted.
That's what it takes to write a fantastic cold email.
Using Referrals
Beyond writing a great cold email, if you're recalling looking to create an increase in your cold email responses, you want to build great trust. There's no greater way to build trust with your recipient than by showing them that their friends already trust you!
All it takes is just asking your current clients or those who think highly of your brand to recommend you to their friends and colleagues in the industry which you both work.
People are going to trust their friends to point them in the right direction, so if someone points their friends to you, then you're going to have an immediate leg up on the competition, plus a total authority that can sometimes be hard to grasp without a referral.
Of course, you want to be sure that you're asking for your referral at the best time. You don't want to ask for a referral from a current client too soon, because they may not have fully immersed themselves in your services or product.
You also never want to ask an unhappy client for a referral. That's just asking for trouble.
Experts say the best time for ask for a referral is within the first month of your relationship with a current customer. This allows them enough time to get immersed in your branding and services, without enough time to find problems with it.
Whenever you sense that they're the most happy with your services, that's when it's time to strike and ask for a referral.
However, don't make it hard for your clients to give referrals, just like you don't want to make it difficult for your cold email recipients to respond to you. Don't even ask them to send an introductory email to the people they're referring.
This is never going to happen, even though it may be a nice gesture and even if they want to, because they're busy and that's just not going to be on their priority list.
All you need to do is ask them to give you a name and an email address. It's totally easy and simple. Then, you can conduct a cold email to the person, and mention the name of the individual current client who's doing the referring.
As soon as you get that email and name, reach out to your referrals as soon as possible. You want to be quick and on your game, so that if that cold email reaches the referral, and that referral goes to your current client, that current client knows what's up.
When creating this email to the referral, much of the same aspects will go into creating it, as they do any cold email.
Just be sure to mention your current client as soon as possible, so that they know you're not spam and that you're actually legitimate.
Tell them a little bit about what you're doing for the client who made the referral and then tell them about what you could possibly offer them as well. You may even be able to say that your current client thought that the referral may be interested in the same services, if this is the case.
Then, like always, end with a question, so that there's always an easy "yes" or "no" way for the recipient to respond.
Make sure that writing style you use is business-casual, personable and polite, and make sure that they match the tone you generally use with the person who made the referral (just in case your email is forwarded to that person).
You'll be amazed at how referrals take a cold lead to a warm lead so easily, by creating a relationship almost instantly.
Are You Ready To Fill Your Pipeline with Cold Emails?
Cold emails can work for anyone in any industry and you've probably been doing them for a while, you just may not have known how to use them properly. Harness their power so that you can fill your pipeline with cold email leads that trickle down to awesome closes.
Not necessarily looking for a sale? You can still use cold email to get valuable data for your business.
Ask for individuals' opinions, especially about any business ideas that you may have. Reach out to industry experts so that you can decide how valuable a business idea or plan is, and so that you can correctly meet your target audience's needs.
You can also send out surveys and gain feedback needed for research, whether you're just going to publish the results or statistics on a website, or using it for internal decisions. Plus, this can be a great way to get people interested in your brand and clicking to your website.
Even if you're not selling a product, you may want to sell the idea of attending a free online webinar or event, and cold email works great for this as well.
If you're still not sure that your cold emails will achieve the results you want, try one of our easy templates to see how well they can work for you.