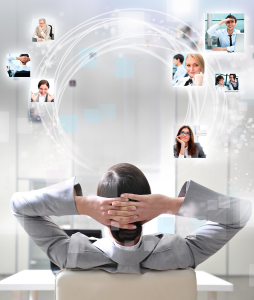 As discussed in a previous article, "every paying client begins as a potential client … or a "lead" …
"So, it stands to reason that the more leads you get, the more proposals you'll send, and the more paying clients you'll acquire."
The same article covered lead generation and 6 Tips for Effective Bait Pieces, but … today's question is:
"Once you collect leads, what do you do with them?"
How do you convince them to trust you and eventually come back and buy from you? The answer is "lead nurturing." Which we've previously written about and defined as:
"Lead nurturing is relationship building via email. "
Some call it "a follow up system" …
Step 1. Someone comes to your website,
Step 2. They sign up for your bait piece.
Step 3. You follow up with them to (hopefully) build a relationship that leads to them purchasing.
In my opinion, the most effective – and automatic – way to do this is with an email series. You might have also heard this referred to as "an autoresponder" or "AR series" …
An autoresponder (AR) series is a set of emails to your potential client …
Through these scheduled and automatic emails, you can share more information about your product or service, build rapport, and even let some of your personality shine through.
The Beauty of Autoresponders …
1. You write them once!
Then you'll schedule the emails to automatically send to all your potential clients. Think of it like selling over the phone … only you'll be able to talk to thousands of customers, sharing stories, and selling your product … all at the same time! (If you already have a phone script to sell your services, start your AR series by converting it into emails.)
2. They're automatic!
When your potential client signs up to receive your messages via email, they will automatically start receiving your ARs … whether you're working, sleeping, or doing whatever you please.
Then, tomorrow — or in a few days, you can automatically send them another follow up (without lifting a finger).
3. They work!
Autoresponders keep your agency's services in your potential client's mind. This way – when they are ready to hire someone (even if it's two months from now) – your agency is the first one they think to contact!
Some agencies still rely on manual systems for follow up … things like phone calls, postcards, or completely personalized emails. The problem with this method is it takes time and effort. Sometimes time and effort the agency doesn't have.
But, set up an automatic, effective way to follow up with potential clients and you'll be ahead of the pack!
Getting Started With Automatic Follow-up Emails
Before jumping into what your emails should say you'll need a method of delivering your emails on a schedule you select. This is possible with an email-marketing platform or tool (using a "ESP" or "email service provider").
Part 1. Email Marketing platform or tool.
Many email platforms – like Drip – have made it easy to set up your emails and schedule them. Most include a step-by-step walk-through and even ready-to-go templates. All you do is paste your text and schedule the email.
Email Marketing platforms or tools also help you track results from your email. You'll want to know things like:
How many people opened my email?
How many people clicked a link in my email?
How many people followed through on the call to action?
These details will tell you how effective your email series is so you can test and improve it over time.
Part 2. An email series.
By "an email series," I mean the actual words in the emails that you write (or type) and send to your potential client's inbox. They usually start with a greeting – like "Hello" – and end with a call to action – like, "Click here."
(Tip: If someone inside your agency isn't available to write and set up an effective AR series, consider outsourcing the task.)
As you can imagine, writing the actual email series brings up a lot of questions … let's talk about them …
5 Questions (and Answers) About Autoresponders
1. How many emails should I write?
Jay White, a professional AR writer (known for authoring Autoresponder Apprentice), says to start with five to seven messages. (Remember, your prospect will receive these gradually over a week or longer.)
Five to seven emails are enough for a potential client to get to know you and make a buying decision, but not so many emails that they unsubscribe.
On the other hand, some marketers encourage adding more emails. You never know when someone will finally be ready to buy. If you continue your AR series (especially if your product has a long sales funnel), you'll likely increase overall conversion.
2. What happens after the initial series?
Imagine someone signed up for your AR series two weeks ago …
They've received all seven of your emails, but ….
Have not followed through on the call to action …
What next?
First, try sending a different offer. If your lead didn't respond to your initial email series, maybe the offer wasn't enticing enough …
You could also move the lead to your monthly e-newsletter list. By emailing them monthly, you'll stay current – and in their mind – when they're ready to hire. Plus, you'll be able to occasionally send them special offers to get them off the fence.
3. How long should each email be?
Short. Some marketers suggest fewer than 100 words!
An AR needs to quickly get the reader's attention, provide them with value, stick to one topic, and finish with a call to action. They signed up for your emails, received and read your message … now what?
4. What should the first AR say?
Before you start writing, review the goal of your series … what do you want your reader to do?
For most agencies the goal is to make the potential client take "the next step." That step might be to fill out the intake form, schedule a free consultation, or even pay for an evaluation.
Here's a sample email sequence with an example initial email.
5. What should the following ARs say?
Ruben suggests sending emails on Day 1, Day 5, Day 10 and Day 15. He says, "It's not quite once a week, but spaced out enough to be memorable without being annoying."
Whether you use Ruben's schedule or your own, your series should go something like this:
In the first email refer to the "bait piece" you offered. This way they'll instantly remember why you're emailing them and who you are. Including another download link is also helpful here.
Throughout the series (emails 2-5) highlight your potential clients desires and how your company satisfies those desires …
You can do that by telling stories, sharing interesting facts, giving away valuable content related to your initial offer, or anything else that builds a connection with your potential client. Just be sure to stick to one main idea per email and keep it short and to the point.
Use the last few emails of your AR series (emails 6 and 7) to give potential clients a little push to take action. You might give a "last chance" offer, reduce the price, throw in a bonus, or something else appealing to convince them to finally take action.
As you write keep in mind that ARs aren't formal letters. Think of them more like "notes" … sent to build rapport. Aim to talk directly to one person – your reader – about one topic. And, don't be afraid to add a bit of your personality.
I'll be honest … ARs do take some effort to set up, but they are well worth it!
Not only do they effectively (and automatically) follow up and sell for you … they do it over and over again …