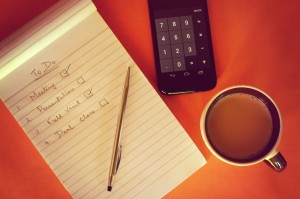 As part of the New Year resolution movement that happens this time of year, you've probably created a few business goals you'd like to accomplish.
One of my goals is to become more organized and spend less time on tasks that I don't enjoy. 
In order to accomplish this, you need a game plan for taking these ideas from goals, to actions. Below are five simple, but clear, actions you can take over the next few months to improve your business finances in 2015. 
1. Take inventory of current cash flow.
Where does the majority of your business income come from? How much of this income relates to the amount of effort you put out? Is it from work you enjoy doing, or do you dread it?
Your goal is to create recurring revenue — that you actually enjoy — so you're not constantly battling inconsistent cash flow as a biz owner. 
There are 3 different types of cash flow: 
Operational cash flow is any activity related to money produced by the business through product sales, services, and the the like. Expenses spent on behalf of the biz, like paying yourself a regular salary, are included in this as well.
Investment cash flow comes from cash received, or spent, through any kind of investment activity. This includes any equipment you purchase in order to grow or expand your business.
Financing cash flow is anything related to leveraging debt to grow your business (like buying an office space, or using personal loans), as well as payments made on those debts. This can be dangerous if you can't repay your debts, because your business could be forced into bankruptcy if you aren't able to turn the situation around.
Once you evaluate the type of cash flow problem you have, whether it's not having enough money coming in or paying too much towards debt, you'll be able to pinpoint how to increase it. 
Focus on how you can get your most loyal clients to purchase other services, or how you can reward them for sticking with you this long (maybe with discounts or promotions). 
2. Simplify your accounting details.
You may not need to hire a bookkeeper, but it's likely that you'll need a CPA at least during tax season. Spend time this month to find someone who's the best fit for your business, who understands your industry, and who specializes in what you do.
They will be able to get you the most tax deductions, help you streamline your bookkeeping process, and ultimately get the biggest bang for your buck. Once you find a CPA, you want to find out what bookkeeping service they recommend. 
Many experienced CPAs will suggest QuickBooks (the desktop or online version), but you may find that FreshBooks works better. They offer a map showing the certified CPAs and bookkeepers in your local area, that understand how running an online business works. This is the program my bookkeeper and I personally use. 
Another up-and-coming service is Bench.co. If you have a small budget and can't afford a bookkeeper on retainer, consider giving them a try. They will assign you an expert bookkeeper when you open your account. You can then view all the reports, categories, upload images of receipts, prep tax forms, and more. 
3. Create and enforce a payment process.
You likely sent out invoices for client work each month (and if you don't, make sure to do February's task first), but do you enforce how quickly you get paid? Now's the time to create a simple process for getting paid, and enforce this. 
Before signing on a new client I make sure they know exactly when to expect invoices, the payment methods I accept, and what happens if they fail to pay within the allotted time period. This "Terms of Service" form is something I created from a Google doc, but could also be created in a Word doc. 
It's completely free, but outlines every detail for your client so there's no confusion — and no more "lost in the mail" payments. This form has saved me countless hours of emailing clients for payments, following up, and wasting time on work that I'll never be compensated for. 
If the terms of the document are breached, then you aren't forced to keep working with them, or wasting time on projects. Simply move on, and find another client who's willing to accept your terms. 
As an added bonus: if you use a service like FreshBooks or QuickBooks, they will automatically send out invoice payment reminders to clients, so you don't have to worry about it.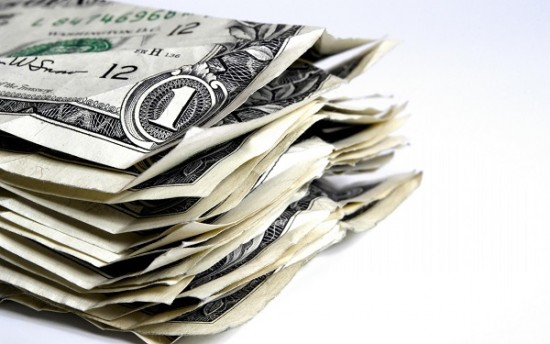 4. Go on a cash spending challenge.
This time last year, I found myself in weird place with my finances. I was having a hard time managing all my bank accounts, and making sure I had enough money to pay the bills. I was also constantly busting my budget but couldn't figure out why. 
So I decided to go on a 60-day cash spending challenge with my business. This is something you've likely done before with your personal budget, but maybe haven't thought about doing it for your business too. 
Over the next month, I dare you to only use cash, a debit card, or prepaid debit card, to pay bills and make purchases for your business. Then at the end of the month, evaluate where, and how, you spent the majority of your income. 
Surprisingly, this exercise will show you where your priorities truly are, which clients make it to the top of the list, and which ones don't. You'll also be able to figure out if you have a spending issue, or an income problem, and can take steps towards correcting it. 
Prevent and handle business emergencies.
Whether we like it or not life tends to throw us curveballs, many of which mean a high financial hit for our businesses. In order to prevent these emergencies from happening (or rather dial back their effect) we have to be prepared to handle them successfully. 
As an entrepreneur, sometimes your life will take precedence over your business, and you'll have to attend to personal issues. A great way to do this it to hire an on-call contractor or virtual assistant who can help pick up the slack while you're putting out fires. 
If you get sick and need to hit a certain deadline, ask your backup contractor or VA to fill in. Even better, set up a system of emergency protocol when things go bad quickly. Give them details with the exacts steps on who to email, call, and what tasks take top priority. 
The key to making this work smoothly is having a documented process of how you expect everything to be done, so you can deal with your emergency issues without worrying. When working with particular clients, list out the deadline, their expectations, and any other pertinent details. 
Something as simple as your internet provider being down, or you're traveling and forget your laptop's power cord (true story!), you can ask this contractor to help to hold things over until the emergency is dealt with. 
Don't Make Resolutions, Take Action!
Make this year the year you actually reach your business goals. Instead of wishing you had a better payment process, or accounting system, make it happen!
Use these simple steps to level up your business, increase your income and productivity, and find ways to work smarter not harder. 
I hope you have a happy and healthy year!