This week's release comes with two HUGE updates to Bidsketch.
Completely rewritten proposal preview page
Painless PDF page breaks
New Proposal Preview Page
To say that it's simply a new proposal preview page really doesn't do this update justice. From this page you'll now have much more flexibility over the look and feel of your proposals. Take a look at the preview to see what I mean: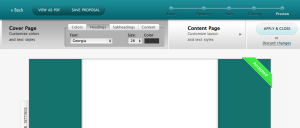 On the proposal preview page you'll notice that new proposal templates are available. When one of these new design templates is selected, you'll get a nifty customize button on the right hand side of the dropdown:

Clicking on that button will bring up several options for you. You'll be able to change the background color, set the font, size, and color for headings, subheadings and all other text on the cover page:

On the right side of those options, you'll see a Content Page section. In here you'll be able to set all the same font options for your content and pick a table style for your proposal fees:

Painless Page Breaks
The old way of adding PDF page breaks called for you to insert them into the content. While this worked most of the time, it wasn't easy to remember and it made you jump back and forth between the preview page and editing your proposal content. That's why I'm super excited about the new way of managing page breaks and I think you will be too.
With a new proposal template selected (or your own custom template), you'll have a new Layout & Settings tab show up on the left hand side of your proposal: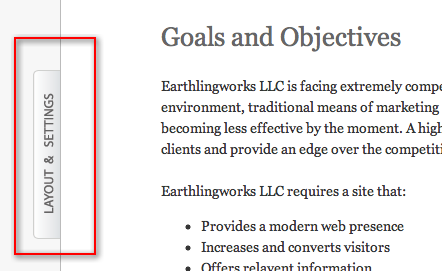 Clicking on the Layout & Settings tab will open up a beautiful new modal where you can add a page break, before and after, any of your sections. You'll notice that this includes the fees table: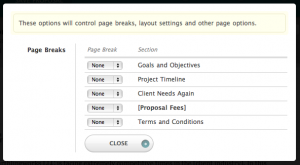 Other Things You Should Know...
The old custom designs are no longer available. Your old proposals will show up using whatever design they had, but old design templates will be in readonly view and you'll not be able to see them as a choice in the design dropdown.
The old designs are tied to a format that doesn't support the new formatting and page break options.
Additional new designs are being worked on and you'll see them in the next few weeks.
I appreciate all the feedback I've received; it's been extremely helpful in guiding the design of these features. Thanks everyone, I hope you enjoy the changes!