I'm extremely excited to announce that the much talked about Bidsketch design is now live!
Here's a high level look of what's included:
A hot new design (yep, it's spiffy)
Faster editing of proposals
Customize the entire look and feel of Bidsketch
Additional proposal statuses (is that even a word?)
Flexible naming of proposal sections and fees
So I'll jump right into it and talk about the features. This way you'll get to see some screenshots of the new design at the same time.
First up, I mentioned faster editing of proposals as one of the enhancements. I'm specifically talking about the creating and editing of proposal sections. The opening/closing sections page has been completely rewritten to load faster.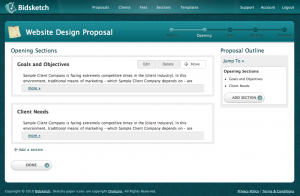 Basically, instead of loading a bunch of WYSIWYG editor instances on this page, you'll get a preview of the content in HTML. If you want to edit, just mouse over the section and click on edit.
Editing a section will show the next feature which now allows you to change the name of a section (or fee) and only affect the specific proposal you're working on.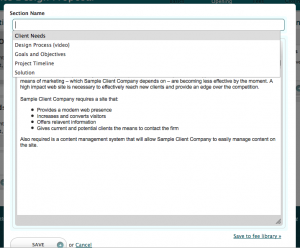 Another neat thing that you can do now is that you'll have the option to replace the Bidsketch logo and completely change the look and feel to work with your brand.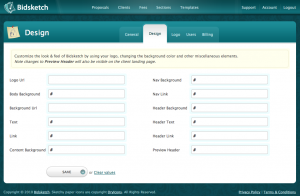 Also, your proposals can now have several states besides active and pending. A client can postpone your proposal, or decline it (let's hope not!).
Update: Stephanie was nice enough to remind me of another important status only viewable to you (not clients) called viewed. The pending status transparently changes to viewed as soon as your client views it online.
To do this, they'll have a sweet little slider they can trigger on their newly redesigned landing page.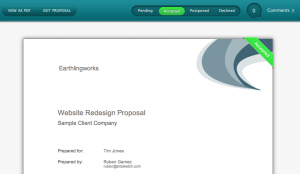 Last, but definitely not least, I really need to thank Ryan Scherf for helping me work out some of the trickier parts. He's the reason why the design looks so nice. Thanks Ryan!
There are plenty of other smaller improvements that you'll come across when using Bidsketch; just log in to your account and check out the update first hand, or peep at the new tour page and sign up if you don't have an account.