Integrating with Harvest has been one of the most highly requested features for a while. That's why I'm very excited to be able to say that Bidsketch now works with Harvest!
Harvest makes time tracking and invoicing your clients extremely easy. If you haven't tried it out it yet, this is a great time to check it out:
Get 50% off with this discount code: BIDSKETCH (expires September 1st)
Now, let's jump into the integration details.
A quick overview of what you can do:
Import all of your existing Harvest clients
View and create invoices from Bidsketch
Export proposals into invoices (you'll love this)
Convert proposal fees into project tasks on export
Export clients to Harvest when creating an invoice
View a summary of invoice totals for a client
Setting up the integration…
To get your Harvest integration set up, you'll want to go to the Account –> Integration page. From there, click to create a new integration and select Harvest from the list.
You'll see a form where you can enter your Harvest account information:

After you submit the form, you'll be redirected to Harvest so that you can authorize Bidsketch. You'll then be redirected back to Bidsketch, and you'll see your clients being imported if that option was selected:

Clicking on the sync link on this page will also import your clients into Bidsketch. After that point, you shouldn't need to sync your account because Bidsketch will automatically export clients to Harvest whenever you create an invoice from within Bidsketch.
Converting proposals to invoices…
To export your proposal and turn it into a Harvest invoice, just go the proposal details page and click on the "ADD INVOICE" button: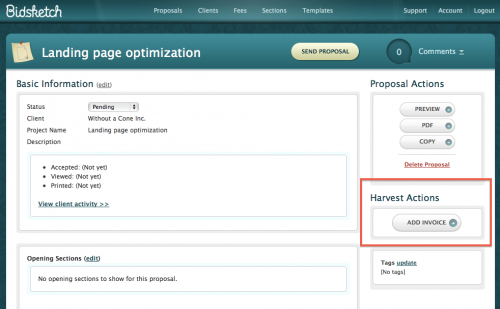 Once you click on that button you'll be shown a modal dialog that will give you the option of creating a Harvest project. If you select this checkbox, you'll also have the option of converting proposal fees into project tasks.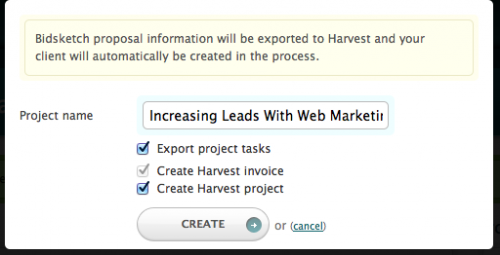 Viewing invoice information…
When you view a Bidsketch client, you'll see a Harvest section on the client overview page. This section will give you totals for invoices paid and pending: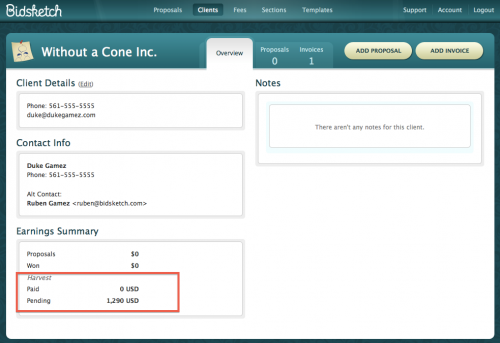 You'll also now see an "Invoices" tab. Clicking on this will give you a list of client invoices:

And that's everything you need to know about how the Harvest integration works. Remember to try it out if you don't have an account yet!
Thanks and talk to you soon!