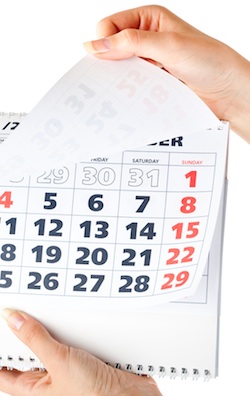 Here's the scenario you likely know all too well.
You're working hard to meet your client deadlines, finish projects and deal with all the administration that goes with your current work.
Yet you know you have to make time to focus on gaining new clients, because once this busy period is over, you're going to be back to the drawing board, having to hustle to get more money in the door.
Your ideal solution is a steady stream of clients, lining up to work with you, waiting patiently for you to slot them in.
Or better yet, contracts that renew month over month on a lucrative retainer that allows you to plan your work in advance, and make time for new clients when you're ready.

And when you do, make sure you re read my article on three Amazon tactics you can use to get more out of your clients.
Deep down I think we all know how important it is to keep your sales funnel ticking over, and ensuring you're never short on work or revenue each month.
So how do you juggle these moving parts and make the process of finding more clients more streamlined and targeted.
Well it's all about being more strategic and setting up some systems.
Before you yawn in boredom, consider how the effort to get this in place is actually going to free up more time for you down the track.
That means more time to earn more revenue consistently, have a full roster of clients lining up to work with you and the ability to do this on auto-pilot .
1. Go Public
While the old adage `Even bad publicity is good publicity' is not actually true, if the media is talking about you, then you can guarantee you will attract more clients by way of association and exposure.
Look at topics and trends in the news, or what's trending on Twitter that relates to what you do, and craft your own unique angle or opinion on it that relates to your work or clients.
Search on relevant new sites for `breaking news' or `suggest a story' or contact the local editor of a local paper or publication to ensure you position yourself as an authority on this.
Sign up to receive HARO emails (helpareporterout.com) to see daily leads on stories reporters want fresh voices on and hot tips or inside news. Scan the ones that you can answer and reply with a quick pitch to 2-3 leads daily.
Just being able to show on your site that you were quoted on Yahoo or featured on the daily publication is going to increase your credibility and status.
Make sure you put this media outlet's logo on your website for proof of your excellence.
2. Get Social Proof
Social Media is a perfect platform to be seen and found on – what's more it's technically free  – bar the time you invest, and consistent effort and engagement.
You can track all traffic to your website via social media sites which will provide you with proof on whether your efforts are actually converting.
Set up a simple email template using `Canned Responses' – a great Gmail extension, that you can send each time you finish up work with a client
Ask them to leave a testimonial on your LinkedIn Company page on the product or service they paid for, if they enjoyed working with you and were happy with the result.
If you don't have a LinkedIn Company page consider using a simple Google Form or a `Contact' plugin that collects name, email and feedback, listed on a page on your website.
Give them specific instructions on the type of testimonial you're after too so it makes it easier for them to do.
BAM – you've just added social proof that you are worth hiring, and you can now copy and paste that same testimonial on to your website and your major social media platforms like Facebook, Google Plus or Twitter too.
Top Tip: Do this in a non douchebag way, like:`So thrilled to have just received this lovely recommendation from one of my favourite clients about our latest project…."
Make sure you include a link back to your product or services page on your website.
3. Blog About It
If you have a blog, then it pays to use this as your own personal PR platform – one where you have the control to write your own news, updates and personal press releases that actually work.
Write a post (with your client's permission) to showcase the work you did for them, step by step, including screenshots (if applicable to your line of work)
Include the various stages you went through, a quote from the client, and the key results.
At the bottom of that post (or a few times throughout it) include a link that sends them to your products and services page, or a call to action `Contact' or `Hire me' button.
Don't just stop there, go back to your strategic use of promoting this work across the key social media platforms you've been building your brand on, and more importantly where your potential clients are.
Use the same post you put on your Facebook page or profile and share it on Google Plus, but change the angle slightly and share a different link – this time to your home page with a trackable bit.ly link.
Do the same on LinkedIn and test sending them to a specific landing page where they can get a piece of information from you – a PDF report, template or white paper – in return for their email.
For example if you're a financial expert this would be a free optin guide like 5 ways to save money on expenses.
Then use that email to stay in touch with them, and follow up a few days later to ask them what their current challenges or needs are, and whether you can help them – a conversation starter.
This way you can judge what sites are sending you more qualified referrals and do this on a more regular basis, plus have a system to deal with new inquiries and potential new client work.
4. Take Online Leads Offline
Continuing on with the great progress you've now made on social media, why not consider how to take this networking and engagement offline.
If you're work is dependent on foot traffic to your actual residence, shop or office then look at how you can run advertising, or competitions to encourage your social media community to visit you in person.
Use social media sites to send gift cards, vouchers or discount codes to come into redeem with you – like Facebook Offers where you can set up a campaign for a set budget within your financial realm, that will allow them to use on physical or digital products.
Get them to take an action to sign up to your newsletter via a link on social media sites, and then send them a gift card that they have to bring in to your office to redeem
Post a weekly update that they can call or email you to get a free in-person consultation (if that's what converts best for you).
The aim here is to have more face to face interactions, depending on the nature of your work, whereby you can show examples of your work, build trust and rapport and convert them into a client, or at the very least, a warm prospect to follow up with.
5. Become A Networking Pro
If you typically gain most of your clients through referrals or word of mouth, or from meeting people and striking up a conversation, then you will need to increase the frequency of regular networking events you go to – even when busy with work.
For example BNI is a global networking organization that has local chapters who meet every single week to network strategically and ask for referrals.
Plus if you join a professional networking group, you and other professionals in other industries can help make referrals to one another.
Other ways to be a strategic networker include the following:
Search on event sites like Meetup.com or Eventbrite based on your location and keywords and look at what events are coming up that you can attend
Make sure you leave a message on that meetup about why you do what you do and who you help so people already know about you before you turn up
Take a note of the people attending whose profiles fit your perfect customer and a note of their profile photo, then make sure you take time to seek them out and engage with them at the event.
Make a point to remember something special from their profile and then bring that up in the conversation you have with them – that will impress them no end.
Go ahead and try some meet-ups or networking groups out, and become an active member of the ones that you find are helping you gain new referrals and clients on a consistent basis.
Be selective in what you attend and make sure it makes sense for you to be present there – i.e your ideal client base is attending too.
The connections you make and referrals you receive or ask for may help you start focusing on a new niche or sector that you never thought of targeting.
Take action today
If you're sick and tired of not having consistent recurring revenue and an active list of clients who want to continue working with you, you absolutely need to look at your current strategies (or lack of them) and change it up.
Take just one of the above recommendations, apply it for a minimum of two months, and let me know the results.
In the comments below let me know your most successful strategy to get regular client work.