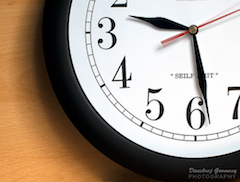 You wouldn't believe how long it can take to write a blog post – well, maybe you would! You're doing really well, you have a headline all worked out, and then you find yourself thinking, "What I really need to do first is just check my email/walk the dog/read The Onion…"
Next thing you know it's two hours later, and that great headline is still sitting forlornly on an empty page. How did it happen? Well, it happens to all of us, but if you want to check whether you're a serious procrastinator, you can take this test.
Unfortunately, procrastination is not good news, especially for freelancers. That's because freelancers' time is never really free. Unlike an employee, who might be able to spend all afternoon playing Angry Birds if the boss is out, procrastination costs freelancers not just time, but money.
With the above in mind, in this article we'll go through some great strategies to get you out of the pit of sloth and distraction and get that money rolling in!
1. Eliminate Junk Email
One of the worst distractions today is the avalanche of junk email. Even the best email programs let too many into the inbox, largely because junk emailers are constantly thinking of new ways to get through.
Junk email can become an excuse – something you "just have to deal with." The best way to avoid this is to head it off at the pass – and there are specialist spam filters out there for just this purpose. SPAMfighter Pro gets good reviews, though it's specifically designed to work with Windows email programs.
Others with good reviews include Cloudmark Desktop One (the basic mode is free and it works with Apple Mail as well as Windows email programs), and MailWasher Pro, which again has a free version and works with both Mac and Windows programs.
Or, you know, just use Gmail. Its spam filter is badass.
Oh, and by the way, when I talk about "junk" email, I'm also talking about the numerous newsletters and lists you are subscribed to, sending you distracting emails all day long. They've got to go; either remove yourself from all non-essential lists, or redirect such emails to a specific folder (away from your inbox), so that you can tackle them outside of productive hours.
2. Prioritize Effectively
Many people get bogged down in 'safe' projects that become an excuse for not doing more vital work – psychologically, the fact that they are busy insulates them from the fact that they are avoiding doing something that's more challenging.
Avoid this by making a list and sticking to it. Every truly organized person has some kind of task list with priority projects clearly identified and deadlines in order so they can't be missed.
You also need to assign value to each task – work for clients should take priority over internal projects, for example, and work that directly affects your bottom line should always be dealt with promptly.
If you really struggle to prioritize, it might be worth looking into project management software such as Wrike or Freedcamp.
3. Cut Large Tasks Down to Size
The Zeigarnik effect says you're more likely to finish jobs you've actually started, so obviously actually getting that task under way is really key.
The trouble is, if you've set yourself a really large or not very well defined task, you are also setting up a classic gateway to procrastination. If it's all too big, your mind can shy away from the idea, and a bad bout of procrastination will hit.
The way round this is to firstly sit down and make sure you have your task really well defined. Think through every step you need to take to achieve it. Next, break those steps down into manageable chunks. Once you've done that, you'll have an easier way into your task.
4. Get Rid of Workspace Distractions
Have a look round the room where you work. Is the view really great? Are there lots of mementos, photos, or books, close to hand?
If so, you may need to rethink your workspace. If such things are capturing your attention, you'll need to do your best to minimize them. Keep your desk and your workspace clear and uncluttered, with as few visual or aural distractions as possible.
If you really can't help gazing at the view, try moving your desk so it faces away from the window, or even closing the blinds or curtains. It may sound slightly Orwellian, but test what works best for your productivity; you might be surprised.
5. Create an Organized Timeline
To do this, you need to work out roughly how much time each task you have to do will take – it's important to be realistic about what you can get done in a day, because people who are prone to procrastinating often underestimate how long tasks will take them.
First, make a record of how you currently spend your day – use a diary or planner to record what you do, and how long it takes. Having done this, you can identify 'wasted' time.
For example, are you making cups of coffee every five minutes, or creating work that leads nowhere? Are you taking on tasks that really should be done by others? Are you chatting on the phone to friends?
Once you cut out the non-essentials, you will be able to organize your day far more easily around your identified priorities.
6. Set Reachable Goals
Procrastination can also rear its ugly head if a task is too daunting. It may not even be a large task, it can be some aspect of it that worries you, possibly unconsciously.
For example, do you have a goal that contains an unreasonable expectation such as a too-tight time limit, or a requirement to meet an ill-defined target?
Creating reachable, practical goals helps enormously. Analyze all aspects of proposed tasks, work out how to achieve them, and don't be pressured into agreeing a deadline if you don't have all the facts, or if you calculate that you need more time.
7. Deal With Procrastination Triggers
Procrastination is tempting because it helps us avoid situations we don't want to face. Preventing it involves working out what triggers it in you.
Obviously you can't avoid or put off everything – that would be impossible and bad for business. But if you work out the triggers for your procrastination bug, you can create strategies to overcome them.
For example, if you realize you dislike the financial side of business, invest in an accounting package like Kashflow or SageOne Accounts (online and free).
If you hate seeing clients face-to-face, remember an Oxford Economics USA study found that virtual meetings were 85% less effective than in-person meetings. So commit to appointments early in the project process, and drive yourself to do what you want to put off.
Just Do It!
Perhaps that last phrase – drive yourself to do what you want to put off – is the key. Procrastination is toxic; it steals from one of the most important assets that a freelancer has: your time.
So, remember the following:
Use some of the great software around to avoid losing time over junk email.
Create task lists and truly understand the value of each task.
Cut tasks down into manageable chunks, then start the first one.
Clear out workspace clutter.
Analyze projects to create achievable goals.
Work out your procrastination triggers and strategies to deal with them.
If you can do this, you stand a great chance of getting your procrastination under control and becoming as productive as every freelancer needs to be. Good luck!
Have you found any other procrastination triggers, and how have you managed to work round them? Let us know in the comments section below!
Photo Credit: dgoomany