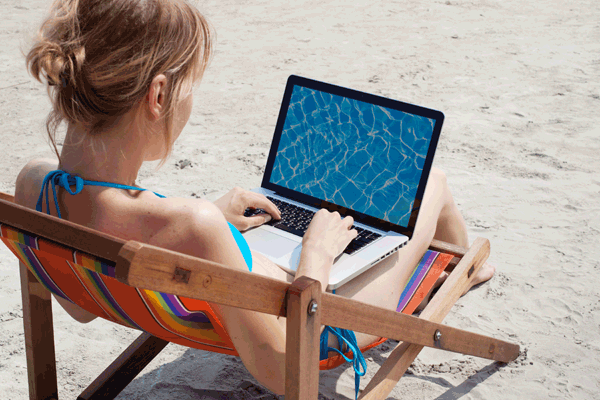 One of the best things about being your own boss means you have flexibility over your schedule. You can take time off if you need to, or sleep in a bit later knowing you can make up the work during the evening.
As long as you get your work done, and your clients are happy, you can work as much or as little as you like. This sense of freedom and control is even more evident when you run an online business, like I do.
Freelance writers, editors, designers, photographers, bloggers and the like, are just a few of the types of business owners who can run their virtual businesses from anywhere. As long as we have a laptop and a good internet connection there are no limits.
This is where implementing frequent workcations can come in very handy. Especially if you need some extra inspiration as a photographer, food blogger or freelance artist.
What is a Workcation?
The term workcation was made popular by Noah Kagan, of AppSumo, who has perfected the art of traveling all over the world without ever taking a vacation day from work. Basically it's a work and vacation all wrapped up into one.
He has built a mobile business, by creating software, that allows him and his team to see the world, visit family and friends, all while balancing their work alongside having fun. Part of his days are spent working and the other part is spent enjoying the surroundings and social events.
How to Prep for a Working Vacation
Although it sounds easy enough, after testing out a few workcations myself, it can still be difficult to balance your life with family, friends and doing the touristy thing, while running a business. Unexpected things come up, fires need to be put out and clients demand your full attention.
Here are five steps to prepare for and get the most out of your workcation.
1. Establish clear boundaries with friends and family.
Most of my workcations consist of visiting family members or friends who are spread across the U.S. The very first thing I do before committing to a trip is explain my intentions to everyone. Communication is key! Of course there will be days set aside for sightseeing and exploring, but then there will be days (or full afternoons) dedicated to getting work done.
It's important to establish clear boundaries (with yourself and your friends) before heading on a workcation, so they know there will be times you have to be productive. This also keeps everyone from being annoyed or offended if you aren't able to give them your full attention on any given day.
Bonus tip: Most of the time my husband and I will take the car and go on a road trip while on a workcation. This gives us more control over where we go and what we do, while establishing clear boundaries of our plans with our friends during the trip.
2. Create a work-life system with your team or employees.
Just as your friends and family should know what's up in advance, your team members need to know the importance of balancing work and life — which is one of the main advantages to going on a workcation. You're able to work hard and play hard, and should encourage your employees or contractors to do the same.
Put systems in place now so they know how to handle client emergencies if you're unable to respond. Create clear guidelines on how projects should be handled and the chain of command that needs to be followed in certain situations.
Let them know what times of the day you'll be available, and share your calendar so they understand where you'll be at certain times. This is especially important when you're out to lunch with friends, or in a location without internet access. If you equip your team properly, they will be able to handle any situation that arises — giving you peace of mind.
3. Work and plan ahead with your goal in mind.
Another great thing about going on a workcation is that you don't have to plan too far ahead to make the trip happen. Most of the time business owners have to schedule out their trips far in advance so they can prep the team and clients, but a working vacation allows you to have more flexibility while only planning a few weeks in advance.
How many hours a day will you be able to work while on your trip? Will you only work in the early morning or late evenings, while taking the middle of the day to do touristy stuff?
When I prep for a workcation, I always act as if I'm on the vacation several weeks prior so I can work out the kinks. It takes time to carve out a new schedule successfully, so work ahead with your goal of going on a workcation in mind. Determine your best work-life schedule and practice it a few weeks before your trip.
4. Do research in advance to prepare for setbacks.
Not everything will go as planned. Sometimes personal issues will take priority over your work (as they should) and you'll be forced to change up your schedule.
There may be an event you just don't want to miss with your friends, but that means you'll have to miss a client deadline in the process. Or maybe you expected really good internet, and then a huge lightning storm rolled in and blew out everything (totally happened to me recently).
You can — and should — do research in advance to prepare for any emergencies and changes that pop up. But you also have to know that being away from your home office, and the consistent schedule, allows for a lot more problems. Take them in stride and be flexible with yourself and your business.
Bonus tip: One of the ways I circumvent getting overly stressed out while on a workcation is to set realistic business goals and deadlines. I apply the underpromise and overdeliver method to my work during this time. It allows for a lot more flexibility and understanding from myself, my team and my clients.
How to Take Your Business on a Vacation
Working while on vacation is possible, if you know what steps to make it happen. Your business can provide the freedom you've been looking for to travel more, see friends and family, and go on adventures, if you implement these simple steps.
Set realistic boundaries with yourself, your team and everyone you come into contact with. This will enable you to successfully take your business on vacation, so you can recharge, get refreshed and find new inspiration.