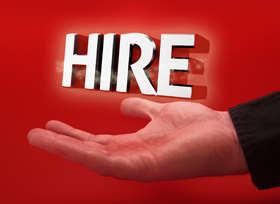 As small business owners, we're often compelled to go it alone. After all, we're "self-made" men and women, are we not? We've done what it takes to get by, making the necessary sacrifices — giving up our weekends and vacation time for months on end. Business has become a carefully-orchestrated game and suddenly calling in extra help would be akin to cheating…right?
Not so. In fact, asking for help is not only one of the easiest ways to prevent burnout; it's also one of the best ways to continue to grow your business as a whole. If running business is a game, then consider the art of delegation one of the best power-ups available. In fact, it would be a mistake not to hire on extra help when you need it!
But, although we've encouraged you to outsource work before, we've never told you specifically what to look for. Sorry about that. After all, hiring a freelancer or group of freelancers to look after your business — to take on the tasks that you either can't or don't want to do — can be a nerve-wracking process. However, that process can be less anxiety-inducing when you know what to look for.
7 Questions to Consider When Hiring a Freelancer
1. Do They Walk the Walk?
It's easy for someone to "talk the talk," but does the freelancer you're considering also "walk the walk?"
Pay close attention to what the freelancer is claiming they can do for you. Are they promising killer blog articles? Fabulous web design? To attract new followers in the thousands? If so, they should be able to back up their claims with proof — usually in the form of a portfolio.
Keep in mind that it's not uncommon for a freelancer's own business/website to go unattended if they have a steady influx of work coming in. When a freelancer is forced to choose between paying work done for others, or working for themselves for nothing, they will almost always choose the former.
Just because you don't see what you're looking for on a freelancer's website doesn't necessarily mean they don't have it. Provided that everything else about them seems on the level, it would be worth it to you to just ask them for additional samples. There's a good chance they've got a folder full of work sitting on their desktop that they simply haven't found the time to upload yet.
2. How do They Prefer to Communicate?
Communication is an important factor to any working relationship. Even the most competent freelancer can become frustrated — or run amok — if not provided with a line of clear communication from their client (you). And, of course, you don't want to leave your business (even just a small aspect of it!) in the hands of someone you can't get a hold of.
Every freelancer has their preferred method of communication. But, most will have a back-up method that they're willing to use, if needed. A freelancer to typically does business via e-mail may concede to using Skype or their cell phone if the client is worth it. All you need to do is ask. Most freelancers allow a certain amount of flexibility into their day-to-day.
However, don't force the freelancer to communicate with you a certain way. If you prefer to do all of your business via Yahoo Messenger, that's fine; but don't insist that everyone who works with you download the program too — unless, of course, you make it worth their while.
Communication is a two-way street. Flexibility will be required on your end as well. Or, if you're unwilling to compromise, a bigger paycheck may be in order. Which brings me to…
3. How Much do They Charge?
Whilst it's not the best idea to go for the cheapest freelancer on the market — after all, you get what you pay for! — that doesn't mean that you can't find someone who provides great work for reasonable prices. But how is "reasonable" defined in this situation? Simply put: it's what you're prepared to pay!
Be up front about your budget — you don't want to waste your time or theirs. And don't be afraid to pay up front for smaller projects. Bigger projects may require a percentage up front as well. Both of those situations are perfectly normal and acceptable. However, if the freelancer wants a large payment entirely up front, you're allowed to be suspicious.
Personally, my favorite freelancers are the ones who are fine with waiting to be paid until after their work is completed. It shows trust from both parties; and trust is an important component to my business as a whole. But, as a freelancer myself, I understand that it's all-too-easy for freelancers to get "burned" out on the field. If you ask for your freelancer to trust you, be worthy of that trust.
4. Do They Provide the Services You Require?
This might sound like a no brainer, but you'd be surprised how many business owners hire the wrong person for the job at hand. Don't hire a writer as your web designer or a children's book illustrator to perform SEO. (Unless they have proof they're fully capable of performing dual careers).
Take the time to do your research and hire the right person for the duties needed.
5. Do They Have Testimonials from Previous Clients?
Were their former clients satisfied with the work that was performed? More importantly, do those clients mention being pleased with final projects similar to what you're considering hiring the freelancer to do? For it's all well and good for a freelancer to have dozens of great referrals — none of that praise will matter if it isn't relevant to what you're looking for.
If the freelancer doesn't have any testimonials showing on their website, it doesn't necessarily mean they've never had any clients. Certain contract restrictions may have forced them into being overly private with their clients' information. Ask them — you may be pleasantly surprised.
Of course, there's always the possibility that they are new to freelancing and you're their very first client. In which case, you'll need to ask:
6. Are They Willing to Learn?
If the freelancer you're considering for your project is trying to break into the field, you might end up being their first client. It doesn't necessarily mean they don't know what they're doing — few people start a career (online or off) without knowing something about the work it entails. Everyone has to start somewhere. You may need to go with your gut.
However, as a fledgling freelancer, there may be a bit of a learning curve involved. Are you willing to spend the time it takes to help guide this person in the right direction?
A willingness to learn is also important if you have a particular way of doing things that contradicts traditional "norms" for the job at hand. For instance, if all of your margins need to be set at half an inch rather than a full inch on written documents. Or if you need everyone who works for you to knock three times and spin counter-clockwise before entering your office. Even someone with years of experience in the field will need time to learn or re-learn the skills needed to cater to your whims. Which brings me to the last question…
7. Do They Have Time for You?
Even the fastest freelancers only have so many hours allotted to them per day. And, if they're good at their job and in high demand, those hours will fill up quickly. Make sure the freelancer you're considering has space for you on their client roster.
Is this going to be ongoing work or a one-off gig? When do you need your project finished by?
Be up front about your deadlines so the freelancer can tell you immediately whether or not they can fit you into their schedule, now or in the near future. If the answer they give you isn't what you're looking for, don't be afraid to ask them for a referral. Freelancers who work within the same field tend to run in the same circles, networking with each other. If the freelancer you've found isn't available for the job you need them for when you need them for it, they may know of someone else who is.
And, just as we encourage freelancers not to rely on one client for the entirety of their income, we'd like to encourage you not to depend on one freelancer for all of the work you need performed. Instead, gather together a "stable" of stable (see what I did there?) freelancers. Once you've found a few loyal, capable workers, you'll be amazed at how much easier your life becomes. With a little help, your business will thrive. You may even be able to take a vacation!
Image by svilen001.