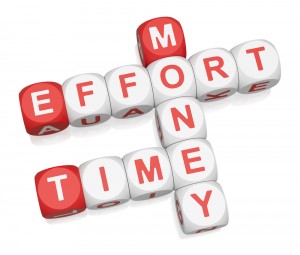 When you're working for yourself, and at the demand of your clients, it can be really hard to stay focused on priorities and performance.
Let's face it, almost everything can be a distraction to you actually getting the important work done. You end up consumed in time-wasting activities that aren't actually bringing in the money.
So if you're struggling to set yourself up with a daily routine that actually works and makes you more productive, here are some top suggestions.
Use a `Get It Done' List
If you're a list person, and love the feeling of crossing tasks off throughout the day, then I'd like to challenge your way of thinking. I'm not saying you shouldn't have a list, but you shouldn't have a to-do list that's 18 items long.
If you want to do the work, and focus on the priorities then you should have no more than 3 priorities on there each day. These should be written down the night before, and be the first thing you wake up to in the morning.
If you like clean, minimalist and simple I suggest a notebook or the TeuxDeux app.

Commit to the `Be the Best' List
Call it what you want, I'm talking about a short list of actions you undertake every day (or at least attempt to achieve 80% of the time) that will make all the difference to your client work and effectiveness.
This list should contain key tasks that move you closer to your goal of making more money, getting more clients or being happier and successful. You can include:
Contact one person to reconnect with via email or phone (client or friend) with no alternative agenda
Read your favourite industry based blog or magazine for inspiration or tips
Read something completely unrelated to your work that stimulates you and forces you to think outside your comfort zone
Send a card, an eCard, an email or make a phone call to check in just one of your current clients
Review your monthly targets and business goals and check in with whether you're on track and how that feels
Empty your `urgent' inbox by the end of the day (don't check email in the morning) and make sure you respond to your clients and potentials above anything else
Get Savvy On Social Media
Even though being on social media might be a key part of how you attract and generate new leads for your business, it can also be a major time suck.
So make sure you have a plan for how you spend your time, and only invest that time on the key sites, that actually drive you traffic to your website and portfolio (hint if you don't know, check Google Analytics).
Then have a strategy for posting one piece of valuable content, information or a question to each of these sites that's in line with your work or opinions, that your community would like. Or post a recent client project your proud of and ask people to feedback – whatever it is, don't pitch people but inform and be of value.
Track the hits you get (use bit.ly for shortening links or Hootsuite's shortener) and success of these posts and continue to tweak and optimize how effective they are.
Use Buffer or Hootsuite to schedule out several posts to multiple social media platforms in one hit – so you only need to do this once. Then schedule out or retweet other people's useful content for during the day. All this should take half an hour or less.
Minimize Your Distractions
Install Rescue Time to track how much time you're actually spending online and then work to increase your productivity each week by minimizing the distractions.
This is a great tool for showing you how long you spent on email, websites, the phone, and on your powerpoint presentation and a complete eye opener as to where your time is actually being spent – not where you think it is!
Another great tool to use is Freedom – Internet Blocking Productivity app for MAC or Google Chrome extension Stay Focused. In fact there are numerous tools to help you cut out using sites altogether for set periods.
So if you know you need to get a client proposal out, or you work between 12-3pm then set these apps to ban you from visiting any distracting or alluring websites that will make you come unstuck.
Doing any or all of the above will definitely help you feel more productive and squeeze more out of your day. Who knows you may even have free time….
It's all about consistency and applying these recommendations daily, even if you only achieve 80%. The collective results of doing this consistently will be well worth it.
What things do you do every day to be more productive and focus on your priorities?