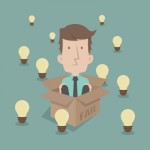 In my last article, I gave you some basics about content marketing: I explained the definition of content marketing, and the difference between content marketing, and marketing content.
Now, I'm going to give you some deeper things to think about as you take the next step in using content as marketing tool-we're going to talk strategy.
Now, this isn't going to be an article chocked full of percentages, charts, or graphs. Those type of articles are fabulous, and they certainly have their place. But, this writer is a true right-brained creative, so I'm going to take a more visceral approach.
I'm going to break down some common content categories, and what they include. Then, you're going to use your imagination to think about your next strategy session, as it pertains to your marketing needs, and the needs of your content consumers.
More about that later.
For now, I've borrowed four common content categories from a comprehensive chart listed on Jeff Bullas's site. Let's take a look at these, and why you'd use them.
Education
There are times when you need to educate your content consumers. Maybe you're selling a product that requires some explanation for the best way to maximize its usage.
Maybe you're introducing a concept, and your consumers need to learn more in-depth information. Or, maybe you're trying to spur your consumers into making a buying decision.
Here's what you'd produce for educational purposes:
How-To's
Charts
Reviews (Articles, and books)
Webinars
How-Tos are great content to publish on blogs, and on slide-deck platforms. They also make for great webinar content, too. Charts are commonly published on blogs, but they also make for fabulous infograph data.
Reviews lend themselves to long-form text content, but you should definitely think about creating a podcast or a streaming video around your review content, if that makes sense for your business.
Entertainment
Who says that promoting your business has to be dry and boring? I know that the content that captures my attention the most is funny, quirky, and relatable.
Sure, there's a time when the topic of your content just isn't funny. But, if you can get away with giving consumers a short chuckle or a belly-laugh, then why not go for it?
It's endearing, and it humanizes your brand. Here's what you can use to get the job done:
Memes
Guides
Give-Aways
Photos
Polls/Quizzes
Memes are social media click-bait, but they can also be used to illustrate talking points within your blog posts. Guides are often used to build up your mailing list, so including humor in your guide is a great way to build up a friendly relationship with your new content subscriber.
Photos are always used within text content, but they're also useful for sharing socially, especially when you want to illustrate the sentiment of your post. And, polls and quizzes allow your content consumers to interact with you in a non-threatening manner.
By the way, quizzes and polls are highly shareable. This means that you'll gain more traffic to your site, thanks to the efforts of others. Don't you love it when others want to take some of the load off your shoulders?
Factoids
Factoid content is like the little sibling of educational content. Its purpose is to educate the content consumer, but on a much smaller scale.
You know how you get to munch on the appetizers before your meal arrives? Factoids are like those.
Pique your consumer's curiosity for more information with these:
FAQs
Q&As
Lists
Quotes
Definitions
FAQs are typically used on static websites, but there's no reason why you can't create e-books, guides, or even video content around them. The same is true for Q&As. Lists are begging to be promoted on video platforms, but they're commonly used on blogs, and within infographs. Quotes are interesting, quirky ways to connect with the quotaholics out there.
Yes, being a quotaholic is a real condition that I'm personally familiar with. Don't judge.
And, definitions could make or break your revenue numbers in a given period. No one wants to look stupid or feel ignorant, but most are too shy to ask for a definition. Anticipating this need in your content consumers will make you a savior in their eyes.
Research
For all the talk about being fun and relatable, there are moments in your marketing cycle when you'll need to get down to brass tacks, so to speak.
Your content consumers are going to need to learn the data behind a new finding that you introduce. Text readers will want to verify that what you've written is true. Possible investors will need to see proof of concept before they get involved with you. And, there are those who need proof that all turned out well for previous customers before they make a buying decision.
That's fair, and you can address all of these concerns with:
Industry And Expert Interviews
Resource Listings
Predictions
White Papers
Case Studies
E-books
Because all of these address practical concerns, they're appropriate for sharing on a wide variety of platforms. Certainly, these are great content categories for audio and visual consumption.
They make for great slide decks, and they're awesome resources to give away as you're building up your email list. And, with the right headline, they're great bait for social follows and shares, too.
Practical Strategy
Here's something else for you to take in-if you'll notice, many types of content that I mention under the content categories can be used for cross-purposes.
For example, a factoid can be used to entertain, as well as educate. You'll have to decide what works for you, but thinking about how to cross-pollinate your content will allow you to spread your research while conserving your resources.
Now, let's think about some purposeful ways that you're going to put all of this content to use:
Reminders
So, you've attached some great content to your landing page, and you've done a great job of setting up your initial subscriber content gimmies. What happens after that?
There's a chance that you've created content with a sales and marketing slant, and that's fine. But, it's also okay to produce content with the simple purpose of staying on the top of your consumer's mind. This is the type of content that isn't too deep, and it doesn't push a revenue-generating agenda.
Everyday Engagement
If you're a new marketer, or if you're operating on a tight financial budget, then the thought of content production might make you experience a bit of anxiety. You're probably wondering how you're going to afford the hardware and the programs that you'll need in order to compete with top-notch marketers.
But, it's perfectly acceptable to start right where you're at. In fact, Neil Patel says this:
I've found that some people shy away from new types of content because they think it will take too long, be too hard, or fall flat. I understand your apprehension, but I encourage you to try it anyway.

Want to get started with a video? You don't need to buy a green screen, editing software, or a pro-grade camera. Use your iPhone and your YouTube account. Start small and work your way up.
And, while there are great content scheduling programs out there, you can start with a plan as low-tech as a wall calendar, a spiral-bound scheduler, and a legal notepad to use as brainstorming scratch paper.
There's all sorts of content that's appropriate to plan and publish during different phases of your marketing funnel, and different phases of your business development. But, whatever you do, pick something and give it a whirl!
Sales Content
Yes, relationship building, education, and amusement are important. But the moment always comes up when it's time to ask for money. But, how do you accomplish this without coming across that sales guy?
First, you take a deep breath and remind yourself that sales isn't a four-letter word (And, it's not if you think about it!)
Then, you find a creative way to create a trusting buying environment for your content consumers. You'll finesse a way to end your content with a call-to-action that leads your consumers directly to a sales processing page. There's all sorts of ways to insert a sales message within all of the different types of content mentioned earlier.
Are your creative juices flowing yet? Then get to it, and you'll find that you'll soon create more opportunities for content marketing than you'll have hours in a day.
Your turn: How are you stretching yourself in creating marketing content? Leave comments below.
*Photo courtesy of Freedigitalphotos.net