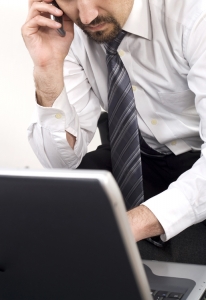 The truth is: if you don't know where you're going, how will you ever get there? If you were planning on taking a shot at a target, you'd aim before you let go of the trigger.
Likewise, if you want to be a successful business owner, you need to have a solid financial foundation. It's far better to be proactive than reactive when it comes to your money, so you can actually start getting ahead of the game.
Checking in with your business transactions, bank accounts and financial standing on a frequent basis will allow you to control your money instead of it controlling you. The more you remind yourself (and your team) of your financial goals, the better chance you have of reaching them.
This is why you should have a routine in place that allows you the check-in with your finances on a consistent basis. You want to streamline your business right? These 3 types of checklists will allow you to do just that.
1.  Weekly
Here is a basic list of a few things that you should consider putting on your weekly business checklist.
Take your business on a date. Every Friday afternoon I take myself and my business on a lunch date, where I review the past week's goings-on and evaluate future tasks. It's fun to treat yourself to some time alone, as well as getting to indulge in your favorite food
This time is best spent on reviewing important tasks, ensuring your team is performing properly and that your client list is still making the cut. This is when I record my small wins in my Business Accomplishments notebook. It's kind of like a gratitude journal for my business, and helps keep me focused on tasks I completed, instead of lamenting over the ones that didn't get crossed off the list.
Review bank account balances and reports. Is your estimated tax payment due soon? Do you need to pay your team? What bills have been paid and what upcoming expenses are around the corner? Make sure you set aside time each week to answer these important money questions.
Take time to log in to your bank accounts, review the balances (maybe even record them into a spreadsheet) and project how everything will look next week. This will ensure you have enough funds to pay all the bills, so you won't get stuck paying any late fees or interest charges. Every cent is important when you're self-employed.
2. Monthly
Along with the weekly checklist, there are some added tasks that need to be reviewed each month.
Budget review and projection. Apart from checking your bank and credit card balances, you also need a monthly budget check-in to review all statements, categorize any receipts and handle the mail. You know all too well that it can stack up very fast, so this needs to be done frequently so it doesn't overtake your desk. You also don't want to lose track of important documents or miss paying any bills.
Once you've sorted the mail and gathered up all your statements you can create next month's budget and quarterly reports. Do you have any big projects planned? Are you hoping to take time off for vacation? These all need to be accounted for so your business continues to run smoothly.
Check your credit report. As a business owner your credit is probably one of your most valuable assets because you need it to take out business loans, work with vendors and prove your self-employment history. Some experts will encourage you to at least check your credit report on a yearly basis, but you should really review it more often.
Sites like CreditKarma.com and CreditSesame.com offer access to your credit report completely free of charge. Make sure all of your contact information is correct, and that all of your accounts are accurately attributed to you. If you see something that's wrong, you should call customer service right away.
3. Yearly
Once your weekly and monthly routines are in tact, add these annual tasks to your checklist.
Negotiate new rates. The end of the year has been tested as one of the best times to increase current rates and negotiate the cost of fixed expenses (like rent and utilities). Block out time to research other providers, and see if you can get a better rate from a different vendor or contractor. It's likely they've tacked on a few extra fees and your bill could be higher than you originally calculated.
A few examples include things like:
Insurance
Utilities
Rent
Subscriptions
Equipment
along with anything else that keeps your business up and running.
Inform your clients that you're doing a rate increase across the board that will take effect in the new year. Most vendors and clients expect your rates to go up, so don't miss the chance to make some extra cash.
Year-end tax moves. Are all your taxes paid up? Do you have new equipment to buy? Have you found an accountant to file your taxes? Do you need to contribute money to a retirement plan? These are important tax moves that need to be made before the end of the year to get the maximum deductions you deserve.
Additionally, you'll begin receiving loads of important documents like 1099's, income statements, sales receipts and more, so create a simple system to keep track of them all. You don't want to misrepresent your income so put together a file where you put all of these documents so you can quickly hand them over to the accountant at the right time.
Review and set new financial goals. How did the last year treat your business? What were some of the lessons you learned that need to be changed going forward? Now's the time to establish next year's financial goals and evaluate the stumbling blocks you hit this past year. Maybe you need to raise your prices, or hire a team member, or find the right accountant.
Perhaps you're hoping to spend more time traveling, or launch a huge product next spring. All of your business goals will likely need some sort of financial backing, so you'll need a plan of action to help you execute them.
Review Your Business and Money Goals Often
The key to actualizing your goals is to review them often, and on a consistent basis, and without a doubt this applies to money goals within your business. Set up a system to remind you of the tasks you need to accomplish on each type of checklist, and watch your finances change for the better.
Photo by Celalteber