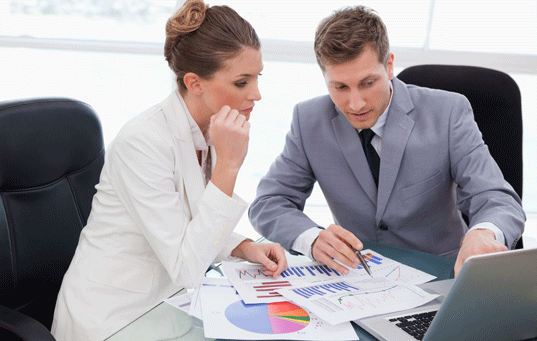 Aside from landing investors, a good business partner, and finding the right clients, your next important business hire is without a doubt the right accountant. Your business finances will likely turn into a huge mess without them, and you could not only end up in trouble with your state and local governments, but the IRS as well.
Here's how to determine if any accountant is the right fit, where to find them and the questions you need to ask before hiring them.
Do You Need to Hire an Accountant?
So what does an accountant actually do? In order to find the perfect accountant to handle your business finances, goals, and taxes, you have to understand the value and services they provide.
There are many different levels of finance professionals and they range from bookkeepers, to junior accountants, to full-blown CPA's (and then of course there are certified financial planners). All of them offer something different based on the needs of your business and the industry you're in.
One thing every business has in common though, is that they are required to file taxes — whether it's simply as a sole-proprietor or a more complicated LLC. You may or may not need to hire a bookkeeper (depending on the size of your business and the daily volume of transactions), but more than likely you need a CPA who know a thing or two about taxes, and has the capability to file on your behalf.
Your business money, taxes and financial standing with the IRS are not something to take lightly, so don't skimp on this hire! Here are a few things an accountant does:
Files the correct paperwork (to the state and IRS)
Calculates taxes and makes monthly or quarterly payments
Prepares quarterly and yearly income reports and statements
Performs consistent audits of your books
Helps you create and reach financial goals
Preps and files yearly income taxes
Measures if your business is producing enough revenue
Advises you on taxes, financial goals, business purchases, making hires, and more
Some CPA's can even advise on legal issues and draw up contracts. Essentially, a qualified accountant will take care of the logistics of running a business. They head up the behind-the-scenes work it takes to get a business going, and make sure it runs smoothly.
Where to Find a Good CPA
A lot of business owners aren't sure where to begin when looking for the right accountant. However, the best place to start is to ask your friends and family for recommendations. Do they currently work with a rock star accounting professional? Do they know someone who might be a good fit? A personal referral from someone who knows you best, is invaluable.
To find a CPA who works with a certain accounting program take a look at the resources they offer on their websites. FreshBooks has an interactive map that you can view based on your current location, while QuickBooks has a list of certified professionals, or ProAdvisors, you can connect with in your local area.
The accountant will then be familiar with the software you work with, which can make the switch to using their services as seamless as possible.
3 Questions to Ask When Hiring an Accountant
The right CPA is someone who will have access to all the financial goings on of your business and possibly your personal life, so enter into this decision with care.
I always relate it to someone as important as the family doctor, who knows your complete family and medical history. Without the right information, they won't be able to make a correct diagnosis and you could be in pain for a long time.
Likewise with an accountant you have to be open and honest about your financial situation, and hand over your entire business to them. That takes a lot of trust, but the more up-front you are, the more successful your business will be.
When choosing the perfect financial professional, ask yourself these three questions.
1. What are their credentials?
The tax laws are constantly changing and online businesses are run differently than traditional brick-and-mortar ones. A qualified accountant should stay consistently updated on the industry and tax law changes.
This is actually a requirement of a good CPA today, as they have to record a certain number of continuing education credits each year to keep their PTIN (preparer tax ID number). If they don't have a PTIN, that they use to sign your tax return with, this is a big red flag!
They usually fulfill the yearly education credits by joining a professional organization, like the American Institute of CPA's or the American Institute of Professional Bookkeepers. Take time to check through those sites and search for the name of your accountant, they will likely be registered with one or both organizations.
You'll see if they've had any infractions in their history, or any disciplinary actions taken against them. Are they registered with the Better Business Bureau? Is their business license valid? Have they been in trouble with the IRS? The success of your business depends on them, so take the time to answer these questions and do the research up-front.
2. Do they have a specialty?
Every business is unique and every industry is different, which means you'll have a better shot of finding the right accounting professional if you search for someone who specializes in your market.
For example; there are some tax deductions that are exclusively available to oil and gas companies or investors. If you don't find an accountant who's an oil and gas specialist they might not be aware of this perk, and your business could miss out on a lot of tax credits. Additionally, they will be more aware of the right paperwork you need to file, the rules of the industry, and any other specifics you should be aware of.
Another example, is made very clear with the online business world. The laws of Congress and the IRS rules haven't caught up to technology yet, so there are a few gray areas that virtual businesses need to tread lightly in.
If you hire a traditional accountant, instead of a tech-savvy one, you could end up losing big out, or getting into a world of trouble. It's always better to go with a professional who knows your industry and the business you're in. So be sure to ask what their specialty is.
3. What is their response time?
One of the biggest complaints I hear from business owners is that they can never get a hold of an accountant when they need them. To keep this problem from occurring, ask a CPA how long they take to respond to client inquiries.
Do they have a system in place to quickly handle questions? What's the turnaround time for answering emails or phone calls? Do they generally file business taxes by the due date, or do they always file an extension?
The answers to all of these questions are extremely important, and are part of a successful working with a CPA or bookkeeper. Make sure you check all of these off the list before deciding to work with them, otherwise your business could suffer in the end.