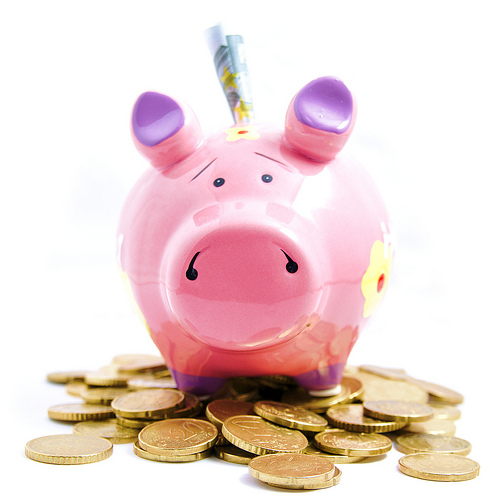 Feeling the pinch?
You're not alone. Costs seemingly rise and rise, and while politicians promise the recession is over, for the average freelancer it doesn't necessarily feel that way.
But on the bright side, in a weak economy freelancers are in a good position to cut costs, because we're more flexible and have fewer overheads than the average business.
So what should you do if your costs are getting on top of you? Most freelancers work from home, so household costs are key, though there are other important actions you can take to minimise your expenses.
With the above in mind, below you will find are seven great strategies to drive down your outgoings.
1. Reduce Energy Costs
Energy bills are significant, but also easy to cut. There are many different ways to save, mainly if you work from home; one of the easiest options is to switch supplier if you can.
To find out if your state allows residential properties to switch, check the website of the American Coalition of Competitive Energy Suppliers to see a comprehensive list with links. To avoid alternative suppliers who lure customers into bad deals, many states have a list of approved suppliers. Always ask for details, such as whether the rate is fixed or variable, how charges are formulated, whether there's a deposit or leaving penalty, and payment options.
Find out about paying by direct debit – utilities often offer better deals if you're prepared to use this reliable form of payment. Make sure you keep a keen eye out for any surplus or negative building up – your supplier won't always alert you, and you don't want to be shocked by a large bill or to find they're holding cash you could use better elsewhere.
Other options for home workers include investing in better loft or cavity wall insulation and switching to energy-efficient appliances when your old ones bite the dust. You can buy energy-efficient light bulbs as well (compact fluorescent light bulbs, or CFLs) which not only save money but often last longer than standard bulbs. And rather than switching your computer to 'hibernate' mode, turn it off at the end of the day – it's amazing how much energy all appliances in this mode can burn up.
2. Check Your Travel Costs
Travelling to meet clients can be an expensive and time-consuming business, yet often essential, you may argue.
However, suppose you could make a Skype call that would be more efficient for you and for your client, both in time and travel costs? With the cost of gas coming down it might be tempting to drive everywhere, but if you check with your clients and they are happy with virtual meetings, that's cheaper still. They may even prefer it.
Make sure any conferences and other non-revenue generating trips are cut to the bare essentials while you're at it. If you have to fly, research cheap flights to hubs close to where you want to go, then use public transport or shuttle buses (hopefully wi-fi enabled to act as an office on the move) to get you the rest of the way.
3. Cut Office Costs
Most office equipment can be bought refurbished or reconditioned much more cheaply than new. For example, use recycled printer cartridges – they're much cheaper than branded ones. Office Depot offers own-brand refilled cartridges that are guaranteed (and don't void your printer's guarantee either).
Another easy way to save costs is to go digital rather than printing out every document. More and more of us do this as a matter of course, teamed with digital data backup either on a removable hard drive or cloud-based storage solutions like Evernote, Dropbox, Google Drive or iCloud.
Trust me – it will save you on those expensive ink cartridges, paper, and your own torn-out hair trying to fix a jammed printer.
4. Check Your Tax
You don't want to pay tax on anything you don't need to. The Freelancers Union has a comprehensive guide to what you can claim for, which includes having a home office, phone and internet expenses (or a percentage of these if they are also for personal use), domain and web hosting, the cost of apps, office supplies, insurance, and 50% of business meal expenses.
If you use your vehicle for business, you can deduct a proportion of the costs, and as you're self-employed you can claim for your health and dental insurance premiums (unless you're covered through your spouse's employer). Interest and bank fees also count, as do educational costs related to your business, and any legal fees.
Always keep receipts and other documentation – the IRS is known to audit freelancers more frequently than other workers, so you need a detailed inventory of your expenses going back at least three years (experts recommend keeping your information for at least twice this time).
5. Cut Your Credit
Compare credit card costs carefully, because there can be significant differences between cards. There are websites like Google Compare and NerdWallet, where you can find the details not only of credit card rates, fees and offers, but also banking, healthcare, insurance and other costs.
If at all possible, don't let credit build up – paying it off every month avoids those sky-high interest rates. Whatever you do, don't use the card for a cash advance, because credit card companies charge an upfront fee of as much as 2%.
Conversely, chase up clients who are using you as a free source of credit. Make a list of poor payers, and think carefully before doing any further work for them. Hiveage and others provide software that creates professional reminders on your behalf.
6. Check Your Communications
Let's face it – broadband in the US is expensive, much more so than in the UK or even South Korea, largely because one or two providers tend to dominate locally. A review last year found Comcast was the best performer, followed by Time Warner Cable and Verizon.
Some cafés, and most hotels and airports have free internet access, though some are solely for guests – but it's worth checking. To cut phone costs, it's worth looking at Skype's premium business phone package, which is under $5 a month. You can also save money on postage – there are better rates if you're happy for your package to take a few hours or days longer, so it's worth categorising post into urgent and non-urgent, depending on whether it's something vital for a client or not.
7. Meet on the Cheap
Meetings are always a challenge for freelancers – you often end up at client offices, but if this isn't an option, why not meet in a nice hotel lobby? You don't have to be staying there, but the luxurious surroundings will impress as much as hiring a room, and they're free.
If you need occasional use of an office, you'll likely find there are office premises that can be hired by the day or hour locally – in a downturn it's often possible to find bargains.
Conclusion
It's possible to reduce your costs in all sorts of ways. While it may seem like a lot of effort to go to, you'll find that the savings are well worth it.
To recap, if you want to cut back on your expenses, try to:
Cut your energy costs
Reduce your travel expenses
Check your office costs
Minimise your tax bill
Keep a keen eye on credit
Drop your communications costs
Meet on the cheap
Have you got any great tips for saving costs? Let us know in the comments section below!