If you caught our interview on how to be a successful freelance web designer last week and wanted more, but from a different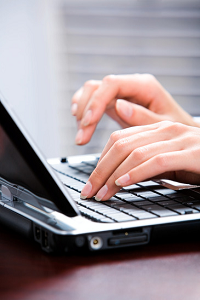 perspective and an entirely different industry, today you get your wish!
For all of you freelance writers out there, be prepared to totally fall in love with this post (and the gals featured) as we break down how 2 successful ladies turned freelance writing into a full-time career.
We'll take a look at the pitfalls that they faced in the journey, as well as reveal what lessons you can take away from their years of experience.
From getting more clients to charging what your time is worth, Carol Tice from Make A Living Writing and Kristi Hines from Kikolani are here today to answer all of the most important questions on succeeding as a full-time freelance writer.
Prepare to take some notes!

—
Kristi Hines
Very happy to be have Kristi Hines on the blog with us today, she's a favorite freelance writer of mine and operates the excellent Kikolani marketing blog.
As we did previously with Rafal Tomal, we've gotta start things off by getting to know the lady herself!
So Kristi, enlighten us: what's on your plate these days, both professionally and outside of work.

Thanks for inviting me to participate Gregory!
Most of my work time is devoted to my freelance writing clients, some of which I write for as myself and others as a ghostwriter.
I'm also working on my second eBook that I hope to have finished in the next month or two.
Outside of work, I've mostly been taking extra care of myself as I'm expecting my first child in December. Plus we're moving in just a couple of months, so I've been slowly putting boxes together.
1.) A large portion of Bidsketch users are also freelance writers. I also do freelance writing from time to time.
That being said, we'd love to hear how you first got involved in freelance writing and blogging, and at what point these things began to turn into a full-time operation.

I started blogging about four years ago.
Kikolani began as a home to creative writing and photography without a specific goal or purpose in mind.
After almost a year, I became more fascinated with the blog marketing process.
Kikolani thus evolved to cover topics along those lines.
Around that time, I discovered there was money to be made with advertising and affiliate marketing, so I began incorporating those into my blog.
Both brought in a nice bit of side income, but certainly not enough to live on.
Then came freelance writing. I didn't seek it out – my first client contacted me out of the blue and asked if I would write the same kind of posts for them that I was writing for Social Media Examiner and Search Engine Watch. (Editor's note: find these and more on our jumbo list of resources for freelancers!)
But instead of asking if I would be a guest contributor for them, they said they would pay me. I was pretty excited and jumped on the opportunity.
2.) As a freelance writer, what is the most difficult task that you regularly deal with?
Does client acquisition take up much of your time?

The great part about freelance writing is that, in most cases, my work for one client doubles as a portfolio and marketing for new clients.
I started gaining new clients from my posts with my first client (and still do) thanks to having my own author bio.
When I added "freelance writer" to my author bios and social media profiles, more new client requests started rolling in.
I've felt very lucky in the sense that thus far, I haven't had to work very hard in finding work – all of my clients find me.
I always suggest that freelance writers really build their authority in a particular niche or industry, write for blogs the clients might be reading, and make sure that every profile author bio they have states that they are a freelance writer.
That can really go a long way in changing their strategy from always looking for work to always responding to new inquiries.
3.) What advice do you have for us on approaching new customers "cold"?
Any tips regarding networking with new clients and building a "personal brand" around your work?

I've always had a game plan in mind in the event that I needed more work and didn't have enough new client inquiries.
You never want to get stuck scrambling for more work if you have the time.
Some things I would do include the following…
Since I write blog posts, and I know lots of other freelancers write in the same industry I do, I can just search for blogs that other freelancers write for…
Chances are, many of those blogs are their clients. When I found those blogs, I would search their site for any posts or pages where they advertise a need for new contributors and contact them using that.
There are lots of keyword searches you can do on Google and even on Twitter to find more sites looking for writers / contributors.
I would set up Google alerts and saved Twitter searches to make sure I was catching the next people looking to hire a writer.
I would also look at job boards and postings on sites like ProBlogger, Mashable, FreelanceWriting.com, Freelance Switch, and Freelance Writing Gigs to see if any new inquiries would fit.
What about the dangers of not getting paid on time (or at all)? Any advice for avoiding that nightmare?

That one is tough, but fortunately I've only been stiffed for a total of $280 so far.
I treat clients differently – for smaller businesses, individuals, and one-off projects, I ask for pre-payment. They are the most likely to flake out or be difficult to collect from later.
For medium to large businesses, I'll typically do invoicing at the end of each month – so far (fingers crossed), I've never had any issues with more established companies and brands.
I also look at whether other freelancers I know have been writing for a client for a long period– if they have, I can assume the client is paying their bills.
That's tougher to do in ghostwriting or copywriting situations, but it works when you're getting paid to do blog posts.
Past that, it's just important that you keep good records of who you've done work for, how often you need to invoice them, when you send your invoice, and when you expect them to pay it.
And you really have to keep on top of it – if you let someone be a month late once, they'll mentally flag you as someone they don't have to pay on time in the future. (Editor's note: All too true, heed this advice!)
If anyone goes late on their payment terms, I stop writing for them immediately until the bill is paid. It's better to lose payment on one post than on several.
How about tactics for staying organized? Especially those pertinent to when you find yourself with a new flood of new client work.

Organization is one thing I'm working on right now.
When I had a smaller client base, a whiteboard on my wall would do.
I'm currently looking into project management tools to keep track of my contacts and my tasks, but so far I haven't found one that does everything I need it to quite yet.
Until I do, my organization is in the form of a pretty extensive spreadsheet for invoicing and (sadly) a Task List email I modify regularly that sits near the top of my inbox.
In your opinion, what constitutes a GOOD freelance writing job, and how you would advise a brand new freelance writer to start seeking out decent writing jobs?

It really depends on your experience level and workload as to what you can charge and how often you turn down work.
I don't work below a certain rate unless the blog happens to have colossal traffic, allows me to have an author bio, and their audience is likely to include more new clients for me.
I also turn down work based on the client's difficulty level – some people you can tell (even just through email) that they will be more time consuming than you can manage.
An extreme example was one person who sent a contact form on a Sunday evening and then called me five times on a Monday morning before 12pm just to inquire if I was available.
That was a pretty big red flag – some are more subtle, but if you're already have enough work and are making enough, it is better to turn people down that take on something that could clog up your productivity pipeline.
As a freelance writer, you are the salesperson, project manager, person to complete the task, accountant, and bill collector.
You have to make sure your using your billable time efficiently so you're earning income, not just chasing it around.
—
Carol Tice
Very happy to (also) be sitting down with Carol Tice today, a full-time freelance writer and founder/owner of Make A Living Writing (fitting name!).
We're going to get the low down on how she got started with her freelance writing career and when things began to move to the next level.
1.) What began your interest in writing in general? When did writing go from something you enjoyed doing to something that was able to bring in revenue?

I started at about 14, writing song lyrics.
Songwriting was the first type of writing I fell in love with. I pursued it a bit in college and then dropped out to move back to L.A. and pursue it full time.
Then one day I entered an essay contest a local alternative weekly was having — and I won and they paid me $200.
I never looked back.
I had found the kind of writing people pay you for!
2.) One of the few awesome moments in any freelance writer's career is that first paying job. After a while though, the thrill of a $50 article is gone and it's time to move on to regular, well-paying clients.
This phase can often lead to a very scary moment: deciding when and how to make the jump to a full-time business.
How did this happen for you? Can you give us some insight on the lessons you learned?

I was very lucky in that at the time I had another freelance business — my day job had been as a legal secretary in entertainment in L.A., and I had quit and started a script-typing business.
As I gained more writing gigs, I slowly dropped my typing and transcribing clients until one day, my husband said, "You know, I think you should try just writing. You don't need this typing stuff anymore!"
And he was right — with the free time I was able to find more writing clients and make the money I needed. So I was able to gradually dial it in, on the first go-round.
The second freelancing stint I've had, starting in 2005, I was fired from a longtime staff-writing gig after a new editor came on board, so it was into the pool!
Like many people over the past few years, I simply had to scramble to start my business.
At first I thought I might just freelance a bit while I looked for another full-time job, but I quickly lined up some clients and realized I never wanted to give up the time flexibility of freelancing again!
3.) Do you think having a personal platform and building a following (like you've done on your blog) is an important thing for freelance writer's to pursue?
How has your platform helped your freelance career and overall earnings?

I'm a strong believer in having a solid writer website, where you can present yourself to clients and keep your portfolio for them to read.
You're basically invisible and don't seem like a professional at this point if you don't have one.
My blog definitely helped me get other blogging gigs, and at times in the past I've earned as much as $5K a month just from blogging for clients!
I think if you enjoy blogging and would like to get paid blogging gigs, you should certainly be building a niche blog of your own.
Clients love to see that you understand how to develop many strong story ideas on a single theme, stick to a topic, write great Internet headlines, attract subscribers, and how to get engagement – comments and social shares. (Editor's note: Can't stress this enough, my blog has been my greatest referral asset!)
They will want you to do all that for them! Your niche blog doesn't have to be on the same topic, either. It just shows you get it.
Once you have a niche blog, the ideal in my view is to use it to get blogging gigs on highly trafficked sites.
When you blog for busy sites, it becomes a marketing machine for you — prospects will contact you off it. So you're basically getting paid to promote your services! I consider that ideal.
That said, I don't know if starting a niche blog is for everyone.
If you dislike this form and don't want to get these types of writing gigs, and don't have a topic you're up nights dying to blog about, you might be better off creating writing samples in other ways — say, creating a free report for prospects.
The advantage of starting a niche blog as a freelancer is that essentially, you're starting a potential side business.
You might grow this blog up and create products for it such as courses or ebooks, or affiliate sell things, and create a whole new income stream — which we all know we should do. Maybe in the end it'll just be a writing sample for you, but it could become much more.
That's certainly what happened to me with Make a Living Writing — I have a passion for helping other writers grow their income, and now I get to spend much of my time doing just that in the spinoff community I launched off my blog, Freelance Writers Den.
And the revenue base I have from the blog allows me to be choosier about the freelance clients I take, which I love.
—
Wrap-up
I wish I had the opportunity to talk to these ladies back when I first began my freelancing efforts!
I advise all freelance writers to take the advice here very seriously: as a content strategist and part-time freelancer, I found myself reading the answers with a knowing grin, recalling some very tough "hard-knock" learning experiences I could have avoided back in the day.
Here's a final big thanks for Kristi and Carol for spending the time to chat with us today, two fantastic people (and writers!) to keep your eyes on.
Here's what to do next…
Leave a comment: let me know what you thought of these interviews, it helps me create better content for Bidsketch users in the future!
If you haven't already (and as a special thanks), be sure to download our free guide on the 5 elements of a perfect proposal, instantly. Just a humble reward for making it to the bottom of the post. 🙂
Thanks for reading, I'll see you in the comments!
Resources
We have some great tools available to help you get started. Take advantage of this free freelance writing proposal template. If you want to see a freelance writing proposal sample, we have that too.