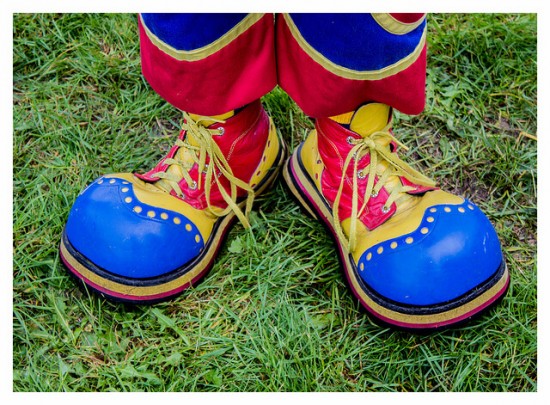 Everyone likes to laugh, even your customers. Yet using humor in marketing is something that many marketers are cautious to try out.
When done well, brands can expect to see increased site visits, high engagement rates, enviable share statistics and a serious boost to brand image.
However, many marketers are under the impression that there is a secret to generating side-splitting campaigns. They worry that if they're not a comedian in their daily life then how could they be in their campaigns?
Whether you are trying out some new campaign ideas to impress a client, or are simply wanting to give your brand a refresh, using humor in marketing doesn't have to be a dark art.
Still not convinced? Here are six ways that you can be the class clown and inject some humor into your marketing campaigns, complete with brand examples!
1. Decide if Humor is Appropriate
Before jumping into your marketing armed with a sack full of jokes, it's important to question whether humor is appropriate for your brand.
Start by determining what you are hoping to achieve by using humor in your marketing. Utilize customer data and buyer personas to determine the demographic of your audience, their interests and pain points and whether humor is the best way to target them.
Of course, you can always test your humor out. Try getting a colleague's opinion or utilize a control group to test your ideas out on. Monitor their reactions and ask them to give you their honest feedback on how sharable and memorable your attempts at humor are.
If after this step you decide that humor fits your brand then it's time to get creative with the following strategies.
2. Find Common Ground
The ability to target an audience's interests, concerns and pain points is a main goal for many brands. To connect with your audience on this level you need to tie your marketing into a real-life challenge that your audience share. This will make your campaigns instantly relatable and in turn, your product offering simple to digest.
Using relatable situations can be an easy win when it comes to adding humor into your campaigns. When you parody a pain point and take it to an extreme, you are showing your audience that you understand their woes and can laugh alongside them.
The Dollar Shave Club used this strategy to boost the promotion of their $1 razor blades. The brand created a light hearted campaign which became a viral hit by utilizing their audiences' common pain point: getting a good shave, at a minimum price and with minimum effort.

3. Tell a Story
Customers have never had so much choice as they have today, which is why it is so important to build a relationship with your audience so that you become their brand of choice.

Story telling is the perfect way to build a connection with your audience whilst ensuring that your campaign message is relatable. Injecting humor into these stories will grab your audience's attention and ensure that your brand stays firmly in their mind. It also provides a useful way to address sensitive topics in a way that doesn't daunt your audience.

You can easily inject humor into your storytelling with language, tone and imagery. This ensures that you are using humor in a subtle and tasteful way, as opposed to going all-out with gags and one liners.
Australian non-profit brand One Girl executed funny storytelling impeccably in their Do It In A Dress campaign, which involved men (and women) raising money to educate girls in Africa, whilst wearing a dress.
The campaign video below takes you through the story of how the campaign was created, complete with a healthy dose of men wearing dresses. It produced an ideal combination of humor and storytelling, which both charms the audience and makes a serious issue far more approachable.
Side note: Another great place for concise and engaging storytelling? In the later sections of your sales proposal. Whether you're proposing marketing services, doing social media sales bids, or regularly send out other types of proposals.
4. Reference Pop Culture
Pop culture marketing or "newsjacking", as it has more recently been coined, can be highly effective when used appropriately and with your audience demographic in mind. It works particularly well in creating an instantaneous inside joke which immediately builds a connection between a brand and its audience.
If pop culture is something you want to firmly integrate into your marketing strategy then organize your content calendar around the launch of specific TV shows, movies and product releases that will resonate with your audience. Prepare content in advance to ensure that your marketing is as agile as possible and that you are the first in your industry to reference any important events. 
Large events are particularly relevant for a wide audience and therefore provide an abundance of opportunities for pop culture references. The Super Bowl is the perfect example of an event that attracts lots of big brands who all want to piggy-back on the event's mass exposure.

BuzzFeed managed to perfect their pop culture marketing for the SuperBowl using their already established Dear Kitten campaign. The campaign's use of cats is already highly relevant to their audience, who seem to love a cat-related article, so by launching a Super Bowl-specific advertisement they further increased their relevancy and the inside joke within their campaign.
5. Try Memejacking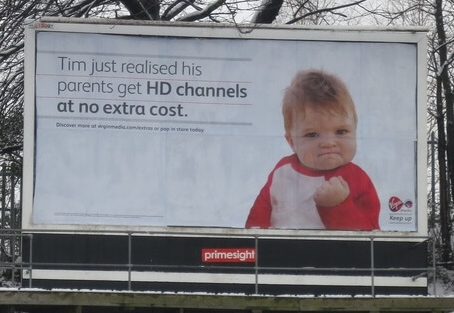 Similar to newsjacking is the increasingly popular strategy of memejacking. For those of you who don't know, memejacking is the process of hijacking viral content, or memes, and adding your own brand message to it.
By borrowing concepts that are already well-established and proven to be a hit, your campaign has a much higher chance of being picked up by your audience, especially if they are a social media-savvy bunch.
Big brands worldwide are using memejacking in their marketing strategy, including Virgin Media who adopted the widely recognized Success Kid.
What was particularly clever about this campaign is that those who follow memes will have appreciated the use of Success Kid in a big-brand campaign. However, for those who weren't aware of the meme, the image still complemented the messaging perfectly and added a humorous edge.
6. Get Your Fans Involved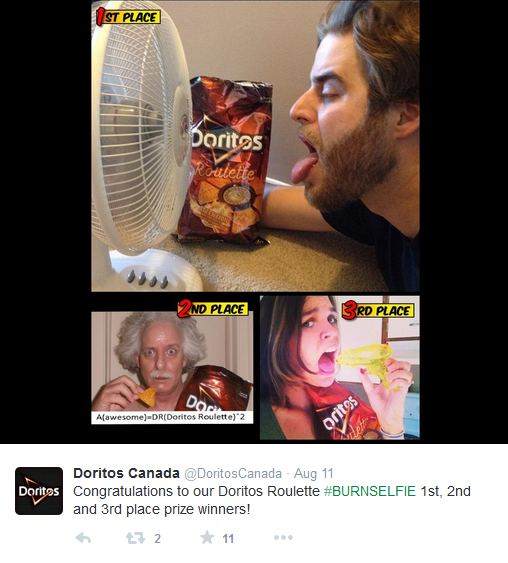 I understand that marketers are busy people, so why not take the load off by tapping into the power of your audience and getting your fans to do some of the hard work?
Fans love to get involved in fun marketing campaigns, especially if there are offered an incentive. This involvement helps to build a relationship between a brand and its audience, as well as craft a community of people who share something in common, you!
Also, don't forget that people are creative. The amount of weird, wonderful and frankly hilarious ideas that can come from your fans will leave you astounded and even tempted to hire a few of them. By handing the marketing over to your fans you can expand the potential of your campaigns without having to dramatically add to your workload.
One of my favorite examples of fan involvement is by Doritos Canada, who tap into their audience's love of selfies to promote their spicy Roulette Chips, complete with the hashtag #BurnSelfie.
In Conclusion
Marketing is a serious business. However it is this seriousness that can lead to barriers being built between your brand and your audience.
Humor can help you to break down these barriers. It allows brands to appear more relatable which in turn forms bonds and builds relationships.
Relationships aside, if your funny campaign is worthy of viral-success then you can expect a serious spike in brand exposure, site traffic and even sales. So what have you got to lose?
Have you released any funny marketing campaigns? How were they received? Let us know in the comments!
Photo Credits: Antony ***,  Stephen Cannon