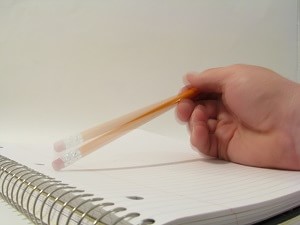 When I think of writers block my mind immediately turns to The Shining.
If you're one of the few who haven't seen this classic film, the general plot is that tortured writer, Jack, retreats to a hotel for an entire winter to finally tackle his writing project. An abundance of drama, madness and murder ensues, and as far as I'm aware, the writing project is never finished.
While I'm not comparing your experience of writer's block to Jack's, my point is that as real-life marketers, we cannot afford to lock ourselves away for months at a time to finish (or not finish) a project.
As real-life marketers, we have deadlines to hit, clients to delight and bills to pay. Frankly, we cannot afford writer's block. To us, writer's block can only exist as a myth.
What we do experience, however, are creative slumps. A period of time when we are not firing on all cylinders or working at full capacity; when our work just isn't the best it could be. Generally we manage to climb out of these slumps and push on with our work. But at the time, a slump can feel like it will never end.
In this post I'm going to explore why we go through these creative slumps, and offer my practical suggestions as to how you can get out of them.
Why We Experience Creative Slumps
1. Lack of Knowledge
If you aren't even sure where to begin with a project, the chances are you don't know enough about it (yet). You may have failed to conduct proper research before starting the project, or potentially taken on a project which is some what alien to you and your experience.
2. Lack of Belief
This factor could be borne out of a lack of knowledge on the project. You are probably your own worst critic, so when you start believing that your work isn't up to scratch, you are likely to spend hours pouring over minor details and never actually get the project finished.
3. Boredom
In my experience this is the most common reason for a creative slump. If you are working on the same project for hours, days, weeks or even months, your excitement levels are likely to dip significantly. This will lead to procrastination and in turn, the project being dragged out for much longer than necessary.
How to Overcome a Creative Slump
So what can you actually do when you're stuck in a creative slump and can't climb out? Read on to learn five actionable tactics to help you overcome a slump when faced with one.
1. Stop What You're Doing
Yes, you read that correctly. If you have deadlines to meet this might seem counter-intuitive, but pushing yourself to work on a project when it's not amounting to anything is actually a huge waste of time.
If you've been obsessing over the same problem for hours then it's time to give yourself a break and give your mind a chance to refresh. Step away from your workspace and focus on something else; ideally something completely different. You could choose to take some downtime by watching your favorite TV show, making a snack, running some errands or even giving your mom a call.
If the idea of entirely separating yourself from your work scares you, do something productive that will also help to keep your mind active. Consider creating a visual brainstorm for a new project, or practice freewriting to tap into your relaxed imagination and generate new project ideas, creative sentences or even personal musings.
If you have other projects, split the workload so that you are not focusing on the same one for hours at a time. This will decrease the likelihood of boredom and restlessness, which in turn will increase productivity.
2. Get Physical
While it's typical for most of us to work by sitting, slumped in a chair and staring at a screen for hours, this is hardly the most creative environment, nor is it the best way to keep your brain refreshed.
Instead of turning your mind to other tasks or projects, remove yourself from the situation entirely and go get active. Not only will this allow your brain to switch off entirely, it is also perfect for getting your blood flowing to deliver more oxygen to your brain, and of course increase your endorphins to give you that warm, happy feeling.
If you're a particularly active type then why not take time out of your day to incorporate your gym routine or go outside for a run. Or if fast-paced activity isn't your thing, Yoga or Pilates is the perfect way to be active while relaxing and focusing your mind on the present moment, as opposed to dreaded-deadlines.
After all of that movement have a shower, get comfortable and return to attack the problem once again.
3. Find a New Creative Space
While you might consider your workspace a productive place, a change of scenery can really do wonders.
Try moving your desk space (if you are able to). If you work from home you could try working from another room, in your garden, at the local library or even in a coffee shop (a bit of a cliche, but it works!).
If you work in an office then try to find a quiet space that you can call your own, even if it's for half an hour. Book out a meeting room or utilize any other working spaces that your company offers. The important thing is that you get away from your desk and test out new places to work.
For some, creative spaces can be an everyday occurrence. Many feel at their most creative in the shower or bath, during their cycle to work or on their lunch time walk. Tap into these moments and incorporate them into your working day to help develop creative ideas and tackle any slumps.
4. Shorten Your Deadlines
This might seem like a startling idea if you're already under a lot of stress. However, if you find that your creative slump comes from procrastinating or slacking off, adding a little pressure can do wonders.
Giving yourself a whole day to complete a small project may seem like a safe idea, but extended deadlines are likely to breed a "do it later" attitude which leads to a project being dragged out for far longer than necessary. Before you know it the working day will be over, you will have spent eight hours with a project in your mind, but you won't have actually accomplished anything.
Instead, establish a specific deadline for your project, then delve into even more detail by allocating specific time periods for specific tasks. For example, if you are writing an article, allocate time for research, writing, editing and then proofreading.
Not only will this tactic help you to focus and immerse yourself into your project, it will also make you far more productive and give you a sense of satisfaction when you actually finish a project in the allocated time space.
5. Don't Panic!
Going through a creative slump can be a daunting experience. You may begin questioning your own capability, whether this project is right for you and if there will ever be a light at the end of the tunnel.
While you are obviously going through a stressful time, it's important not to be too hard on yourself. Accept that you need a break, that at this exact moment you're not at your most creative and therefore you cannot be as productive as you usually are.
Once you have accepted this, you can move away from your workspace, relax and give yourself a break.
At this point you need to practice patience. Stress and guilt will not help creative ideas come to you any quicker. So be patient, be productive, wait for your creative slump to pass, and then get stuck into your project when the time is right.
Conclusion
Creative slumps are often the result of the pressures that we put on ourselves. By continuing to push through our work and deny these slumps, psychological pressures simply snowball. This results in us creating sub-par work, or sometimes not being able to finish the task at hand at all.
By following the above advice you will give yourself time to reflect on the bigger picture, refresh your mind and tackle the project with renewed enthusiasm.
How do you deal with a creative slump? Let us know your thoughts in the comments!
Photo Credit: Renett Stowe