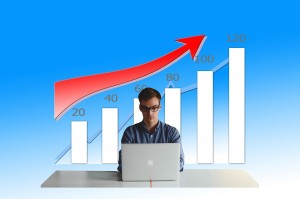 It is no secret that Amazon has set the bar with effective email marketing tactics. The leading online retailer takes a unique and customized approach with their marketing strategy, allowing the company to dominate email marketing in every aspect.
Even though the company, founded in 1994, didn't become profitable until a decade later in 2004, Amazon still managed to pull off a net revenue of $88.99 billion last year. While the variety of products and services available – such as Amazon Prime, Warehouse Deals and free shipping – have contributed a great deal to the company's revenue, their flawless email marketing strategy has helped boost sales consistently and secure a loyal customer base.
Whether you own an e-commerce-based business or not, there is definitely a lot to learn from an industry leader like Amazon. In this post we'll show you five ways to dominate email marketing by adapting key techniques from Amazon.
1. Track What Visitors Do
With a company as large as Amazon, you'd think they wouldn't bother to keep tabs on every little detail concerning their rather large customer base. Let me tell you – it would be a huge mistake if they didn't take advantage of this opportunity to learn more about customers.
Amazon closely tracks what visitors and customers do on their website in order to obtain valuable data to help them appeal more to each and every customer. Amazon monitors everything from customers' gender, birth date, and search terms to how long they take to shop, what products they view, their repeated purchases and so on. This helps them create relevant email messages that will resonate with customers and prompt them to take action.
You can get to know your customers and clients by collecting data as well. Even if you don't have access to all the fancy programs Amazon may use, you can still send out surveys to gather basic information from people. You can also utilize Google Analytics to monitor various things on your website, including what people are viewing, the time of day they're browsing and possibly their metropolitan area.
2. Send Personalized Messages
Once you've collected specific information about your customers, you'll be able to create personalized messages as opposed to generic standard emails. If you want to have the same effective marketing edge that Amazon has, it's crucial that you personalize your email messages to appeal more to customers.
Amazon sends out routine emails that address customers by name and recommend relevant products to them based on their searches and purchases last time. The email offers a clear solution to a problem or need the customers may have never known they had.
Let's say you were browsing on Amazon for a watch and couldn't decide on what you wanted or whether you even wanted to make a purchase. Amazon quickly sends you a personalized email with various suggestions based on your age, gender, price range and other demographics. Suddenly, being receptive to their attentive behavior and assertiveness (in regards to helping you find what you are looking for), you decide to move forward with the purchase.
Even if you don't own an e-commerce store or sell physical products to consumers or clients, you can still benefit from creating personalized messages.
3. Follow Up
Amazon tends to follow up and keep tabs on users often. If you've ever poked around on the site and later abandoned your shopping cart you'll know what I mean. Each time a user fills up a shopping cart but doesn't place an order, Amazon will send a personalized transactional email that offers to assist the recipient or encourages them to complete their purchase.
This strategy may be more effective than you think. Reminding potential or returning customers and clients of your products and services in a non-pushy way can easily reel them back in. Utilize the data you collect about your prospect's habits, needs, and interests. If you can offer a cold prospect a helpful solution, or just give them a friendly reminder, you'll be able to maintain your customer base and keep your audience engaged.
4. Reflect Your Brand with the Right Email Template
When you receive an email from Amazon, their brand is always prominently displayed – from their logo and font to the color scheme and overall template of the email message. The email template is usually almost a direct replica of the actual website's design template. This helps people know immediately who is emailing them, and begin to trust the brand. This is turn means they become more receptive to receiving marketing emails from Amazon. By focusing heavily on this type of consistency, Amazon remains true with their brand in everything that they do.
If you want to build up your brand and establish this type of consistency with your marketing emails, you can certainly follow this company's lead. Start by creating an email template that is responsive, and matches with the color scheme and theme of your website. Make sure your company logo and name are prominently displayed at the top of each message. You'll also want to carefully choose a font that coincides with your brand, along with high quality images and graphics to help engage readers.
5. Create a Sense of Urgency
Do you leverage the use of a call-to-action to create urgency in your marketing emails? Amazon does this all the time. It seems like the company is always offering some limited time deal or holiday special.
Some of their messages even include a timer that counts down until the expiration of the offer. You don't have to go to those extremes, but by creating offers that expire, you will create a sense of urgency among your clientele and potentially increase profits and email conversions. If your prospects think your product or service will be around forever, they will not be motivated to buy and take advantage of the quality and value you can provide.
You can create a sense of urgency by offering time sensitive deals using your products and services. Use keywords and phrases like:
"Reserve your kit today while supplies last"
"This offer only comes around once a year"
"Savings you can't pass up"
"Memorial Day weekend sale"
"Today is the last day"
Just think about how many times you've made a purchase or signed up to receive an offer after you found out it would only be around for a limited time. Scarcity makes people contemplate their purchase decisions more than they normally would, due to fear of missing out on a good opportunity.
Conclusion
When you want to learn how to master something, you should look to the expert in that field. When it comes to successful email marketing, Amazon has definitely earned its reputation as an expert industry leader as a result of implementing all the points mentioned above.
A key takeaway we could all learn from Amazon is to not be afraid to email your audience and personalize emails by tracking visitors' habits and behavior. Tracking your audience's habits will only help you improve your products and service by increasing your relevancy to particular customers.
How do you plan to implement any of these email marketing tactics? Let us know in the comments below!
*Editor's note: Do you know why Amazon is the online retailer to beat? It's because they never stop finding ways to promote their products and services. Never.
While you might not have the vast marketing tools or reach that Amazon does, here's one thing you do have at your disposal: Proposal drafting software that allows you to send out highly-polished proposals and pitches in record time.
And, Bidsketch will even allow you to try it out for yourself during our free 14 day trial offer period!
Image Credit: geralt