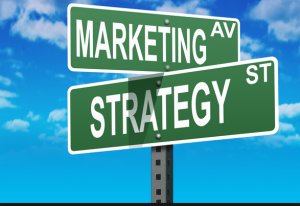 Once upon a time, there was a freelance copywriter who developed a nice portfolio of projects, and clients.
Then, life happened, and the freelancer found that for one reason or another, the projects dried up, and certain client relationships ended.
Before they knew it, they found themselves scrambling for work at a very inopportune time.
And, in case you haven't figured it out yet, the vulnerable freelancer is yours truly.
What happened? How could I have allowed this to happen? Was a I poor service provider? Were my clients dissatisfied with my work?
After running down the appropriate mental list of questions, the answer to my problem became very clear:
I stopped marketing myself!
I'd been very lucky up until recently.
I didn't have to market myself. I had the benefit of knowing the right people who were all too happy to offer the right type of referrals. I also managed to be in the right place at the right time when one of my clients was hiring.
But, as any freelancer knows, there comes the inevitable moment when the work stops, for one reason or another.
And, let's face it: We're all vulnerable, right?
Whether you're a lone-wolf freelancer like me, whether you own an agency, or whether you're in the midst of building an empire as an entrepreneur, no person is an island. We may ultimately answer to ourselves, but by and large, we count on clients and subscribers for our survival.
Enter marketing.
I've spent the last month or so thinking about marketing, a.k.a promotion, of all sorts. Then, I started thinking about the marketers who reach out to me via my email account, and I quickly realized a few things:
There's different types of marketing for different occasions and cycles of our business operations.
This was very important for me to realize. See, I started to become anxious about becoming too good at promoting my services. I asked myself, what would happen if I was able to generate enough work to keep my schedule booked for days, weeks, and beyond?
I want you to avoid my mistake, so I'd like to show you three major occasions when you should propel your marketing drive.
Bread And Butter Marketing
Bread and butter marketing is just that: It involves the down-and-dirty process of finding clients or subscribers who can take care of your accounts receivable, sooner than later.
You'll engage in bread and butter marketing when:
You need to pay bills, immediately
You need to create a financial foundation
As you might already know, you can't be terribly picky when you're looking for immediate cash flow.
You might need to introduce yourself to lower-paying, low barrier-to-entry clients and subscribers who have an immediate need (or desire) for what you have to offer. Or, you might need to send out a S.O.S to your colleague network, furiously typing out emails to find out who knows about opportunities that you don't.
The end result might not be the most financially or creatively satisfying, but you'll achieve your goal of putting money in your account.
On the other hand, your bills might be paid…for now. But, you might find that you've leaned too hard on a lucrative client who could disappear at any time, for any reason. Or, you might be winging it financially, and now, you've decided to operate on financial solid ground.
If you find yourself in this position, then you'll need to decide if you want to take a guerilla approach in your marketing push. Or, you might decide to deliberately reach out to the type of decision makers who are able to sustain you long enough to allow you to create a financial safety net.
Now, if you're not in such a precarious scenario, then you can engage in a higher level of marketing that I like to call…
Bigger & Better Marketing
At this phase, you're tired of filling your schedule with low-paying projects, or maybe you're tired of giving away your subscriptions or your info-product for next to nothing. Perhaps you're feeling creatively suffocated, and you're ready to soar to newer, exciting opportunities.
Or, you might find that it's time for you to add higher-scale products and services to your mix.
When you've reached this point, then you're ready to start looking for clients and subscribers who are able to help you reach your higher-level goals. Having said this, you'll need to promote yourself to higher-level prospects, differently.
Guerilla-style tactics won't work, and your colleague network might not have the type of connections that you'll need in this instance.
You'll need to implement effective tactics like Copywriter Cafe owner/publisher Steve Roller does.
I "met" Steve about two years ago, now. He operates the Copywriter Cafe group on Facebook. But, as I've come to know him and what's he's about (and as I've witnessed his evolution), Steve has evolved from a lone-wolf copywriter into a copywriting entrepreneur who offers his clients:
Location-specific copywriting retreats
One-on-one copywriting coaching
Online group coaching
Free web seminars
Exclusive tips and advice for his email marketing subscribers
…and an entire menu of membership packages which can all be found on his main marketing platform, Cafewriter.com
Here's a quick peak at how Steve consistently manages his bigger and better promotional push: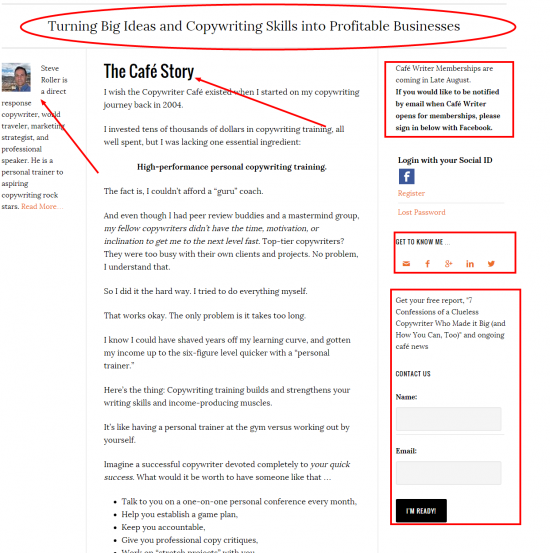 First, notice the circled tagline. Steve didn't place this here by accident, or because it sounds cute. The tagline explains to his prospects what they can expect from Steve's services in a manner that also allows him to create a brand.
In plain terms, a brand refers to your business reputation. It's all about how your prospects perceive you.
When you create a solid brand that's perfectly aligned with who you are and what you do, then you'll quickly find that your brand will perform a lot of your targeted marketing for you.
And, as you might already know, it's all about generating highly qualified, targeted leads, right?
You'll notice arrows that point at Steve's about me info, and the Cafe Story. These are crucial sections that also perform marketing functions. A prospect can get to know what motivates Steve, and they can learn about the history of Steve's endeavors with the Copywriting Cafe.
Prospects can also find Steve on a variety of social media platforms, and they can receive high-quality, resourceful tips when they subscribe to his email list. These are sections that go a long way in proving credibility.
After all, if Steve is going to continue to generate the type of clients and revenue that he desires, then he understands that he's got to prove that he's not a flake, and he's not operating a fly-by-night operation.  In other words, he's got to prove that he's transparent, trustworthy, and worth every penny that he'll charge for a wide variety of products and services.
Do you notice how bigger and better marketing tactics are different from bread and butter tactics? Both are important, but since the outcomes will differ, the tactics must differ, too.
Not only will bigger and better marketing lead to higher revenues generated, it could also lead to:
More perks
More flexibility in projects and deadlines
Residual income
Profit sharing
Consulting commissions
…and possibly more!
But, what if you've encountered the fortunate problem of acquiring more work than you know what to do with? What if your calendar is jammed packed, possibly for months out.
Can you stop your marketing push, and should you stop marketing?
Not only no, but HECK NO!
Here's something I've observed:
Even the most sought-after marketers continue to market.
I realized that the people whom I admire, the ones who generate four and five-figure invoices per project, the ones who are bursting at the seams with project, experience abundance because they constantly keep things flowing through their marketing funnel!
But, as I've mentioned, different phases of your operation will require a different approach. This leads to…
Marketing For Maintenance
Ah, now you've reached that sweet spot where your name or brand is established, you're financially flush, and there's plenty of work on the books.
As a matter of fact, you might consider handing off some of your project overflow to your stable of reliable freelancers who can help you to take lucrative projects off of your books, while allowing you to earn a cut of the profits, without the need to lift a finger to do any of the work!
Yes, it's possible, and it happens every day.
But, believe it or not, even the maintenance marketers still need to engage in promotional pushes. Why?
Think about the international brands like McDonalds, or Coca Cola. We all know who they are, what they offer, etc. Why do these brands spend millions of dollars in promotional tactics?
It's because they understand that in order to remain part of the fabric of our lives, they've got to remain visible! If that's what they have to do, then what might you need to do in order to make sure that your business goes the distance?
Here's what I've noticed that some of the maintenance marketers do to keep themselves relevant:
They remind prospects and clients of their worth, and their accomplishments
They  promote new product offerings, such as books, courses, or seminars
They'll announce newly acquired skills
They re-purpose content to create new promotional media, such as slides, podcasts, videos, etc.
They'll create joint-ventures with strategic business partners.
Keep in mind that everyone at this level isn't rolling around on piles of cash. You might be like my colleague, Mary Rose Maguire. She does an excellent job of promoting her current work load while creating future opportunities.
Take a look at the snapshot I took featuring the bottom of her email newsletter: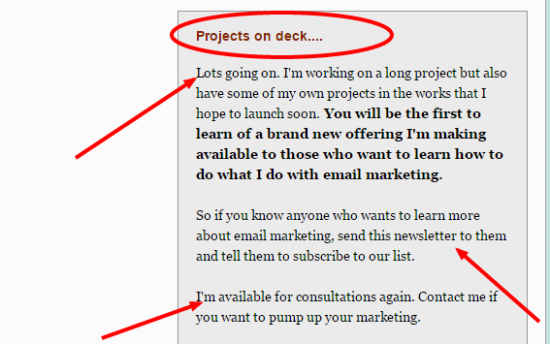 Do you notice that she leads her message with lots of projects on deck?
Yes, she's letting her prospects know that she's currently busy, but she's also letting them know that she's not some desperate freelancer in need. She's booked to capacity, and believe it or not, that makes her services far more attractive to prospects!
After explaining that she's got a new info-product coming to the market soon, she asks her readers to spread the word to interested people in their network. Do you see how Mary Rose just marketed herself to more prospects without having to do the hard work?
Finally, she lets the reader know that she is available for consultations, and because she's so busy and productive (she's desirable), then chances are great that prospects will pay her consultations fees.
In three short paragraphs, Mary Rose took care of her present and future marketing needs, while inferring that because the prospect failed to book her previously, her schedule didn't include their projects.
Genius, right?
Are You Ready?
Here's a way that you can start promoting yourself, right here, right now:
You can start sending out proposals!
Using a web app like the one that Bidsketch offers allows you to connect with prospects that you might have been nervous or leery of making contact with. You can also re-connect with old clients who might have been placed on the back-burner, especially if they're able to afford your products or services again.
You can never stop marketing. Ever.
However, there's a time and an appropriate way to market yourself that helps you to hit specific benchmarks on your marketing journey.