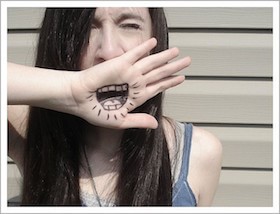 It's something that every marketers dreams of: an army of dedicated fans who love talking about how great your product and service is without you having to do a thing.
In a world dominated by social media and review sites, this dream isn't so unrealistic. Positive recommendations not only spread like wildfire, but they can easily become one of the most powerful tools a marketer has access to.
Once it's up and running, word of mouth marketing can produce excellent results with very little effort. So stop delaying and get started with the following tips.
1. Be Amazing
While this may seem obvious, there are still many businesses that don't grasp this simple concept: the best way to get people to say amazing things about you is to be amazing!
Simple? Yes. Easy? Maybe not…
I'm sure you are fantastic at what you do, but it doesn't hurt to take a good look at your business to ensure that it's the best it can be. So start by looking at yourself from the customers' point of view and ask yourself some basic but integral questions, such as:
Do you deliver what you say you will?

Do you deliver it in a timely manner?

Do you go above and beyond expectations?
If you cannot answer "yes" to the above questions, chances are your customers are receiving average, mediocre or even bad service. A customer is far more likely to talk about you when they have a bad experience, so try to eliminate the chances of this happening by wowing them as much as possible.
If they are indeed wowed, they will naturally want to talk about you and big you up as much as possible. So ensure that you're not offering bad service; don't even offer an average service. For great word of mouth you need to offer an amazing service.
2. Get Yourself Noticed
Once you have sincerely established that you are amazing, it's time to let others know about it by positioning yourself as a prevalent influencer in your industry.
Decide on what it is that makes you unique:
Is it your product?

How about your service?

Or do you just know everything there is to know about your industry?
Whatever it is, you need to start shouting about it.
Once you have established your Unique Selling Point (USP) you need to communicate it in all the relevant places. Your website, blog and social profiles are a given, but you also need to research where it is that your target audience go to for information and begin communicating via those channels.
Those channels could be Facebook, Twitter, Google+, LinkedIn, YouTube, blogs,forums; or any combination of the above (in addition to others). Be sure to feature on these channels in every way possible. For example, contact other influencers to ask if you can guest post on their blog, or ask them to guest post on yours.
Don't just rely on online channels – your audience is offline too. Trade shows, events and networking opportunities are also great ways to get your voice heard. Consider presenting, sitting on panels or taking part in interviews to promote your offering and the knowledge you have.
3. Win Over Your Influencers
Once you have established yourself as an influencer, it's time to start winning over other influencers.
Chances are you are involved in an industry that has been around for a little while (unless you are incredibly niche). While this means you are likely to have competitors, you are also likely to have other influencers out there.
Research your industry and establish who these influencers are. Thanks to social media they don't have to be celebrities or sit in powerful positions; they are instead normal people who happen to be experts in their field. So look into industry-renowned blogs, forums, YouTube channels and even Instagram accounts to discover who is talking about your industry and generating the largest following.
Once you have established who your influencers are, start the process of winning them over. You can begin subtly by sharing their content, retweeting them or commenting on their blog posts. You may want to take this a step further and ask them to write guest content for you, to be involved in interviews or even partner with you in some way.
Whatever you do, your aim is to build a positive relationship with these people so that you will be first in their minds when they discuss your industry.
4. Find Your Clique
Influencers in your industry are one thing, but what about your super-customers?
These are the people who frequently give you their custom, who rate you and your business and are open to talking about you positively.
They are your future brand advocates, so establish who these people are and make them feel special. You will want to make them feel part of your business, as if they are insiders and part of your "clique", so to speak.
To do this, give them inside information, invite them to intimate events, provide them with content before anyone else and send them regular VIP communications. More than anything you need to personally thank them for their business, so don't be afraid to pick up the phone or send a personalized email.
By building up this positive relationship and making these brand ambassadors feel special, they will build a personal bond with your brand, making them far more likely to talk about you and recommend you to others.
5. Get Social
Customers love to talk about brands on social media, so get active on your social networks to ensure that they are talking about you.
If social media marketing is new to you, start small. Sign up to a free social media client such as Hootsuite and start sending out regular posts to your audience. Update them on your latest news, content and service offerings. If you are creating content that is irresistible to your audience then they are likely to retweet and share it, increasing your word of mouth reach.
Don't forget to actually engage with your audience and start discussions. A great place to start is by asking them for their thoughts and opinions on industry hot topics. This is ideal for establishing a personal connection with your customers.
If you work agency-side,you could even post about your colleagues and company culture. By promoting yourselves as both a passionate and friendly group, you are more likely to entice clients into working with you.
6. Just Ask!
This may seem obvious, but it's surprising how many businesses are afraid to do this.
If you've done all of the above and have ensured a great customer experience,don't be afraid to just ask for a referral! It can be as simple as that.
I'm not suggesting that you use sales talk to try and persuade customers into referring you. You don't even have to offer an incentive, although referral programs can work well for some businesses.
Instead, when a customer has a great experience with you, simply explain to them that you'd appreciate them spreading the good word. Happy customers are often more than willing to talk to others about their experience, and asking them may offer the final nudge they need. You could even navigate them to a review site or your own social networks for them to post about their experience.
Alternatively, consider asking these customers if they know of any companies that would benefit from your service in the same way. Enquire as to whether they'd mind passing on your details to these companies, so that you can offer them the same excellent experience.
In Conclusion
Word of mouth marketing doesn't have to be a dark art. Offering great service is the essential foundation, upon which you can continue to build with a mixture of promotion, outreach and positive customer relationships.
Once you have cracked this then you can focus on continuing to offer an excellent customer experience, while your fans take care of the promotion for you.
How do you keep your customers talking about you? Let us know in the comments.