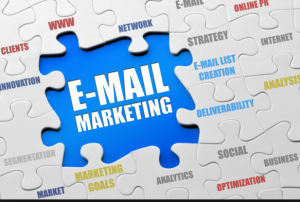 When it comes to the relevancy of the major content marketing platforms, there's enough information supporting each platform to make your head explode!
If you've been paying attention to all of the hype, then you might have read that email marketing is dead. But there's plenty of reasons why email marketing is just as relevant moving into 2016 as it was years ago.
This is is especially true for independent creatives and agencies. Let's check out some reasons why, and how you can still use email marketing to your advantage:
Use It To Brand Yourself
We've had a few articles posted on this blog about value propositions. It's one thing to try to explain your value to prospective clients, but how about showing them your value?
Your email messages can easily perform this task for you.
For example, when you're introducing a new blog post, you show your value in the way you communicate (and summarize) your message.
If you want to lead your email subscribers to a sales page, then you can use your email messaging to remind your subscribers of what you stand for (your brand).
Then, you can take strides in mentally priming them to positively receiving your offer when they click the link to your sales page.
Use Email As A Consultation Tool
One of the greatest sins of marketing that new and mid-level marketers (or flat-out poor marketers) make is the sin of making the pitch all about them (or their company).
It's been said before, but it bears repeating:
People want to know what's in it for them!
Instead of beating your email content readers over the head with tales of how great you are, how about taking an approach that they actually care about?
How about taking an consultative approach that leaves the reader feeling as if you've resolved their pain points and answered their questions?
Here's the good news:
There's so many marketers out there who are taking the selfish, look at how great I am approach, it will be ridiculously easy for you to stand out from the crowd by taking your reader figuratively by the hand, and making them feel a little more informed to make educated buying decisions.
Your email marketing content allows you to address problems, concerns, and questions in a manner that's quick and easy! Best of all, offering your prospects and your current clients a bit of consultation is as easy as sending out an email blast.
Depending upon the device that is being used, a person might not be able to access a website to read a blog post, but everyone has the ability to at least check their emails, regardless of where they are or the device they're using.
This means that you'll always have a way to make sure that your email subscribers feel that you're all about them when you reach out to them!
People Love Receiving Email Freebies
Think about the last time your scrolled through your email subjects and noticed that your favorite email publisher offered you a free download, or anything for free.
If you're like many, then the word free made you behave like a moth to the flame!
There's no reason why you can't use the same marketing strategy to your advantage, regardless of what service or product you're marketing. Brainstorm ways that you can create a freebie, and then offer the freebie as soon as possible.
As long as the freebie is perceived by your subscribers to be worthy of their time to download, you can bet that your click-through rates are going to spike through the roof!
Introduce Your New Products
How do you introduce new product offerings to your prospective and current clients (or customers)?
You could shoot off a quick message on social media. You could make mention of it in the body of your blog posts.
All of these are acceptable forms of marketing that should be used, but here's the thing:
There's no guarantee that everyone will notice what you're offering.
In fact, at least half of your company's prospects and clients will miss your message. They're simply too busy, and their attention is focused on other messages.
Instead, why not make sure that everyone on your email subscriber list learns about your new offerings at the same time? You can accomplish this when you send out an email blast.
As you might already know, email marketing platforms allow you to send one-time, off-schedule email blasts. This means that you don't have to wait until you send off the email introducing your new blog post.
If you're ready to announce new products (or projects) immediately, then doing so is as simple as typing a few lines of text, then hitting the send button inside of your email platform's admin panel.
Email Marketing Can Become Your Market Research Platform
Speaking of making new product or service announcements, here's a question that often comes up, especially if you're new or somewhat inexperienced in using content marketing:
How will you know what strategies are working?
The simple answer is to test a variety of strategies until you find out what's working, and what's not working.
But how do you find out this information? Where can you collect your data?
Your email platform's admin panel can provide you with a rich source of data that will answer your questions.
You'll be able to learn things like:
How many people are opening your email (open rates)
How many people are clicking your links (click through rates)
How many people are being lead to your blog posts
How many people are leaving your website without engaging (bounce rate)
Any new subscribers who are being generated from social media platforms
Depending upon how much muscle your email marketing platform offers, you could learn a lot more information. All of this information (data) will tell you:
If people are responding to your email subject lines
If your email copy is too short or long
If the email copy is boring
If your email calls to action are too weak, or obnoxious
If you might be sending out your emails during the wrong time of the week
If you need to adjust the time of the day you broadcast your emails
You get the idea.
Think of what you'd like to test and measure. Your marketing email platform could act as your own conversion laboratory, allowing you to exploit your data findings to your advantage.
It's The Perfect Storytelling/Thought Leadership Platform
This point kind of goes along with the branding angle. Telling stories and providing thought-provoking information are both excellent ways to establish or strengthen your business's brand.
Yes, your blog and your social media platforms also perform the same tasks, but using your email platform allows you to accomplish these goals in a way that's both agile, and comprehensive.
Email storytelling combines the agility of social media with the educational capability of blogging.
If you need one more reason why, then consider the fact that you were probably lead to his post via an email notification from Bidsketch.
You clicked on the article link, you read a resource that will help you to grow as an entrepreneur (or service provider), and hopefully, you'll take a moment to learn how to send your future prospects a fine proposal they'll find refreshing to read, and consider!
*Lead photo source