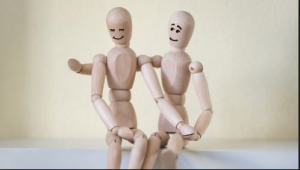 It's very simple:
We can't generate revenue without clients.
And this means that the only thing more important than learning how to offer the best value experience for our products and services is learning how to maintain great client relationships.
Here's a few tips that I've learned along the way about managing great client relationships that have kept me employed for years, going strong. I'll also discuss what you should do if you're considering ending a low-value client relationship.
Don't be a passive player
There's a work concept called managing from the bottom up. Traditionally, companies use the top-down model of management that entails management delivering orders to the worker-bee employee pool, and the worker-bees implement the marching orders.
Since most of us come from the top-down employee model, it's easy to become mentally lazy, waiting for orders or directions to come from our clients. But here's the rub about operating as an entrepreneur:
There's no one to hold your hand, give you orders, or take ultimate responsibility for everything that goes right or wrong.  If you hope to properly manage a successful client relationship, then it's crucial that you train yourself how to use a bottom-up management style.
To clarify, your client isn't your boss, but you ultimately answer to your clients if you hope to continue to generate projects and revenue from them.
Therefore, don't you feel that it's in your best interest to manage the relationship to learn whether or not your client is happy, instead of waiting for your client to show signs of pleasure (or displeasure)?
Entrepreneurs should take an active stance instead of indulging in anxious nail biting. Or better yet, instead of managing from the bottom up, why not manage laterally?
You'd do this by positioning yourself with your client as a project collaborator. Take your client/vendor relationship beyond the quasi-employee model of trading time for dollars.
Learn how to facilitate this with :
Periodic client surveys
Ask probing questions via email (if you have that type of relationship with your client.
Schedule periodic phone calls or Skype sessions
Continue to show gratitude and court the client with periodic discounts and freebies (as you can afford to, as is it's appropriate)
Educate yourself about their industry and their business processes
*Note: There's no need to become an expert or an authority on their industry (unless you want to), but you should develop enough expertise to prove to your clients that you understand how their world works, and you are truly a viable vendor/partner worthy of financial investment.
Real-Life Case Study: The Gig That Keeps On Giving
I'm a freelance writer, and in addition to writing for the Bidsketch blog, I've produced for other blog properties. Much like Bidsketch, one of my other gigs is a long-term relationship, and in fact, I started both around the same time, almost two years ago (as of this writing).
The managing editor of my other blogging gig recommended me to her content management team to begin writing content for the company's new division. The company decided to expand into a new division, and they needed someone to write for them who understood this new vertical.
When I had a meeting with my new editor, I confessed that while I wasn't very well versed in the new vertical (paid advertising, or PPC), I am a great researcher, and I was confident that I'd catch on quickly, and with enough authority to produce content for the new blog.
After my original managing blog editor confirmed that I was studious and caught on to vertical topics quickly, I was given the opportunity to start producing content for the new blog.
And as it turns out, not only was the editor for the new blog (and the content management team) very pleased with the resulting work, but I also realized that I LOVE learning about PPC.
As a matter of fact, as of this writing, I'm studying for my Google Adwords certification. I'll also study for Bing, Facebook, and Twitter ads. And in addition to all of this, I'm currently tapped to produce whitepaper content to help generate high-level leads for the new paid ad division of the agency.
So not only do I get to generate more revenue from the new gig, but I've also created two new revenue streams for myself! And it all started because I developed a solid relationship with my client, the managing editor of the original blog I was hired for.
Flakes are for pie crust and cold cereal
Here's another tip for making your client relationships work. This is a tip that should be completely obvious, but it's an issue that too many people blow:
Always respond to emails from your client, as soon as possible.
And in the spirit of managing from the bottom up, you should initiate emails, even if the issues are small.
Of course, you don't want to pester your clients, and you don't want to send your client emails about your emotional state, the weather, your streams of thought, what you ate or are currently eating, etc.
But you do want to clue them in if there's something going on in your life that might affect your work process, especially if the issue affects your deliverable deadline date.
Examples of things that warrant an email include:
Sick days
Upcoming vacation time
Self-imposed leave of absence
Personal emergencies
Technical difficulties
Delays in invoicing dates (if your invoice date was specifically stated)
…or anything else that might take you off the radar or affect your ability to offer deliverables or customer service on time (or within a reasonable amount of time).
But is it worth it?
Having said all of this, sometimes, no matter how much you've offered the best vendor experience, the best lead nurturing, or the most professional stance, you'll encounter the client who isn't a good fit for your business.
Here's an example: One of my favorite television shows is called Flipping Out, and it airs on Bravo TV here in the U.S.
The star of the show, Jeff Lewis, is a noted home designer who started out flipping homes (buying homes, repairing them, designing them, then selling them for a profit).
Due to the crash of the real estate market a few years back, Jeff changed his business model into exclusively providing design services for residential clients. One such client became impossible to please. At first, he (and his team) wrote off the client's behavior to insecurity and personal flightiness.
But after months of going around in circles with the client, Jeff came to the realization that this client was costing him more money (in lost revenue) than it was worth dealing with them.
So although Jeff (at the time) needed the job, he fired the troublesome client who constantly challenged his expertise and authority with power-struggles, while also undermining him by soliciting second and third opinions from professionals in loosely-related industries.
Ask yourself if you're currently dealing with a client who is:
Rude
Condescending
Instigates power struggles
Ghosts you
Is entitled (scope-creepers, bargain-basement shoppers)
Abusive
Offers poor ROI on your time and pay
And by the way-don't hold on to a client out of fear!
Don't be afraid of a client who might not take being fired very gracefully. Sure, they might even go as far as creating a smear campaign against you and your reputation. But chances are good that they'll go away, quietly.
Either way, you can't allow yourself or your reputation to be held ransom by an abusive or an emotionally unhinged place-holder client who's getting in the way of future opportunities!