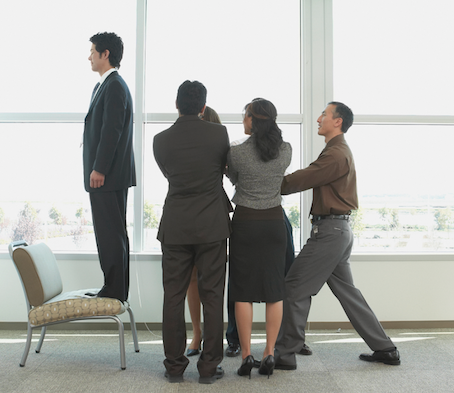 Build trust and increase your business …
Whether you own an agency, work for one, or work for yourself, your credibility is important.
Do people trust you enough to exchange money for your services?
One-on-one with a potential client and you can sell your services by building rapport, learning their pain points, and showing them how your service solves their problem.
But, when it comes to the Internet – and the visitors that arrive on your website – you have to build trust more quickly …
Some experts say you only have a few seconds to capture a visitor's attention or they'll hit "back" and be gone forever.
Let's say you get through those first few seconds …
Your visitor is intrigued and wants to learn more …
As they look at your website … the design … the colors … the navigation … the information … and the glowing words about your agency's services …
Do they believe you?
Well … the answer just might be, "no" … if you're missing too many "credibility elements" …
Build Trust by Proving Your Claims
Let's say your headline features your agency's results with a client …
For example: "After ABC Agency Enhanced Our Website Our Profits Increased by 303%. We'd Recommend Them to Anyone!"
To build trust, you could expand on this testimonial based headline. Maybe you could add a chart to display the results, link to a case study that goes more into depth, or use a paragraph or two to prove the statement.
Build Trust Because Credibility Determines Your Income
Because credibility determines how many potential clients trust you enough to buy, you could say, "More credibility equals more income."
You've probably heard of the "Know-Like-Trust Factor." This basically means that people do business with people they know, like, and trust.
You are credible in your potential client's mind when he feels like he knows, likes, and trusts you!
A website is a great way to build trust. You can provide credibility elements, engage with visitors, give potential buyers more information … and ultimately use your website to sell your services …
Build Trust with These 6 Credibility Elements
To increase your agency's credibility, you probably don't need an entire website redesign. (However, if your site was built 10 years ago and hasn't been touched since, I stand corrected.)
In most cases – especially if you keep your website up-to-date, increasing your credibility is just a matter of making sure you have these six elements:
1. A professional logo.
Your logo – or entire header – is the first thing your visitors see.
It's what immediately lets them know where they are on the Internet.
This feeling of belonging will build trust.
To get the most credibility from your logo, make sure:
It's professionally designed.
It "looks like it belongs." For instance, if you offer inexpensive web designs, your logo shouldn't look like your quote will be out of your customer's price range.
Also, consider adding a tagline to quickly answer your visitor's biggest question: "What's in it for me?"
2. Use words your visitor would use.
You want your website visitors to feel at home and trust you, right? That way they will stick around and eventually hire you …
To help with that, speak their language. If they use certain phrases or words, try to incorporate them. The best way to learn these things is to engage with your potential clients.
You could also research how they talk and what they say to their peers. You can do this via forums, comments on blog posts, or even social media.
Also, remove any over-the-top business language … explain things they might not understand and never talk down to your visitor.
While you're at it, make it clear that there are real people behind the agency. Use pictures that help your visitor connect with your team – rather than stock photos of "agency employees."
Just like you, your clients like to know who – and whom – they are working with. They're not just working with a company; they're working with people when they hire your agency.
That's why pictures – or even a "Team Members" page is important. It will help build trust and put a face to the names of the people that your clients will likely have one-on-one dealings with.
3. Include testimonials.
A great way to build trust and credibility with new visitors is social proof from previous clients.
Show your potential buyer that others have come before him … and left happy with the results (or maybe they're still a repeat client)!
Consider featuring testimonials on your home page and in your sidebar. Including them where your website visitor can easily see them helps with that crucial "first impression."
Tip: Not all testimonials are created equal. It may seem easy to get testimonials that say something nice about your agency … those do help …
But, the most effective testimonials portray a quantifiable result you've obtained for a client. For example, "We saved 15% by hiring ABC Agency!" Or, "Our profits increased by 200% after hiring ABC Agency!"
Testimonials like that – with real results – might as well be gold … your potential client will be eager to learn if you can do the same for them.
In addition to testimonials, don't forget to add:
Logos from recognizable clients you've worked with.
Any awards or certifications you or your employees have.
Badges from organizations like the Better Business Bureau or industry groups.
4. Give your "About" page some love.
My "about" page is my second most visited page – after my home page. I take this as a good sign because it shows visitors are eager to learn more!
To get the most from your "about" page:
It's all about them (the reader). They don't care if you have 10 years of experience choosing fonts for national magazines … they want to know how that experience will benefit them.
Include a professional photo of yourself/your team or even a video. One of the fastest ways to build trust is to meet face-to-face. But, if you're doing business via the Internet, do the next best thing and let them see you (or your team).
People are more at ease (and trusting) when they have a visual of the person they're doing business with.
5. Share your contact information.
Make sure you have a clearly defined "Contact" page because contact details build trust. On the other hand, if it seems that you're hiding anything, your credibility will decrease …
In addition to a contact form, consider including your email, phone, address, and any other ways to contact you – such as social media …
Potential clients are more trusting of a business with a large network. Because you've invested so much time in your web presence, it would be unlikely that you would scam them or disappear.
Tip: Protect yourself. If you're a freelancer working from home, consider getting a business name and PO box to protect your personal details.
You might also consider adding live chat. If you have the resources to support potential clients via live chat, add it to your website as another contact method. Just displaying the option to immediately chat with a company employee can greatly build trust.
6. Don't forget your footer!
A footer is a great way to finish building trust. If your website visitor has stuck around long enough to reach the bottom of your website, there are some things they expect to see … without these elements, all your previous credibility can disappear.
Your footer should:
Be on every page of your website.
Include the company name and contact information (or a link to the contact page).
Have a link to your "Privacy Policy" page and/or "Terms and Conditions" page.
Mention that the page is copyright protected with a current year.
These things might seem obvious to build trust, but I can't tell you how many websites overlook them …
Additionally, your website visitors are used to seeing certain elements on websites … like primary navigation at the top of the page or immediately below the header … with the usual page names, like "Home," "About," and "Contact" …
But, what if you decide to put your navigation somewhere else? Your visitors might be confused and become less likely to take action.
Or what if you don't have a "Privacy Policy" page … that might lead to questions like, "What is this company going to do with my information?"
When evaluating your website, remember that every element – words, pictures, graphics, etc. – should work to build trust in your agency's credibility.
Of course, there are always more features you could add to be even more credible …
A blog – to prove that you and your team know what you're talking about …
Your payment methods … if you can accept credit card payments, your potential client will recognize that you have an established business.
A showcase of your best work. (If you've improved over time, remove any pieces that no longer reflect your best work.)
Trust and credibility aren't difficult to build; it just takes some time to put your best foot forward. (If your website is missing any of the above credibility elements, add those to your to-do list as soon as possible.)
Remember, your credibility determines how many potential clients trust you enough to buy. Anything you can do to build trust will help …
Plus, your conversions will increase and bring you – and your agency – more paying projects!
So, what do you think? Did I miss anything? How do you build trust? Let's talk about it in the comments below …